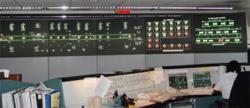 GL has expertise in assisting customers in evaluating their existing systems, upgrading them to the latest, and integrating the newer systems with the existing ones."
Gaithersburg, MD (PRWEB) July 28, 2012
GL Communications Inc. a leader in providing PC-based test, analysis and simulation products and consulting services to the worldwide telecommunications industry, conveyed today its Centralized Supervisory and Control Systems for Mass Transit Networks.
Speaking to the press, Mr. Vijay Kulkarni, CEO of the company said, "a typical centralized train and facilities control system for an underground metro rail transit network in general gathers data from wayside instrumentation for train control and provides supervisory control and data acquisition (SCADA) for managing the various subsystems at the train stations. The term SCADA is used to describe control and management solutions in a variety of industries. SCADA systems collect data from various monitoring and control points. A central computer then processes the data, and controls the various subsystems. SCADA systems play a major role in modern industrial enterprises, for example, public utilities, manufacturing plants, oil and gas stations, and water and electric utilities."
He added, "Typical SCADA systems consists of: Input and output devices, Remote terminal units, Programming logic controllers, Centralized computers, Communications systems and interfaces (RS-232, RS-485, Ethernet, etc), User Interfaces, Standard and/or custom SCADA or HMI software.
The Remote Terminal Unit (RTU) or the Programming Logic Controller (PLC) plays a key role in collecting and controlling the subsystems/parts. SCADA systems typically require little or no human intervention, though they have capabilities built-in for such possibilities for remote monitoring and control. They may utilize long or short distance communications, leased T1/wired/wireless networks, for connectivity depending upon the need and circuit availability."
Mr. Kulkarni further added, "One of the main difficulties that many organizations face is integration of several discrete SCADA systems that have been delivered over time. This is because of the SCADA industry's use of proprietary hardware, software and communications protocols. For example, in a typical metro rail system, centralized train control and traction power management systems may be similar. On the other hand, building management systems for intrusion, fire and security could be very different in that they may use different set of protocols and communication standards and practices. Also, Fire Management Systems must follow the rules established by the State's Fire Marshall and/or Authority Having Jurisdiction (AHA). They are developed by vendors in different industry groups and may have different types of specialized devices.
Technical challenges, complexities, and risks will determine the level of integration that can be attempted among various elements that monitor and control facilities. GL has expertise in assisting customers in evaluating their existing systems, upgrading them to the latest, and integrating the newer systems with the existing ones."
About GL Communications Inc.,
Founded in 1986, GL Communications Inc. Provides technical consulting, engineering and testing services in wireless, telecom, and IT disciplines. Our customers include telecom wireless and landline carriers, mass transit and public safety systems nationwide. We have designed hundreds of wired and wireless telecom network systems over the past 23 years.
GL is a DBE/MBE firm certified by Maryland's Department of Transportation (MDOT), Washington Metropolitan Area Transit Authority (WMATA), Virginia Department of Transportation (VDOT), and South Eastern Pennsylvania Transportation Authority (SEPTA).
GL's TDM Analysis & Emulation line of products includes T1, E1, T3, E3, OC-3, OC-12, STM-1, STM-4, analog four-wire, and analog two-wire interface cards, external portable pods, and complete system solutions. Capabilities include voiceband traffic analysis and emulation across all traffic types (voice, digits, tones, fax, modem), all protocols (ISDN, SS7, GR-303, Frame Relay, HDLC, V5.X, ATM, GSM, GPRS, LTE, etc.), and with capacities up to thousands of channels. Our newest products provide astonishing capacity and capture capability up to and including gigabit speeds.
GL's VoIP and IP products generate / analyze thousands of calls and traffic simultaneously with traffic types such as frames, packets, voice files, digits, video, tones, noise, and fax. Almost all codecs are supported including G.711, G.729, AMR, EVRC-A, B, C, GSM, iSAC, and many more. Additional features include visual analysis, real-time listening, and recording. The product line also includes Ethernet / IP Testing capability that simulates and checks frame transport and throughput parameters of Ethernet and IP networks, including delay, errors and other impairments.
GL's Voice Quality Testing (VQT) product line complements all of GL's products. Using ITU-standard algorithms (PAMS, PSQM, and PESQ), GL's VQT provides a widely accepted solution for assessing voice quality in the telecom industry. Voice Quality Testing across multiple networks (T1, E1, T3, E3, OC-3, OC-12, VoIP, Wireless, and Landline) is available.
GL's Wireless Products perform protocol analysis and voice quality assessment on GSM, CDMA, UMTS, and LTE networks. Connections can be made to any wireless phone with automated call control, GPS mapping and real-time signal measurements.
GL's Echo Canceller testing solutions provide the broadest range of simulation and analysis, including line and acoustic echo. GL's compliance testing per G.168. G.167 and P.340 across TDM, IP, VoIP and Wireless networks is widely accepted in the industry.
GL's wireless VQT solutions help assessing impairments to voice quality such as poor mobile phone quality, voice compression and decompression algorithms, delay, loss and gain in speech levels, noise, acoustic and landline echo, and other distortions are easily assessed and accurately measured.
GL's Handheld data testers can test a wide variety of communications facilities and equipment including T1, fractional T1, E1, fractional E1, T3 and E3 modems, multiplexers, CSU, DSUs, T1 CSUs, DTUs, NTUs and TIUs and more. The testers provide convenience, economy, and portability for almost any interface, including RS232, RS-422, RS-530, X.21, T1, E1, T3, E3, and many others.
GL's Network Surveillance and Monitoring products include Probes for TDM, IP, VoIP, ATM, and Wireless networks. An open standards based approach provides a scalable, feature rich, real-time access to network characteristics. Centralized or distributed access, efficient transport and database loading allow compatibility with 3rd party and standards based monitoring systems.