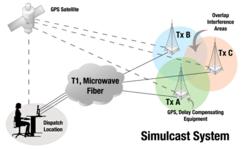 simulcast systems provide wide geographic coverage with a uniform frequency plan, improved coverage in otherwise "dead spots", at the expense of a small degradation in overlap areas, improved building penetration for portables, frequency efficiency etc
Gaithersburg, Maryland (PRWEB) August 07, 2012
GL Communications Inc. a leader in providing PC-based test, analysis and simulation products and consulting services to the worldwide telecommunications industry, conveyed today its expertise in Simulcast Radio Systems– a unique communications technique used in public safety communications systems.
Speaking to the press, Mr. Vijay Kulkarni, CEO of the company said, "Public safety personnel (police, fire, bus, rail, and emergency) rely on seamless wide area radio communications coverage to effectively perform their daily tasks. Typically a city/country will need to serve several hundred square miles or more with a handful of radio channels. A dispatcher may need to reach anyone in the serving area. But engineering wide area radio coverage with limited radio spectrum and limited number of radio channels is not easy. Generally many transmitter / receiver sites are required to get the widest possible coverage for mobiles and portables, for improved voice and data quality, and for better building penetration.
"Cellular systems use many small cells, small towers, and reuse frequencies in non-adjacent cells to achieve wide area coverage. This requires that individual radios be able to switch frequencies and the radio system be able to "handoff" from one base station to a neighboring base station as the radio user roams from one cell to the next."
He added, "This level of complexity is not always affordable or readily available to the public safety band. To achieve wide area radio coverage, public safety agencies divide the problem into two - "talk out coverage" and "talk in coverage". "Talk out coverage" is communications from a dispatcher to field personnel, or also called downlink coverage. Many solutions exist to achieve the widest possible "talk out" coverage, including: Employing multiple transmitter sites, Increasing transmitter power if FCC allows, Raising the transmitting antenna height, or tower height, if FAA allows and Directing the antenna patterns optimally and so on.
""Talk in" coverage - is communications from field personnel to dispatchers, or also called uplink coverage. Possibilities for improving coverage here include: Multiple receiver sites with central "voting receivers", Pre-amplifiers at the top of a tower to boost the signal from low power portables, Vehicular repeaters for portable talk-around coverage.
""Talk-out" coverage can be greatly improved by simulcast transmission. Simulcast is the concatenation of two words "simultaneous" and "broadcast". It is the simultaneous transmission of audio on the same frequency from two or more sites. Wide area coverage is possible with multiple transmitters. Normally if two or more transmitters were to transmit the same signal, a receiver in the field would "lock" or "capture" the stronger of the signals. If the signals are within ± 10 dB of each other, the signals either constructively or destructively combine in the receiver. To ensure that they "constructively" add together requires complex "synchronizing" transmitter equipment such that the signals are transmitted at exactly the same time (within microseconds) of each other.
"The most important parameters that must be precisely matched among the transmitters are: RF carrier frequency to within a 1 Hz, Audio phase to within 10 degrees, Amplitude response to within 0.1 dB, Audio delay to within 10 microseconds. Matching parameters requires digital transmission of voice to the transmitting site, delay compensating equipment at the transmitting sites, and very accurate timing references at each of the transmitter sites. Digital transmission is commonplace these days with T1, E1, digital microwave radio, and fiber widely available. Delay compensation equipment is required to compensate for the delay variation between the dispatcher and the various transmitter sites.
"Digital transmission also makes this relatively easy. When delay compensation is combined with GPS, then delay adjustment due to changes in the transmission path is also easily accommodated. Accurate timing references are used to control the RF carrier frequency and to accurately set the delay compensation equipment. GPS makes this possible. In order to avoid over dependence on GPS (the military may limit access during wartime), rubidium oscillators are also used in parallel to GPS."
Mr. Kulkarni further added, "In summary, simulcast systems provide wide geographic coverage with a uniform frequency plan, improved coverage in otherwise "dead spots", at the expense of a small degradation in overlap areas, improved building penetration for portables, frequency efficiency thru reuse, and simplicity of operation for dispatchers."
About GL Communications Inc.,
Founded in 1986, GL Communications Inc. Provides technical consulting, engineering and testing services in wireless, telecom, and IT disciplines. Our customers include telecom wireless and landline carriers, mass transit and public safety systems nationwide. We have designed hundreds of wired and wireless telecom network systems.
GL is a DBE/MBE firm certified by Maryland's Department of Transportation (MDOT), Washington Metropolitan Area Transit Authority (WMATA), Virginia Department of Transportation (VDOT), and South Eastern Pennsylvania Transportation Authority (SEPTA).
GL's TDM Analysis & Emulation line of products includes T1, E1, T3, E3, OC-3, OC-12, STM-1, STM-4, analog four-wire, and analog two-wire interface cards, external portable pods, and complete system solutions. Capabilities include voiceband traffic analysis and emulation across all traffic types (voice, digits, tones, fax, modem), all protocols (ISDN, SS7, GR-303, Frame Relay, HDLC, V5.X, ATM, GSM, GPRS, LTE, etc.), and with capacities up to thousands of channels. Our newest products provide astonishing capacity and capture capability up to and including gigabit speeds.
GL's VoIP and IP products generate / analyze thousands of calls and traffic simultaneously with traffic types such as frames, packets, voice files, digits, video, tones, noise, and fax. Almost all codecs are supported including G.711, G.729, AMR, EVRC-A, B, C, GSM, iSAC, and many more. Additional features include visual analysis, real-time listening, and recording. The product line also includes Ethernet / IP Testing capability that simulates and checks frame transport and throughput parameters of Ethernet and IP networks, including delay, errors and other impairments.
GL's Voice Quality Testing (VQT) product line complements all of GL's products. Using ITU-standard algorithms (PAMS, PSQM, and PESQ), GL's VQT provides a widely accepted solution for assessing voice quality in the telecom industry. Voice Quality Testing across multiple networks (T1, E1, T3, E3, OC-3, OC-12, VoIP, Wireless, and Landline) is available.
GL's Wireless Products perform protocol analysis and voice quality assessment on GSM, CDMA, UMTS, and LTE networks. Connections can be made to any wireless phone with automated call control, GPS mapping and real-time signal measurements.
GL's Echo Canceller testing solutions provide the broadest range of simulation and analysis, including line and acoustic echo. GL's compliance testing per G.168. G.167 and P.340 across TDM, IP, VoIP and Wireless networks is widely accepted in the industry.
GL's wireless VQT solutions help assessing impairments to voice quality such as poor mobile phone quality, voice compression and decompression algorithms, delay, loss and gain in speech levels, noise, acoustic and landline echo, and other distortions are easily assessed and accurately measured.
GL's Handheld data testers can test a wide variety of communications facilities and equipment including T1, fractional T1, E1, fractional E1, T3 and E3 modems, multiplexers, CSU, DSUs, T1 CSUs, DTUs, NTUs and TIUs and more. The testers provide convenience, economy, and portability for almost any interface, including RS232, RS-422, RS-530, X.21, T1, E1, T3, E3, and many others.
GL's Network Surveillance and Monitoring products include Probes for TDM, IP, VoIP, ATM, and Wireless networks. An open standards based approach provides a scalable, feature rich, real-time access to network characteristics. Centralized or distributed access, efficient transport and database loading allow compatibility with 3rd party and standards based monitoring systems.