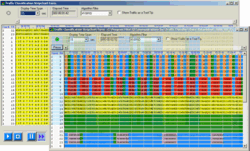 The classifier can analyze and classify various traffics such as voice, fax, data, tones (dial tone, ring-back tone, busy tone etc) as well as identify dialing digits and other events happening on a T1 E1 network.
Gaithersburg, Maryland (PRWEB) April 13, 2013
GL Communications Inc. a leader in providing PC-based test, analysis and simulation products and consulting services to the worldwide telecommunications industry, announced today its enhanced Real-time Monitoring and Classification of T1 E1 traffic.
Speaking to media persons, Mr. Vijay Kulkarni CEO of the company said, "Real-Time T1 E1 Traffic Classifier is an application that can analyze the traffic on a T1 or E1 line. It can analyze and classify various traffics such as voice, fax, data, tones (dial tone, ring-back tone, busy tone etc) as well as identify dialing digits and other events happening on a T1 E1 network. It uses various identifying schemes depending on the country of your selection and classifies the traffic, based on the dialing tones stipulated for that country."
He added, "In Real-time mode, the user can capture the live traffic on a T1 E1 line and classify the information transmitted on that line. In this mode the Traffic Classifier runs in a Client-Server setup.
In offline mode, user can load and display previously recorded classification results. Starting the server is not necessary in this mode. The recorded result file (*.rec file) can be played back using the playback window.
It is also possible to view the traffic for a particular span of time in the recorded file, by using the File Scroller option."
Main Features:
·Test T1 E1 T3 E3 cellular backhaul (delay, throughput, error free transmission)
·Test cellular IP backhaul, carrier Ethernet backhaul etc
·Test point-to-point and multipoint circuits
·Simulate backhaul systems in the convenience of your Lab
Important Applications:
·Real-time Snapshot: Get a real-time snapshot of your T1 E1 network activity.
·Surveillance and Data Collection: You can monitor all the events on all the timeslots on a single or multiple T1 E1 line. You can also do surveillance for extended periods by recording the classification results for days, weeks or months at a time.
·Equipment Manufactures and Equipment Vendors: Use GL's Traffic Classifier to do pre-deployment analysis of a network so as to provide an optimized solution for your customers.
.R & D, Traffic Engineering and Network Condition Analysis: GL's Traffic Classifier is an ideal tool in an R & D environment for understanding, analyzing and traffic engineering of a T1 E1 network.
About GL Communications Inc.,
Founded in 1986, GL Communications Inc. is a leading supplier of test, monitoring, and analysis equipment for TDM, Wireless, IP and VoIP networks. Unlike conventional test equipment, GL's test platforms provide visualization, capture, storage, and convenient features like portability, remotability, and scripting
GL Communications has over the years worked with major telecom equipment vendors (EVs) and system integrators to meet the testing requirements arising at various stages of telecommunications product development life cycle.
With its proven expertise of over 25 years, GL has a comprehensive suite of telecom testing solutions to verify and ensure 'quality and reliability' of variety of telecom networks including Wireless, and high-speed fiber optic lines.
GL's test tools range from simple PC-based software test tool to all-encompassing hardware units with futuristic expansion capabilities. GL's test solutions cover wide array of networks – 4G (LTE), 3G, IP, Ethernet, T1, T3, E1, E3, OC-3/STM-1, OC-12/STM-4, and traditional PSTN networks.
GL's tools are widely used by the telecommunication industry for conformance testing, automated stress/load testing, performance testing, remote accessibility, centralized web-based control and analysis, fault testing and analysis, and customized testing.