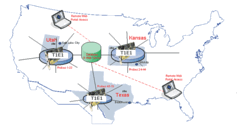 Gaithersburg, Maryland, (PRWEB) June 06, 2013
GL Communications Inc. a leader in providing PC-based test, analysis and simulation products and consulting services to the worldwide telecommunications industry, announced today enhanced T1 E1 Line Monitoring,Test and Diagnostic System.
Speaking to media persons, Mr. Jagdish Vadalia Senior Manager of the company for Product Development said, "GL's T1 E1 Network Monitoring System provides network wide management of T1 and E1 lines including line health, intrusive diagnostics, non-intrusive monitoring, and much more."
He added, "The T1 E1 Network Monitoring System is a web-based client connected to SS7 / ISDN / DCOSS / TDM probes through a web server that facilitates result display using a web interface. Maintenance engineers can securely access the network view from literally "anywhere" that Internet access is available. They can also monitor, diagnose, and troubleshoot remotely with simple to use scripts."
Main Features
·Monitoring T1 E1 real-time and historic data remotely via browser based clients
·Reports are displayed both in tabular and graphical formats; customize reports and graphs based on SQL queries.
·Set alarm conditions and generate alerts of different types like email alert, visual alert, audible alert, or even log into tables for future analysis
·Filter call records based on various filter parameters such as Probe name, Call ID, Port#, Alarm Type, Alarm Condition, Alarm Count, Date and Time; allows the use of logical operators between parameters
About GL Communications Inc.,
Founded in 1986, GL Communications Inc. is a leading supplier of test, monitoring, and analysis equipment for TDM, Wireless, IP and VoIP networks. Unlike conventional test equipment, GL's test platforms provide visualization, capture, storage, and convenient features like portability, remotability, and scripting
GL Communications has over the years worked with major telecom equipment vendors (EVs) and system integrators to meet the testing requirements arising at various stages of telecommunications product development life cycle.
With its proven expertise of over 25 years, GL has a comprehensive suite of telecom testing solutions to verify and ensure 'quality and reliability' of variety of telecom networks including Wireless, and high-speed fiber optic lines.
GL's test tools range from simple PC-based software test tool to all-encompassing hardware units with futuristic expansion capabilities. GL's test solutions cover wide array of networks – 4G (LTE), 3G, IP, Ethernet, T1, T3, E1, E3, OC-3/STM-1, OC-12/STM-4, and traditional PSTN networks.
GL's tools are widely used by the telecommunication industry for conformance testing, automated stress/load testing, performance testing, remote accessibility, centralized web-based control and analysis, fault testing and analysis, and customized testing.