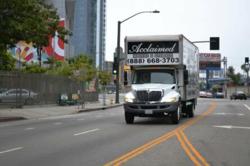 Glendale, CA (PRWEB) September 19, 2012
Acclaimed Glendale Moving Company has made a recent purchase of a large supply of new moving equipment in a move to upkeep the company's status as the top rated moving and storage company in the Glendale area. Glendale Moving holds an 'A' rating with the Better Business Bureau and excellent standing with the Federal Motor Carrier Safety Administration (FMCSA). The investment in new equipment reflects the continued effort made by Glendale Movers to remain the best locally based choice for moving in Glendale.
Glendale Movers is comprised of a locally hired full time staff of expert movers, trained sales representatives, and fully qualified project managers. The team works together to continually maintain and improve Glendale Moving Company's service and reputation. Glendale Moving has replaced a large amount of equipment ranging from ratchet straps and tension ties to large, heavy duty equipment such as furniture and appliance dollies. The recent purchase in new equipment is an initiative taken by the staff to ensure their preparedness to handle even the most delicate and high end furnishings with a promise of safety and care. Glendale Moving attributes their success to the honest principal of operating their business under the highest possible standards and offering solutions to every problem a client could face when embarking on a move.
Glendale Moving Company's full service moving caters to each specific client's needs and guides customers through the process of planning and executing their move every step of the way. They can help determine cost, measure scale, and plan dates for packing and delivery-- even weeks apart if needed. Glendale Movers has custom sized crates, padded furniture carts and dollies, and every other available piece of gear in the industry to readily handle any home furnishing. Their expert movers carefully handle each article with the latest technology in the moving industry, and now with completely new equipment as well.