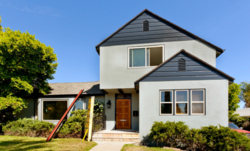 Los Angeles, CA (PRWEB) October 19, 2012
A whole house remodel can be an exciting undertaking when designed and executed properly by the right professional. By making bold design moves, upgrading and replacing materials, and including an exterior overhaul, an old, outdated house can be transformed into a remarkable home.
Such was the case for Dwayne and Sarah Van Wieren, two professionals who relocated from Houston to Glendale. "We've lived in four houses and this is by far my favorite," Sarah says now that an extensive remodel has been completed. However, the house was not love at first sight.
"The house was pretty much uninhabitable before the remodel and incredibly ugly," Sarah admits. "The bathrooms were decorated from the 60s and 70s, it had with pink carpet everywhere and vinyl flooring, mirrored wallpaper on the ceiling, and vinyl siding on the outside. Plus it didn't have central air conditioning and heating. Most people would have probably walked in and then walked right out. But I saw that it had good bones, but with quirky things like a window going from the family room into the living room and wood paneling on the walls. My husband was not convinced though and it took several weeks of pleading to convince him this was the right house for us."
After successfully convincing her husband to purchase the house, the next step was to find a contractor. Without any local contacts and feeling nervous from horror stories she'd heard, Sarah started scouring the Internet. She found Dave's Remodeling and after reading reviews with people describing what they got for their money and looking at before and after photos on his website, Sarah was impressed by what this remodeling company could accomplish. She made the call and after interviewing other contractors, Sarah knew Dave was the right man for the job.
The whole house remodel as seen in this virtual video, included replacing all the flooring, repainting every wall in the house, relocating a washer and dryer, replacing drywall, installing a new air conditioning and heating system, a total kitchen overhaul, two complete bathroom remodels, replacing windows, removing and repairing termite damage, replacing vinyl siding with stucco, new gutters, adding insulation, rewiring, new cabinetry in the kitchen and bathrooms, replacing all the light fixtures, building a wall unit in the family room, and replacing a 70s wet bar area with a built-in home office area. Dave's Remodeling also updated the house according to code requirements and earthquake safety and improved energy efficiency.
If all that wasn't enough, Dave's Remodeling was able to complete the project early. "The couple wanted to move into the house in two and a half months," explains general contractor and owner of Dave's Remodeling, Dave Telem. "We were able to complete the project successfully two weeks early."
Sarah and Dwayne have no regrets about their decision to hire Dave's Remodeling. "Working with Dave was an absolute delight," she says. "I can't emphasize enough how professional and involved Dave was throughout and how great his crew was. Everything was done on time and on budget. He's not only a wonderful contractor but also has a great eye for design. It was a real collaboration because I had very specific ideas about what I wanted. Dave kept in constant communication with us. The house is perfect and we love it. This is our dream house and it's everything we wanted it to be."
To learn more about this business that is family owned and operated with an A rating from the Better Business Bureau, please visit their website http://www.daveremodeling.com.
About Dave's Remodeling
Dave's Remodeling provides clients with award winning, quality home improvement projects at prices customers can afford. They provide remodeling, home improvements, new construction, kitchen and bath remodels, roofing, flooring, patios, additions, siding, and interior and exterior painting. In addition, they offer upgrades to ensure homeowners comply with city ordinances and meet energy efficiency requirements. They serve Los Angeles and San Bernardino Counties and San Fernando Valley including Lancaster, Palmdale, San Bernardino, Redondo Beach, Chino Hills, Carson, Northridge, Topanga, and Carson.