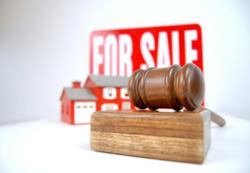 Glendale, CA (PRWEB) May 18, 2013
An experienced Glendale real estate agent can assist buyers in finding a property through real estate auctions. All types of homes from foreclosures to mansions are sold at auction sales these days.
Why buy Glendale homes for sale through auction? Bargains abound. But, buyers need to be aware that auction properties are purchased as-is. This consideration will often be overridden by the ability to get a stellar deal, however contracts are non-negotiable.
So, if considering an auction purchase for Glendale real estate, here are some helpful tips to follow. Buyers approaching an auction situation should know as much about the process as possible.
Tip One: Prepare Finances
Unless a buyer is paying in cash, a strong letter of approval or pre-approval is a necessity as is a full documenting of finances. Cash on hand is necessary for a deposit before bidding, and usually a 10% down payment is also required in cash within twenty-four to forty-eight hours after the auction.
Tip Two: Find the Best Auctions
Sign up for emails from sites such as Auction.com and Ameribid.com. Sites like these will allow specific criteria such as ZIP code and price range to be utilized to receive alerts for an area and property that are of specific interest.
Tip Three: Know the Marketplace
Define what values are present in the marketplace, so as not to over bid at auction. Seeking the help of a qualified Glendale real estate agent such as a member of the Red Blue Realty team can help to determine these parameters.
Tip Four: Register
Register online or in person to sign up for a specific auction if a property is viewed that is of interest. This way updates and pricing information can be supplied prior to the actual day of auction.
Tip Five: Inspect the Property
Many auction companies post information about properties prior to the auction date and hold open houses for buyers to visit the property. It's possible schedule a private inspection and even bring in a home inspector prior to auction.
Tip Six: Buyers Premium
Note that many auction companies will charge what is called a buyers premium of five to ten percent of sales price to cover their cost of sale. Build the fee into the maximum bid amount possible.
Tip Seven: How to Bid
Some auctions allow online bidding, others require in-person bidding only. Talk to an auction representative to determine how to proceed and how to register to participate.
Tip Eight: Make the Deposit
Most auction companies require a deposit based on estimated property value prior to the auction. It can often be made with a credit card authorization or cash held in escrow until the auction is over. A winning bid will credit the deposit toward buyers premium and down payment amounts; if the bid loses, the deposit will be returned to the potential buyer.