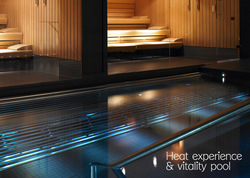 (PRWEB) December 11, 2009
The award-winning Health Spa at Gleneagles® in Scotland by ESPA is delighted to announce the launch of their signature treatment The Source, which uses local ingredients from the fresh waters and rolling hills of Perthshire.
A revitalizing and rebalancing holistic experience, the spa treatment begins with a calming footbath in which local, river-washed stones are used to stimulate reflex points on the feet. A full body exfoliation follows, preparing the body for a deeper level of relaxation. Tired muscles are then warmed using a muslin-wrapped herbal poultice made of lavender, rosemary, oats and elderflower gathered from the surrounding countryside. The ritual continues with a purifying body massage, and concludes with a tension relieving scalp massage.
For a bit of serenity to take home, the spa has also introduced a bespoke, aromatic ESPA candle, which is available exclusively at Gleneagles. With approximately 50 hours burning time, the therapeutic aroma of Frankincense, Orange, Cedarwood, Patchouli and zesty Sicilian lemon calms the mind and uplifts the senses.
The ESPA day spa at Gleneagles Hotel, Scotland is not dominated by one single element but a fusion of many. Deep within the ESPA philosophy is the determination to combine the best of ancient and modern therapies with the finest quality ingredients and skin care advances.
The result is an unusual combination of Health Spa inspired products, treatments and services that harness the best aromatherapy, hydrotherapy, thalassotherapy, and phytotherapy. Absorbing these elements the ESPA philosophy is focussed upon enhancing an individual's lifestyle in a way that is both holistic and versatile.
Gleneagles is one of Scotland's most luxurious 5 star spa resorts and a member of The Leading Hotels of the World. Set in 850 acres of Perthshire countryside, Gleneagles is home to three of the top Scottish Championship Golf Courses and a wide range of exhilarating outdoor leisure activities.
For further information on The Health Spa at Gleneagles by ESPA visit http://www.gleneagles.com or call Resort Sales on 0800 704 705.
###