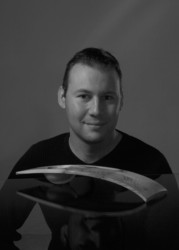 Glenn Lucas shares Simon's design philosophy of simplicity, beauty and functionality; they both seek to bring functional art to the table
New York City, NY (Vocus) April 10, 2009
Glenn Lucas, one of Ireland's top woodturners, makes a rare local appearance when he visits Simon Pearce's New York City location May 7, 2009.
With a passion for woodworking that began during his childhood, Glenn Lucas first established his own business as a woodturner in 1993. Today, the 34-year-old turner continues to operate his workshop in Ireland.
Glenn Lucas' work is made from native Irish hardwood sourced locally. His designs have attained international recognition and Glenn is frequently invited to attend exhibitions promoting the best of Irish craftsmanship. With a reputation for consistent quality and professionalism, Glenn Lucas has many loyal retailers for whom he has supplied his woodwork since the early 90's.
Simon Pearce has carried Glenn Lucas' bowls and centerpieces in its retail stores since 1993, after stumbling upon Glenn's work at Showcase Ireland, an annual craft trade fair held in Dublin. "Glenn Lucas shares Simon's design philosophy of simplicity, beauty and functionality; they both seek to bring functional art to the table," said Mayta Pinard, public relations manager at Simon Pearce. "Glenn is coming from Ireland to New York City and this is a unique opportunity for lovers of craftsmanship to meet this incredibly talented individual."
Glenn's appearance will be held Thursday, May 7, 2009, at Simon Pearce, located at 500 Park Avenue, entrance on 59th, New York City, New York from 2pm to 6pm. Guests will have the opportunity to meet, greet and have their Glenn Lucas purchases hand-signed by the designer himself.
For those unable to attend, Simon Pearce will take advance orders for items to be signed during Glenn's appearance. For more information, call Simon Pearce at 212.421.8801, or visit SimonPearce.com. To learn more about Glenn Lucas, visit GlennLucas.com or click here to view his interview by the Crafts Council of Ireland.
About Simon Pearce:
Simon Pearce designs, manufactures and markets original products in hand blown glass and handmade pottery and operates two fine dining establishments. Founded in 1971, Simon Pearce originated as a small glassblowing workshop in Kilkenny, Ireland. Simon Pearce has maintained a dedication to creating products that are beautifully designed, produced with premium quality materials and time-honored techniques and intended for a lifetime of everyday use. In 1981, the company moved to a historic woolen mill on the banks of the Ottauquechee River in Quechee, Vermont. Today, Quechee remains the flagship for Simon Pearce's retail, restaurant and production activities. The full range of glass and pottery designs embody traditional and contemporary styles--all with classic simplicity, elegance, and everyday functionality. The line is available at 10 Simon Pearce retail stores in the US, through a nationwide network of signature stores, via mail-order catalogue and online at SimonPearce.com.
Press Information & Image Requests:
Mayta Pinard
Public Relations & Marketing Manager
109 Park Road
Windsor, VT 05089
802.230.2484 (phone)
802.230.2410 (fax)
SimonPearce.com
###