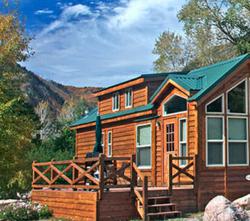 We wanted to showcase all that the resort has to offer -- cabin rentals, rafting, a zipline, bicycling, and more.
Glenwood Springs, Colorado (PRWEB) March 29, 2012
Glenwood Canyon Resort recently unveiled a new website, which went live on March 22nd. The new site, created by Sjoberg Design, is designed to be easier to use, faster loading and better for showcasing all that the resort has to offer -- cabin rentals, rafting, a zipline, bicycling, and more.
Kathy Schneider, Glenwood Canyon Resort Events Coordinator, is excited about the updated website and how it represents the resort. "Our over-riding goal for the new website was to make it much more user friendly," she said. "We wanted it to be cleaner and easier to navigate. I think the new design and the photos used provides a more accurate picture of what our activity-oriented resort with its numerous lodging options is really like."
For Doug Davis, the Sjoberg Design partner who managed the technical aspects of the redesign, faster loading and easier accessibility were priorities. "We wanted to make the new site friendly for both users and also the search engines, and to have compatibility with all modern browsers. In taking on this redesign, our biggest challenge was to convey a large amount of visually graphic information while delivering the site pages quickly," he said. "Thanks to the design work of our lead graphic designer, Alice Sjoberg, we feel that the site does a great job of conveying the gorgeous setting of the Resort," Davis continued.
Nowadays, many people go online through their mobile devices, and it was important for the website to load quickly and still look good on handheld devices. As Davis pointed out, "in this day and age people just don't want to wait very long for the information they are seeking."
With winter turning to spring and warm weather already here, it's the perfect time to release the new website, making it easier for people to start planning their outdoor adventures and Colorado summer vacation. Be sure to visit the new website at glenwoodcanyonresort.com to plan your own excursion!
About Glenwood Canyon Resort
Glenwood Canyon Resort is located near Glenwood Springs, CO and offers lodging as well as a number of activities. Lodging includes mountain cabins with full kitchens, RV sites, tent sites and deluxe suites. Activities at the resort include whitewater rafting, a zipline across the Colorado River, biking, and more. Glenwood Canyon Resort also offers an award winning Canyon Club Event Center for weddings, family reunions and other group gatherings. Food and drinks are available at the onsite No Name Grill. Call (970) 945-6737 for more information.