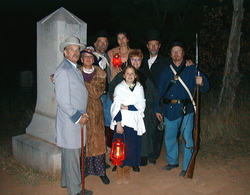 The Ghost Walk Lodging Packages make the most of the spectacular fall season in Glenwood Springs and offer a memorable, fun twist for an autumn getaway
Glenwood Springs, CO (PRWEB) August 20, 2009
Flashlights and lanterns cast an eerie glow as visitors walk the steep and winding trail to historic Linwood Cemetery. Famous and not-so-famous ghostly apparitions gather in the century-old graveyard the last three weekends in October for the 10th Annual Frontier Historical Museum's Ghost Walks. The cemetery is the final resting place of many pioneer citizens of Glenwood Springs. Some of those who will haunt the cemetery on and around Halloween are familiar Western icons like gunslingers Kid Curry and John 'Doc' Holliday. Others, with less storied pasts provide a glimpse of what life was once like for residents of Glenwood Springs. Listen carefully and keep an eye out for the ghosts of the town's founding fathers, merchants, miners and ladies-of-the-evening as they recount the blessings and burdens of life in the 1800's.
A tour guide leads groups by lantern light up the newly refurbished Linwood Cemetery Trail. Thanks to joint efforts by the Frontier Historical Museum, the local Elks Lodge, the city of Glenwood Springs, and dedicated volunteers, the trailhead was recently outfitted with a new deck, red stone retaining walls, a drinking fountain and low-level lighting for visitors at night. To add to the ambiance and for additional lighting consider purchasing a kerosene lantern, available at the trailhead for $10 on event evenings. For the short, but steep trek to the cemetery, Ghost Walk visitors should plan on wearing sturdy shoes and warm clothes. The Ghost Walk Tours are a great family activity and are suitable for children six years old and up. At the end of the tour exchange ghost stories with fellow visitors over hot apple cider and homemade cookies.
Because the Ghost Walks have been extremely popular, advance ticket purchase is highly recommended. Tickets for Ghost Walk Tours go on sale beginning October 1, 2009. New Ghost Walk Lodging Packages can be booked through Glenwood Springs Central Reservations, http://www.visitglenwood.com or 888-445-3696. "The Ghost Walk Lodging Packages make the most of the spectacular fall season in Glenwood Springs and offer a memorable, fun twist for an autumn getaway," said Kate Collins, Glenwood Springs Chamber Resort Association's Vice President of Tourism Marketing.
To purchase tickets independent of discounted lodging packages, stop by the Frontier Historical Museum at 1001 Colorado Avenue or call 970-945-4448. Tickets are $15 each. Tickets are also available at Through the Looking Glass book store, 970-945-5931. Ghost Walk Tours will be held the last three weekends of October including October 16, 17 & 18; October 23, 24 & 25; and October 30 & 31. Tours leave promptly from the Linwood Cemetery Trailhead also known as the Doc Holliday Trail at 12th and Bennett in downtown Glenwood Springs. Tours are scheduled for 7:00 PM, 7:45 PM, 8:30 PM and 9:15 PM on Fridays and Saturdays; and at 7:00 PM, 7:45 PM and 8:30 PM on Sundays.
About Glenwood Springs
For more information about Glenwood Springs, Colorado, call 970-945-6589 or go to http://www.visitglenwood.com. For lodging reservations, call 888 4 GLENWOOD (888-445-3696). A complete press kit and press releases are available at http://www.glenwoodchamber.com/General-VP/Media-Center.html. Access to downloadable photos is also available upon request. Glenwood Springs is located between Aspen and Vail, 165 miles west of Denver or 90 miles east of Grand Junction on Interstate 70 off exit 116.
Media Contacts:
Kate Collins, Vice President of Tourism Marketing
Glenwood Springs Chamber Resort Association
970-945-6589 ext. 105
kate(at)glenwoodchamber(dot)com
or
Vicky Nash, Public Relations Representative
Resort Trends, Inc. - Tourism & Resort Communications
970-948-4923
vicky(at)resorttrends(dot)com
# # #