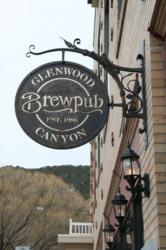 Glenwood Canyon Brewing Company gratefully extends a celebratory toast to all of the visitors and residents who have supported them for 15 years.
Glenwood Springs, Colorado (Vocus/PRWEB) March 13, 2011
No one can say for certain who made the first beer, but archeologists have determined that brewing was well established at least 6,000 years ago in Babylon. Beer was also popular in ancient Egypt where it was brewed commercially. The familiar golden brew continues to make history in downtown Glenwood Springs, Colorado, at Glenwood Canyon Brewpub, a popular establishment in the historic Hotel Denver. Since opening on March 15, 1996, the Brewpub has served almost 14,000 barrels of handcrafted ales and lagers to an appreciative local and visiting clientele. Their award-winning brews are enjoyed with a variety of pub fare favorites, including fish & chips, burgers, enchiladas, steaks and their signature smoked chicken pizza.
Affectionately known by locals as the Brewpub, they have earned a multitude of awards for food, atmosphere and of course, beer. As recently as last December, they were chosen by CBS Denver as one of the top five brewpubs for dining in Colorado. They have also won seven medals at the prestigious global World Beer Cup competition and nine at the Great American Beer Festival. Four of their beers are Gold Medal winners.
Glenwood Canyon Brewpub was founded by Steve and April Carver, owners of the Hotel Denver since 1991, and Jim and Bill Carver from Durango. When Steve and April were visiting Durango in September, 1996, they had breakfast with the Carver brothers and soon after formed a partnership to convert an existing facility on the first floor of the Hotel Denver into a brewpub. The Glenwood Canyon Brewpub was modeled after the Carver Brewing Co. in Durango, which was founded in 1988. Construction on the project began on January 1, 1996 and Glenwood Canyon Brewpub served its first beer a fast 74 days later. Though the two Carver families are not related, they share a love of finely crafted microbrews.
Brewery Manager Ken Jones was hired from Carver Brewing Co. and has worked at Glenwood Canyon Brewpub since it was founded. Kitchen Manager Tim Mason has been with the company for more than fourteen years as well. Both are also partners in the Brewpub. Front of the House Manager Trudy Fleming has worked at the Brewpub for nearly nine years.
The most popular beers at the Brewpub are: Hanging Lake Honey Ale, Grizzly Creek Raspberry Wheat, St. James Irish Red, No Name Nut Brown Ale, Vapor Cave India Pale Ale, and Old Depot Porter. They also maintain a rotating selection of seasonal favorites, including Strawberry Daze Ale, Barrel Rolls Oktoberfest and Hot Pot Barley Wine to name a few.
The popularity of these standard and specialty beers is validated by the 150,000 growlers of beer sold since the brewpub's inception, or about 10,000 annually. A growler is a sealed half-gallon glass jug, which is refilled and reused indefinitely, making it an efficient and environmentally friendly way to purchase and store beer. Every growler sold keeps five bottles or cans out of the waste stream.
Glenwood Canyon Brewing Company gratefully extends a celebratory toast to all of the visitors and residents who have supported them for 15 years. With great pride, they look forward to serving their hometown of Glenwood Springs for many years to come.
About Glenwood Canyon Brewing Company
Established in 1996, Glenwood Canyon Brewing Company serves handcrafted beer, lunch and dinner seven days a week. A Glenwood Springs landmark, the Brewpub is located downtown in the resort town of Glenwood Springs, in the historic Hotel Denver, directly across from the Amtrak train depot. The Brewpub seats 150 and can accommodate groups of 40 for meals, or up to 70 for parties. They also cater events at other meeting spaces within the Hotel Denver, which can accommodate up to 100 people at a time. Open Sunday through Thursday, 11:00 am to 11:00 pm, Friday and Saturday, 11:00 am to midnight. 402 Seventh Street, Glenwood Springs, CO 81601, 970-945-1276, http://www.glenwoodcanyon.com
Media Contacts:
Ken Jones, Brewery Manager & Partner
Glenwood Canyon Brewing Company
970-945-1276
ken(at)thehoteldenver(dot)com
Vicky Nash, Public Relations Representative
Resort Trends, Inc. – media communications for the travel & tourism industry
970-948-4923
vicky(at)resorttrends(dot)com
# # #