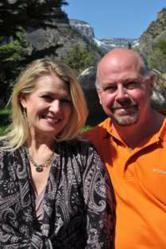 Our goal at Glenwood Canyon Resort is to give our guests a multi-dimensional experience that keeps them coming back to our property, our town and our state, year after year
Glenwood Springs, CO (PRWEB) April 22, 2011
On Thursday, April 21, the Glenwood Springs Chamber Resort Association celebrated the achievements and contributions of several citizens and businesses at its Annual Awards Gala. Glenwood Canyon Resort was among the award recipients, recognized for major contributions in the area of tourism at the state and local levels, and was named the Bosco Tourism Business of the Year.
"It's been a long year and a lot of work; our investment stems from a core belief that Glenwood Springs offers an unsurpassed tourism product. Our goal at Glenwood Canyon Resort is to give our guests a multi-dimensional experience that keeps them coming back to our property, our town and our state, year after year," said Kevin Schneider, who with his wife Kathy owns Glenwood Canyon Resort.
In addition to riverside cabin and camping amenities, Glenwood Canyon Resort offers visitors on-site recreation choices. Glenwood Canyon Zipline Adventures, which opened to rave reviews by the public and the media in June of 2010, also includes a high ropes challenge course. It is the sister company of Rock Gardens Rafting, a whitewater outfitter with over 35 years of experience in providing thrilling river recreation in Glenwood Springs, Colorado.
Beginning in May, Glenwood Canyon Resort will debut two additional attractions for visitors: the Canyon Club Event Center and No Name Bar & Grill. The 8,000-square-foot facility with views of the Colorado River and Glenwood Canyon combines spacious indoor and outdoor areas for social gathering, two luxury suites on the upper floor, and space for employee housing on the ground level. As the peak season approaches, the outdoor deck at the No Name Bar & Grill will no doubt be a favorite spot for resort guests to relax after trying the zipline, rafting or enjoying other area adventures. With catering options available, the No Name Bar & Grill is also perfect for weddings, corporate retreats and family reunions.
Adding even more value and options to Glenwood Springs' tourism offerings, the Schneiders and Glenwood Canyon Resort have partnered with Highside Adventure Tours and Good Times Rafting in Frisco, Colorado, to make it easier for guests to customize a wide range of outdoor adventures. By calling a single, central phone number, visitors can conveniently bundle activities to suit their individual or group needs. The new joint venture, Colorado Adventure Center, provides Glenwood Canyon Resort guests access to activities that span the Roaring Fork Valley and beyond: horseback riding, off-road tours, lake and stream fly fishing, mountain biking and all sorts of river activities, including rafting, inflatable kayaking and tubing.
The Bosco Tourism Business of the Year was established by the Glenwood Springs Chamber Resort Association and honors the contributions of the Bosco family to the local, regional and statewide tourism community. Hank Bosco is in his late 80s and continues to be active in his role as President of Glenwood Hot Springs. Past recipients of the Bosco Tourism Business of the Year have included Spa of the Rockies, Glenwood Caverns Adventure Park and Yampah Spa and Vapor Caves.
About Glenwood Canyon Resort
Glenwood Canyon Resort is a complete camping and adventure destination located in Glenwood Canyon on I-70 at Exit 119. The resort features fully-furnished cabins and sites for RVs, campers, pop-ups and tents along the banks of the Colorado River. The Canyon Club Event Center and No Name Bar and Grill are ideal for groups and special events. Glenwood Canyon Resort is also home to Glenwood Canyon Zipline Adventures, Rock Gardens Rafting and Colorado Adventure Center, providing visitors with access to a wide variety of outdoor activities. For more information about Glenwood Canyon Resort, please visit http://www.glenwoodcanyonresort.com/.
Media Contacts:
Kevin Schneider, Owner
Glenwood Canyon Resort
1308 County Road 129
Glenwood Springs, CO 81601
970-945-6737
http://www.glenwoodcanyonresort.com
kevins (at) glenwoodcanyonresort (dot) com
or
Vicky Nash, Public Relations Representative
Resort Trends, Inc. – media communications for the travel & tourism industry
970-948-4923
Vicky (at) ResortTrends (dot) com