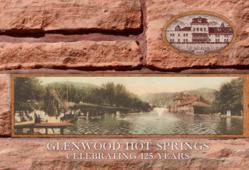 This is a special book for a special occasion. For our guests, it's a keepsake and beautifully packaged account of Glenwood Hot Springs history
Glenwood Springs, Colo. (PRWEB) May 21, 2013
This year marks the 125th year since Glenwood Hot Springs first opened to the public in 1888. To commemorate the milestone, the world-famous mineral hot springs resort embarked on a year of celebration and special events, including the recent release of a book titled "Glenwood Hot Springs Celebrating 125 Years" by local authors Karin Gamba and Vicky Nash.
"The new book features historic images, many from private collections, and details the history of the Glenwood Hot Springs Pool from Walter Devereux's day to the present," said Jeremy Gilley, director of sales and revenue for Glenwood Hot Springs and the Spa of the Rockies. "This is a special book for a special occasion. For our guests, it's a keepsake and beautifully packaged account of Glenwood Hot Springs history."
The book traces the history of the hot springs beginning with the Ute tribe, the earliest group to take advantage of the mineral hot springs, followed by its various owners, including Glenwood Springs' founder Isaac Cooper, Walter Devereux, Frank Kistler and the present-day board of directors. Through photos, many hanging on the walls of hallways and lobbies throughout the property, as well as rarely seen images from private collections, readers can turn the pages and peruse Glenwood Hot Springs' many incarnations over 125 years.
While visitors continue to come to Glenwood Hot Springs in 2013 for many of the same reasons they did in 1888 – to relax, to rejuvenate and to simply have fun – the book shows how much has changed in over a century, including bathing suit attire, accommodations, water toys, advertisements and more.
Printed by Walsworth Publishing, "Glenwood Hot Springs Celebrating 125 Years" is available for sale at the Glenwood Hot Springs Sport Shop for $12.99. The book was written by two Glenwood Springs residents, Vicky Nash, owner of media communications firm Resort Trends Inc., and Karin Gamba, a freelance writer. Creative, design and production services were provided by Hill Aevium Marketing & Advertising Inc.
"Glenwood Hot Springs Celebrating 125 Years" is just one way the landmark resort is commemorating its quasquicentennial. Throughout 2013, Glenwood Hot Springs has been celebrating its visitors' birthdays along with its own, and guests are treated to complimentary admission on their special days with valid IDs.
Also, this year's Strawberry Days festival, the town's annual civic celebration, is themed "125 Years of Glenwood Springs." The parade will feature decorative floats that honor the resort's storied past, and dating back 116 years is the tradition of selecting a Strawberry Days queen. After a more than 20-year absence, the event will return to its original venue at Glenwood Hot Springs, with the fanfare surrounding the crowning of Miss Strawberry Days taking place June 20 from 5-8 p.m. The weekend also features musical entertainment sponsored by Glenwood Hot Springs. Woodie and the Longboards, a Beach Boys tribute band, will be playing at Strawberry Days on June 22 at the main stage in Sayre Park.
Officially, the pool opened to the public on July 4, 1888. This July 4, 125 years later, Glenwood Hot Springs will celebrate both the nation's independence and its actual 125th birthday. Guests can look forward to old-fashioned Americana fun and plenty of birthday cake for all.
About Glenwood Hot Springs
Glenwood Hot Springs is a 125-year-old Colorado landmark resort located along I-70 at Glenwood Springs, approximately 165 miles west of Denver and 90 miles east of Grand Junction. Famous for its enormous hot springs pools, other amenities include the Spa of the Rockies, the Glenwood Hot Springs Lodge, an athletic club, a restaurant open for breakfast and lunch, a retail store specializing in swimwear and a miniature golf course, open seasonally. For more information, including press releases, a press kit, photos and a live web camera, please visit http://www.hotspringspool.com/misc/press-room or call 800-537-SWIM (7946) or 970-947-2955.
Media Contact:
Jeremy Gilley, Director of Sales and Revenue
Glenwood Hot Springs/Spa of the Rockies
970-945-3324
jgilley (at) hotspringspool (dot) com
or
Vicky Nash
Resort Trends, Inc. – media communications for the travel & tourism industry
970-948-4923
pr (at) hotspringspool (dot) com