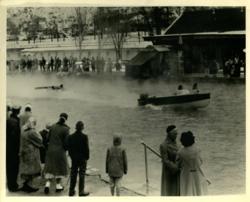 Glenwood Hot Springs has been welcoming visitors to swim and soak since 1888; it seems fitting, 125 years later, to throw a huge party that celebrates our prolific hot springs, our rich history and, most importantly, our Glenwood Hot Springs guests
Glenwood Springs, Colo. (PRWEB) April 24, 2013
On Saturday, May 18, Glenwood Hot Springs, the world's largest mineral hot springs pool, will host a pool party of colossal proportions in celebration of its quasquicentennial – or 125th – anniversary. Events and activities are planned throughout the day and include discounted pool admission, historic photo ops, a fashion show, a beach ball drop, musical entertainment, a poolside movie and more.
"Glenwood Hot Springs has been welcoming visitors to swim and soak since 1888; it seems fitting, 125 years later, to throw a huge party that celebrates our prolific hot springs, our rich history and, most importantly, our Glenwood Hot Springs guests," said Jeremy Gilley, director of sales and revenue for Glenwood Hot Springs and the Spa of the Rockies. "We plan to make a big splash, cannonball-sized, for our 125th anniversary, and everyone is invited to the party!"
On Saturday, May 18, the festivities begin with discounted admission to the Glenwood Hot Springs Pool. With every full-price pool entry, visitors will receive a second pool entry for the nostalgic price of $1.25 (discount applies to the lowest-priced admission). The first 500 families to arrive after 11 a.m. will also take home goody bags filled with an assortment of Glenwood Hot Springs gear!
Special guest Don Brehm will portray President Theodore "Teddy" Roosevelt, who stayed at the Hotel Colorado and is said to have visited the hot springs during his visits to Glenwood Springs. The Denver-based actor is a retired aerospace engineer and an avid history buff. As a certified interpretive guide, he has portrayed Roosevelt for educational programs for children and adults, for schools, civic organizations and historic groups. "Teddy" will be telling stories and be available for photos throughout the day.
The recently released commemorative book, "Glenwood Hot Springs Celebrating 125 Years," will be available for sale in the Sport Shop. The keepsake book is filled with historic photographs of Glenwood Hot Springs, many from private collections, and details the history of the mineral hot springs resort from the 1880s through the present.
Special events are planned throughout the day:

1 p.m. – The 125 Years of the Bathing Suit Fashion Show will showcase the dramatic evolution of swimwear over the years. For added fun, a historic photo cutout from the Glenwood Hot Springs archives depicting Victorian guests will provide an opportunity for visitors to pose for the camera in vintage swimwear.
4 p.m. – Kids and adults will want to keep the camera nearby to capture the spectacle of 1,000 beach balls cascading down from the roof of the old bathhouse into the Glenwood Hot Springs Pool.
6 p.m. – Adding a festive sound to the day's events, Symphony in the Valley will be playing favorite big band tunes.
Dusk – As darkness descends, visitors are invited to settle in on deck chairs or pull up a float to watch the Great K & A Train Robbery, a silent movie starring the original cowboy Tom Mix and filmed on location in Glenwood Springs in 1926.
Glenwood Canyon Brewing Company, the award-winning Glenwood Springs brewpub, will be serving a commemorative beer to celebrate Glenwood Hot Springs' 125th anniversary, called Big Medicine Ale and promising to "cure what ales you." The beverage, so named for the curative Yampah hot spring that translates from the Ute language to "Big Medicine," is an easy drinking beer with a golden color and inviting hop aroma. The beer will be available at Glenwood Canyon Brewing Company across from the historic train depot on Seventh Street and served in a keepsake pint glass while supplies last.
Glenwood Hot Springs invites visitors to mark the date, make a reservation and jump on the chance to attend the biggest hot springs pool party in well over a century on Saturday, May 18.
About Glenwood Hot Springs
Glenwood Hot Springs is a 125-year-old Colorado landmark resort located along I-70 at Glenwood Springs, approximately 165 miles west of Denver and 90 miles east of Grand Junction. Famous for its enormous hot springs pools, other amenities include the Spa of the Rockies, the Glenwood Hot Springs Lodge, an athletic club, a restaurant open for breakfast and lunch, a retail store specializing in swimwear and a miniature golf course, open seasonally. For more information, including press releases, a press kit, photos and a live web camera, please visit http://www.hotspringspool.com/misc/press-room or call 800-537-SWIM (7946) or 970-947-2955.
Media Contact:
Jeremy Gilley, Director of Sales and Revenue
Glenwood Hot Springs/Spa of the Rockies
970-945-3324
jgilley(at)hotspringspool(dot)com
or
Vicky Nash
Resort Trends, Inc. – media communications for the travel & tourism industry
970-948-4923
pr(at)hotspringspool(dot)com