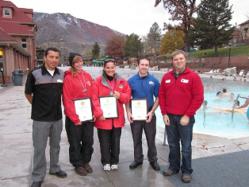 Through ongoing training, our lifeguards are continually honing their skills in order to react in a timely manner and have good outcomes in medical emergencies
Glenwood Springs, Colo. (PRWEB) November 29, 2011
Thousands of people visit the world famous Glenwood Hot Springs pool every year. Most of them come and go without incident, enjoying a soak in the 104-degree therapy pool, a swim in the football-field-sized main pool, or an exhilarating ride down the Green Amazon waterslide. Occasionally, however, something goes wrong. When it does, Glenwood Hot Springs lifeguards are trained to implement an emergency response plan that, combined with professional training and fast action, saves lives. Most recently, thanks to the lifesaving measures of four on-duty lifeguards, pool guest Crawford Best, 72, of Denver, is alive and recovering from a heart attack he suffered while wading in the pool.
"Our guests can feel confident about their safety when they visit Glenwood Hot Springs. Through ongoing training, our lifeguards are continually honing their skills in order to react in a timely manner and have good outcomes in medical emergencies," said Glenwood Hot Springs Pool Manager and on-staff Red Cross Instructor Trainer Brian Passenti.
Affiliated with the American Red Cross for over ten years, lifeguard training consists of 32 hours of coursework and hands-on learning that includes training in cardio pulmonary resuscitation, automated external defibrillator (AED), emergency first aid and lifeguarding practices, with refresher courses as recommended by the American Red Cross. As a Red Cross Instructor Trainer, Passenti has undergone three years of additional training. During the cardiac arrest, lifeguards performed a number of lifesaving actions including pulling Best from the water, calling 911, performing rescue breathing and applying the AED to Best's fibrillating heart to restore its rhythm. These actions saved his life.
At the poolside awards ceremony honoring the lifesaving efforts of Glenwood Hot Springs lifeguards Travis Newcomb, Alicia Whiteside, Brianne Jones and Luke Johnson, American Red Cross Western Colorado Chapter Executive Director Eric Myers said, "The best thing about working for the Red Cross is that we get to meet real people whose lives were changed by the Red Cross, and real heroes who have saved lives thanks to their training."
Though thousands visit Glenwood Hot Springs Pool in any given year, few experience even a minor medical emergency, let alone a life-threatening one. But every once in a while, odds are that something will happen. When it does, visitors can feel confident that, in an emergency, they are receiving top-notch, American Red Cross first responder care.
About Glenwood Hot Springs
Glenwood Hot Springs is a landmark Colorado resort located along I-70 at Glenwood Springs, approximately 165 miles west of Denver and 90 miles east of Grand Junction. Famous for its enormous hot springs pool, other amenities include the Spa of the Rockies, the Glenwood Hot Springs Lodge; an athletic club, a restaurant open for breakfast and lunch, a retail store specializing in swimwear, and a miniature golf course open seasonally. For more information, please visit http://www.hotspringspool.com or call 800-537-SWIM (7946) or 970-947-2955. Current press releases, a press kit, photos, and a live web camera are available at http://www.hotspringspool.com/x.php?p=PressRoom.
Media Contact:
Jeremy Gilley, Director of Sales and Revenue
Glenwood Hot Springs/Spa of the Rockies
970-945-3324
jgilley (at) hotspringspool (dot) com
or
Vicky Nash
Resort Trends, Inc. – media communications for the travel & tourism industry
970-948-4923
pr (at) hotspringspool (dot) com
About The American Red Cross
The American Red Cross shelters, feeds and provides emotional support to victims of disasters; supplies nearly half of the nation's blood; teaches lifesaving skills; provides international humanitarian aid; and supports military members and their families. The Red Cross is a charitable organization — not a government agency — and depends on volunteers and the generosity of the American public to perform its mission. For more information, please visit ColoradoRedCross.org.
###