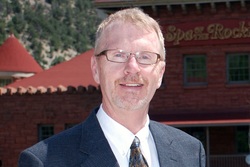 Glenwood Springs, CO (Vocus) October 29, 2010
At its annual conference in Colorado Springs on October 17 -19, the Colorado Hotel and Lodging Association recognized veteran hospitality industry executive, Kjell Mitchell as its 2010 Hotelier of the Year. Mitchell is the general manager and chief operating officer of Glenwood Hot Springs, the premier hot springs spa and resort in Colorado, where he oversees a 107-room lodge, the world's largest hot springs pool, a premier athletic club and a multi-million dollar spa facility.
In addition to his duties at Glenwood Hot Springs, Mitchell has served on the CHLA Board of Directors for the past 16 years and is the current Chair for the organization. During his term he has been instrumental in raising money for the Legislative Readiness Fund – established to support issues that create a pro-business and pro-tourism climate in Colorado. He has also worked to integrate the relationship between the state and its national association – the American Hotel and Lodging Association.
The hotelier of the year is awarded to an outstanding individual who has dedicated his career to the lodging industry in Colorado and contributed to the evolution and success of the Colorado Hotel and Lodging Association. "As the chief operating officer for a property with three distinct areas including a lodge, a pool and a spa, the effort and dedication Kjell has given to the lodging industry is truly remarkable. He has been a great leader for CHLA and we are honored to have had his wit and expertise as our chair this year. It is only fitting that he is now honored with the Hotelier of the Year distinction," said Christine O'Donnell, president of CHLA.
Mitchell has been with Glenwood Hot Springs for more than 33 years, serving in a variety of capacities and taking over as general manager in 1989. Under his leadership the organization has grown two significant business operations at the resort: the two year old Spa of the Rockies now serves guests from all over the world with its premier spa services, and more than 1,000 Glenwood Hot Springs Athletic Club members enjoy state of the art fitness equipment. These expanded operations are managed in addition to his day to day supervision of the lodge and world renowned hot springs pool, an achievement recognized by CHLA.
About Colorado Hotel and Lodging Association
With more than 540 members, the Colorado Hotel and Lodging Association represents over 40,000 guestrooms throughout Colorado and provides visitors with the leading searchable database of travel accommodations in the state. CHLA member properties include include bed and breakfast inns, luxury hotels, limited service properties, Colorado ski resorts, Rocky Mountain cabins, rustic
guest ranches, relaxing spas, weekend getaway timeshares, and condominium and vacation rental services, ranging in size from three to 1,100 rooms.
About Glenwood Hot Springs
Among one of the top vacation destinations in Colorado, visitors have been flocking to the Glenwood Hot Springs for over 120 years. The landmark resort includes the Glenwood Hot Springs Pool, the world's largest natural outdoor hot springs pool; the 107 room Glenwood Hot Springs Lodge; the premier Glenwood Hot Springs Athletic Club; the Grill, a poolside restaurant; the Sport Shop, a retail store specializing in swimwear; as well as the recently opened Spa of the Rockies offering massage and other treatments to support natural health and wellness.
Glenwood Hot Springs is located in Glenwood Springs, Colorado, between Aspen and Vail, 165 miles west of Denver and 90 miles east of Grand Junction on Interstate 70 off exit 116 at 401 North River Road. 800-537-SWIM (7946) or 970-947-2955, http://www.hotspringspool.com. Current press releases, a press kit, photos, and a live web camera are available at http://www.hotspringspool.com/x.php?p=PressRoom.
Media Contact Information:
Ann Denney, Director of Sales and Marketing
Glenwood Hot Springs/Spa of the Rockies
970-945-3324
adenney (at) hotspringspool (dot) com
or
Vicky Nash
Resort Trends, Inc. – media communications for the travel & tourism industry
970-948-4923
pr (at) hotspringspool (dot) com
###