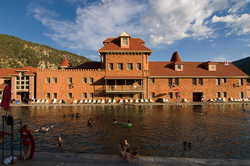 Glenwood Springs, CO (Vocus) September 8, 2010
It's official; autumn has arrived. School is back in session, the aspen leaves are turning golden, and though it's sunny there's a crisp note in the air. Enjoy all the finery of the fleeting fall season with a stay at Glenwood Hot Springs Lodge and its Autumn Splendor package. It's also an ideal time to physically and mentally reinvigorate after the summer season with the resort's Health and Wellness package. Beginning in September, guests can enjoy the restorative properties of Glenwood Hot Springs Pool, soothing spa services at Spa of the Rockies, and either unlimited access to the Glenwood Hot Springs Athletic Club and its many amenities, or a picnic lunch packed especially for enjoyment on Glenwood's hiking trails, including the recently reopened Hanging Lake Trail.
Like a breath of cool, fresh mountain air, autumn rustles in a new season and a new mood at Glenwood Hot Springs. Quieter and cooler, though there is still ample sunshine and the mineral hot springs water beckons guests to slip in and relax. Typically daytime temperatures scale the 70s. Visitors can still get a healthy dose of sunshine-powered vitamin D, and for additional soothing effects take a dip in the104 degree Therapy Pool or the iconic 90 – 93 degree larger pool. Visitors should keep in mind when planning a stay that the Glenwood Hot Springs Pool will be closed on September 8th for regularly scheduled maintenance, though the spa and other facilities will be open as usual.
In addition to soaking in the famous hot springs, both the Autumn Splendor and Health and Wellness package include blissful massages. The first offers a High Altitude massage and the second, a stimulating Unifying Reflexology massage at Spa of the Rockies, Glenwood Hot Springs' onsite, full-service spa located in the historic red sandstone bathhouse. The High Altitude massage incorporates the use of aromatherapy oils and massage techniques designed to ease respiration, fatigue and headaches, while the Unifying Reflexology massage uses pressure points in the hands and feet to create a healing effect that corresponds to specific areas of the body. Both massages will do wonders to alleviate everyday stress. Guests who prefer alternative massages can substitute any other massage or body treatment of equal or lesser value
The Autumn Splendor package makes the most of a breathtakingly beautiful season in Glenwood Springs; the staff at Glenwood Hot Springs Lodge has made sure to include a delicious picnic lunch packed in a souvenir cooler for an easy take along on nearby hikes. After being closed most of the summer, Hanging Lake Trail in Glenwood Canyon has reopened with improved foot paths, and new boardwalks and overlooks surrounding the crystal clear lake teeming with trout. Stop by the front desk for other suggested area hikes and bike rides in Glenwood Canyon and along the Rio Grande Trail.
Those enjoying the Health and Wellness package have unlimited access to the exclusive Glenwood Hot Springs Athletic Club which features state-of-the-art exercise equipment, gender separated sauna and steam room, private lockers and unlimited non-fee based athletic club classes such as yoga, Pilates, aerobics and more. Check out the exciting classes offered at http://www.hotspringspool.com/x.php?p=Classes/ClassSchedule. Those enjoying this package also receive a $25 gift card for use on the Glenwood Hot Springs property. The gift card may not be used toward the package price upon checkout. Health and Wellness guests must be 18 years or older.
Finally, at the end of the day, visitors can enjoy a late night soak in Glenwood Hot Springs Pool until 10:00 PM before turning in for the night at Glenwood Hot Springs Lodge. The lodge offers an assortment of rooms that can accommodate couples, families, and newlyweds. Unlimited admission to Glenwood Hot Springs Pool and continental breakfast at the poolside restaurant are included in both packages. Prices for Autumn Splendor packages for Sunday through Thursday stays start at $171 per person or $342 plus tax for double occupancy (slightly higher rates apply for weekend stays and for upgraded rooms). Health and Wellness packages start at $181 per person or $362 plus tax for double occupancy. For more about Glenwood Hot Springs Autumn Splendor or the Health and Wellness package or to book a room reservation, go to http://www.hotspringspool.com or phone 800-537–SWIM (7946).
About Glenwood Hot Springs
Among one of the top vacation destinations in Colorado, visitors have been flocking to the Glenwood Hot Springs for over 120 years. The landmark resort includes the Glenwood Hot Springs Pool, the world's largest natural outdoor hot springs pool; the 107-room Glenwood Hot Springs Lodge; the premier Glenwood Hot Springs Athletic Club; the Grill, a poolside restaurant; the Sport Shop, a retail store specializing in swimwear; as well as the recently opened Spa of the Rockies offering massage and other treatments to support natural health and wellness.
Glenwood Hot Springs is located in Glenwood Springs, Colorado, between Aspen and Vail, 165 miles west of Denver and 90 miles east of Grand Junction on Interstate 70 off exit 116 at 401 North River Road. 800-537-SWIM (7946) or 970-947-2955, http://www.hotspringspool.com. Current press releases, a press kit, photos, and a live web camera are available at http://www.hotspringspool.com/x.php?p=PressRoom.
Media Contact Information:
Ann Denney, Director of Sales and Marketing
Glenwood Hot Springs/Spa of the Rockies
970-945-3324
adenney (at) hotspringspool (dot) com
or
Vicky Nash
Resort Trends, Inc. – media communications for the travel & tourism industry
970-948-4923
pr (at) hotspringspool (dot) com
###