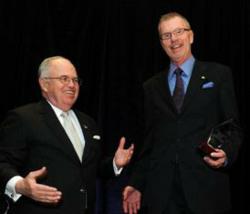 Kjell is a true leader in Colorado. His experience and passion stretch throughout the lodging industry, his community and beyond. The association is grateful for his contributions and proud of his accomplishments. There is no one more deserving
Glenwood Springs, Colo. (PRWEB) March 15, 2012
Glenwood Hot Springs' COO and General Manager Kjell Mitchell was honored at the American Hotel and Lodging Association's Legislative Action Summit earlier this month in Washington, D.C. Mitchell received a State Leadership Award for his outstanding service to the Colorado Hotel and Lodging Association (CHLA), an organization that promotes a positive business climate for the lodging industry and its partners at state and national levels. His award is one among many the resort property in Glenwood Springs has received in recent months.
As COO and General Manager, Mitchell oversees all aspects of Glenwood Hot Springs, including the Glenwood Hot Springs Pool, Glenwood Hot Springs Lodge, Glenwood Hot Springs Athletic Club and the Spa of the Rockies. In addition to his duties at Glenwood Hot Springs, Mitchell has served on the CHLA board of directors for the past 18 years and has led nearly all of CHLA's committees at one time or another. During his term as CHLA Chair, he was instrumental in raising money for the Legislative Readiness Fund, which was established to support issues that create a pro-business and pro-tourism climate in Colorado. He has also worked to integrate the relationship between the state and national associations. In 2010, Mitchell was named CHLA's Hotelier of the Year.
"Kjell is a true leader in Colorado. His experience and passion stretch throughout the lodging industry, his community and beyond. The association is grateful for his contributions and proud of his accomplishments. There is no one more deserving," said Christine O'Donnell, President of the CHLA.
The State Leadership Award is the latest honor in a string of awards for Colorado's premier hot springs resort. The Spa of the Rockies, the property's four-year-old modern spa facility located in the historic bathhouse building, was named by both SpaFinder and Spa magazine as a Reader's Top Choice. The Glenwood Hot Springs Pool, world-famous for its two enormous geothermal hot springs pools, was selected as one of the top ten pools in the U.S. by Fodor's Travel. And within the past year, Rand McNally and USA Today voted Glenwood Springs the Most Fun Town in America, naming Glenwood Hot Springs a must-see attraction.
About Colorado Hotel and Lodging Association
With more than 540 members, the Colorado Hotel and Lodging Association represents over 40,000 guestrooms throughout Colorado and provides visitors with the leading searchable database of travel accommodations in the state. CHLA member properties include bed and breakfast inns, luxury hotels, limited service properties, Colorado ski resorts, Rocky Mountain cabins, rustic
guest ranches, relaxing spas, weekend getaway timeshares, and condominium and vacation rental services, ranging in size from three to 1,100 rooms.
About Glenwood Hot Springs
Glenwood Hot Springs is a landmark Colorado resort located along I-70 at Glenwood Springs, approximately 165 miles west of Denver and 90 miles east of Grand Junction. Famous for its enormous hot springs pool, other amenities include the Spa of the Rockies, the Glenwood Hot Springs Lodge, an athletic club, a restaurant open for breakfast and lunch, a retail store specializing in swimwear, and a miniature golf course open seasonally. For more information, please visit http://www.hotspringspool.com or call 800-537-SWIM (7946) or 970-947-2955. Current press releases, a press kit, photos, and a live web camera are available at http://www.hotspringspool.com/x.php?p=PressRoom.
Media Contact:
Jeremy Gilley, Director of Sales and Revenue
Glenwood Hot Springs/Spa of the Rockies
970-945-3324
jgilley (at) hotspringspool (dot) com
or
Vicky Nash
Resort Trends, Inc. – media communications for the travel & tourism industry
970-948-4923
pr (at) hotspringspool (dot) com