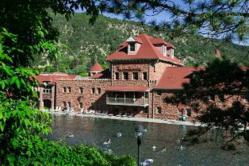 We are blessed with an incredible energy source here and feel a sense of stewardship regarding the hot springs. We also actively strive to be a leader in the conservation of natural resources
Glenwood Springs, Colo. (PRWEB) June 19, 2012
Glenwood Hot Springs is famous for many things, particularly its two enormous spring-fed mineral hot springs pools and its award-winning Spa of the Rockies. Equally impressive, though less well known, is the fact that Glenwood Hot Springs has been an environmental trailblazer since long before terms like "carbon footprint," "eco-friendly" and "sustainability" became commonplace. Now, in addition to harnessing geothermal heat sources on-site, Glenwood Hot Springs has adopted practices that include the use of state-of-the-art materials and energy-efficient technology that add up to not only dollars saved, but to a cleaner, healthier environment for visitors and the community.
"We are blessed with an incredible energy source here and feel a sense of stewardship regarding the hot springs. We also actively strive to be a leader in the conservation of natural resources," said Gary Bosco, Glenwood Hot Springs Facilities Manager, explaining how green practices are an integral part of the Glenwood Hot Springs management culture. "As we upgrade our infrastructure, we look at all our energy-saving options and what the long-term payback of those investments will be."
When CLEER (Clean Energy Economy for the Region), a non-profit energy consulting company in Carbondale, Colorado, issued an energy challenge to local businesses to participate in an electric rebate program, Glenwood Hot Springs stepped up. As a result, the landmark resort replaced outdated lighting fixtures with new, energy-efficient models. The Glenwood Hot Springs staff was among the first to notice and appreciate the electrical upgrades. "Our employees were excited about the brighter, flicker-free work areas as a result of the conversion from T-12 to T-8 fixtures," Bosco said. In the Glenwood Hot Springs Sport Shop, new lighting fixtures were a welcome relief. The retail area was having issues with the heat emanating from high-energy halogen bulbs; now, cool eight-watt bulbs make the swimsuit and sportswear clothing boutique a comfortable environment for working and shopping. Similar lighting upgrades have been implemented throughout the property, including at the Glenwood Hot Springs Lodge, the Glenwood Hot Springs Athletic Club and the Spa of the Rockies.
In addition to upgrading lighting fixtures property-wide, Glenwood Hot Springs has been methodically replacing outdated appliances with energy-efficient ones. A high-efficiency chiller is keeping things cool at the Lodge, three on-demand hot water heaters for the Athletic Club showers are 97 percent efficient (previously 67 percent) and blue LED tree lights dazzle visitors year-round on the cluster of pines at the western entrance. Bosco explained that in addition to being energy hogs, the old tree lights were continually tripping the breakers; with the new LED tree lights, there are no such problems and they are 75 percent more efficient!
Three months after the new technology was installed, Glenwood Hot Springs recorded a 19 percent drop in gas usage in the bathhouse, Grill and Sport Shop; a nine percent drop in the electrical usage by the Pool complex; and a 12 percent drop in the Lodge's electricity usage. "Keeping costs down reduces expenses to everyone, with our visitors being the ultimate beneficiaries," Bosco said.
While using the latest technology enables Glenwood Hot Springs to further reduce its energy use, the property has always been a conservation leader. In 1986, Glenwood Hot Springs Lodge was the first hotel in the state to be entirely heated by geothermal sources. Heat exchangers submerged in the Yampah Spring are made from durable titanium, a metal resistant to the corrosive effects of the heat and minerals, making it possible to heat the 107-room Lodge, as well as some of the surrounding sidewalks and rooflines. Geothermal systems also pre-heat domestic water property-wide, warming incoming city water from 50°F to approximately 105°F, for use in the on-site laundry facility, the wet lounge at the Athletic Club and the Spa of the Rockies. Traditional gas sources heat the water the rest of the way, to more precise temperatures as needed. A simple, yet innovative gravity-fed system flows under the pool deck, keeping it snow-free and safe in the winter. This system also heats the bathhouse, pool lobby and Sport Shop.
With all the changes that have recently taken place, it would be easy for Glenwood Hot Springs to rest on its conservation laurels, but that's not how the company operates. As a business and community leader, Glenwood Hot Springs is always looking for ways to lessen its impact on the environment. "Right now we're putting together an employee-led Green Team," Bosco said. "Our employees have great ideas for recycling and want to take the initiative to further our efforts in that area." Other plans for the future include installing motion sensors that turn off lights when rooms are vacant, forming collaborative partnerships with the City of Glenwood Springs to use excess thermal energy and using CLEER's Energy Navigator to monitor real-time energy usage.
About Glenwood Hot Springs
Glenwood Hot Springs is a landmark Colorado resort located along I-70 at Glenwood Springs, approximately 165 miles west of Denver and 90 miles east of Grand Junction. Famous for its enormous hot springs pool, other amenities include the Spa of the Rockies, the Glenwood Hot Springs Lodge, an athletic club, a restaurant open for breakfast and lunch, a retail store specializing in swimwear and a miniature golf course open seasonally. For more information, please visit http://www.hotspringspool.com or call 800-537-SWIM (7946) or 970-947-2955. Current press releases, a press kit, photos and a live web camera are available at http://www.hotspringspool.com/x.php?p=PressRoom.
Media Contact:
Jeremy Gilley, Director of Sales and Revenue
Glenwood Hot Springs/Spa of the Rockies
970-945-3324
jgilley (at) hotspringspool (dot) com
or
Vicky Nash
Resort Trends, Inc. – media communications for the travel & tourism industry
970-948-4923
pr (at) hotspringspool (dot) com