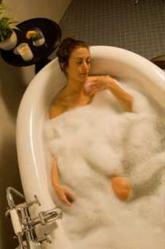 Industry trends tell us there is a resurgence of interest in holistic healing, which happens to dovetail perfectly with Spa of the Rockies' philosophy of supporting natural health and wellness
Glenwood Springs, Colo. (PRWEB) February 16, 2012
While the mention of minerals such as boron, calcium, iron, lithium, potassium, magnesium, manganese and zinc might bring to mind chemistry classes of days gone by, these are in fact some of the minerals dissolved in the waters of the Glenwood Hot Springs Pool. Now, in addition to enjoying the healing benefits of these and other minerals via a therapeutic soak in the Glenwood Hot Springs Pool, mineral therapies are now available in combination with relaxing treatments at the Spa of the Rockies, and the spa's monthly special always features at least one mineral-based treatment. During the month of March, the new Spring Fling spa package begins with a mineral bath, followed by a 25-minute refresher facial, a 25-minute upper body massage and ends with a spa pedicure; guests may enjoy all four treatments for only $150 (regularly $199).
Known to the Ute Indians as Yampah, or "Big Medicine," Glenwood Hot Springs has always been a place for healing, and to this day the Utes perform an annual ritual blessing of the springs they still consider sacred. People have been drawn to the curative waters of Glenwood Hot Springs for over 100 years. Purported health benefits include increasing body temperature to kill germs and viruses, eliminating toxins, increasing blood flow and circulation, boosting metabolism and the absorption of essential minerals through the skin; all this from soaking, swimming and playing in Colorado's most accessible, year-round hot springs pool.
"Industry trends tell us there is a resurgence of interest in holistic healing, which happens to dovetail perfectly with Spa of the Rockies' philosophy of supporting natural health and wellness," said Avalon Lionheart, Manager for the Spa of the Rockies. "We're a mineral springs spa, so it makes sense that our mineral-based treatments are among our most popular. It's one of the things we do best."
In addition to Glenwood Hot Springs' own unique blend of minerals, Spa of the Rockies has partnered with Mineral Essentials, a product line containing 34 essential minerals from the ancient healing waters of Mt. Clemens in the Michigan Basin, the source of the highest natural concentration of minerals in the world.
This is the same potent formula used in Spa of the Rockies' signature mineral treatments. Mineral treatments at the Spa of the Rockies include mineral soaks in private claw-footed bath tubs, an exfoliating mineral body polish with Vichy shower treatment, a nourishing mineral body mask, a massage that uses a mineral-rich gel and moist heat to target joint pain and areas of discomfort, and a restorative mineral manicure and pedicure to revitalize and reestablish moisture balance to hands and feet.
Each month the Spa of the Rockies features a value-priced package that bundles at least three relaxing spa treatments aimed to help guests feel fantastic from head to toe; these treatments always include at least one, and often more, mineral-based offerings. Please check the Glenwood Hot Springs' home page for the most up-to-date treatment specials.
About Glenwood Hot Springs
Glenwood Hot Springs is a landmark Colorado resort located along I-70 at Glenwood Springs, approximately 165 miles west of Denver and 90 miles east of Grand Junction. Famous for its enormous hot springs pool, other amenities include the Spa of the Rockies, the Glenwood Hot Springs Lodge, an athletic club, a restaurant open for breakfast and lunch, a retail store specializing in swimwear, and a miniature golf course open seasonally. For more information, please visit http://www.hotspringspool.com or call 800-537-SWIM (7946) or 970-947-2955. Current press releases, a press kit, photos, and a live web camera are available at http://www.hotspringspool.com/x.php?p=PressRoom.
Media Contact:
Jeremy Gilley, Director of Sales and Revenue
Glenwood Hot Springs/Spa of the Rockies
970-945-3324
jgilley (at) hotspringspool (dot) com
or
Vicky Nash
Resort Trends, Inc. – media communications for the travel & tourism industry
970-948-4923
pr (at) hotspringspool (dot) com
###