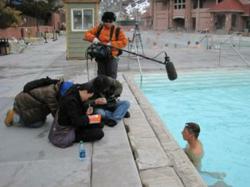 Many overseas hot springs are exclusive, expensive and not family friendly. We're inclusive and affordable; we welcome everyone, and I think that's refreshing for our international guests.
Glenwood Springs, CO (PRWEB) September 07, 2011
Glenwood Hot Springs is once again in the international media spotlight. Recent visits from broadcast and print journalists have resulted in stories featuring Glenwood Hot Springs' famous pool, world-class spa, and newly remodeled lodge. In September and October, eight journalists and public relations representatives from as far away as the United Kingdom, Canada, Japan, Germany and Mexico will travel to Glenwood Springs, Colorado, in order to share their hot springs experiences with millions of readers and viewers in their home countries.
"Many other cultures have deep-rooted hot springs traditions, so our international guests deeply appreciate the hot springs resource," said Ann Denney, Director of Sales and Marketing for Glenwood Hot Springs and Spa of the Rockies. "I think we're attractive to international visitors for a number of reasons. Many overseas hot springs are exclusive, expensive and not family friendly. We're inclusive and affordable; we welcome everyone, and I think that's refreshing for our international guests."
With a long hot springs history of their own, the Japanese are especially enamored of hot springs sites throughout the world, and even have a television program devoted to the topic. "World's Hot Spring Journey" has featured celebrated hot springs in Germany, Hungary, Italy, New Zealand, Turkey and Taiwan. With a viewership of more than 30 million households, BS Nippon recently aired a show spotlighting the healing qualities of Glenwood Hot Springs. The Japanese producers were intrigued by the enormous size of the Glenwood Hot Springs' two pools and the fact that the earliest inhabitants of the area, the Ute Indians, traditionally used the hot springs for health benefits and even named it "Yampah" which translates to "Big Medicine". There are approximately 15 naturally occurring minerals dissolved in the hot springs water.
Similarly, for the Chinese film crew, which wrapped up shooting in early July, the emphasis was on the healing properties of the water combined with a one-of-a-kind hot springs experience. Host Joy Zhao, Director of New Tang Dynasty TV, spoke to audiences from the 104-degree Fahrenheit (40 degrees Celsius) Therapy Pool, where she was also filmed relaxing in a bubble chair. She later sipped hot mineral water from the resort's drinking spring, a well-known spa tradition around the world that is reputed to have health benefits. Acquainted with the practice from their native countries, many international guests indulge in a cup of mineral water from the drinking spring during their stay. In the early days, Glenwood Hot Springs water was bottled and sold as a cure for a variety of ailments.
While hot springs healing properties are certainly a draw, so are the resort's leisure and recreational opportunities. A Korean travel writer who visited in August included Glenwood Hot Springs as a must-visit stop in his book "USA: 12 Western States Guidebook," due for publication next year. Other journalists and in-market representatives from around the world will be descending on Glenwood Hot Springs in September and October to discover for themselves what makes this property so special. In addition to spending time poolside, the contingent will also visit the Spa of the Rockies, a three year old state-of-the-art facility located in the historic bathhouse where treatments include hydrotherapy, massage, body treatments, facials and nail services. The group will log their experiences on film, in print or press pitches, resulting in stories that will reach audiences many time zones away from Colorado. And with social media, even non-journalists can have impact on the traveling public. Two separate German reviewers recently gave Glenwood Hot Springs high marks for friendliness, affordability and comfort. Denney added, "The world really is at our doorstep, and we're saying, 'come in, get comfortable, stay a while, and oh, did we mention we have this really great pool?'" Just like in those early days, Glenwood Hot Springs is a place to soak, splash, sleep and spa, only now plebeians are as welcome as princes.
About Glenwood Hot Springs
Glenwood Hot Springs is a landmark Colorado resort located along I-70 at Glenwood Springs, approximately 165 miles west of Denver and 90 miles east of Grand Junction. Famous for its enormous hot springs pool, other amenities include the Spa of the Rockies, the Glenwood Hot Springs Lodge, an athletic club, a restaurant open for breakfast and lunch, a retail store specializing in swimwear, and a miniature golf course open seasonally. For more information, please visit http://www.hotspringspool.com or call 800-537-SWIM (7946) or 970-947-2955. Current press releases, a press kit, photos, and a live web camera are available at http://www.hotspringspool.com/x.php?p=PressRoom.
Media Contact:
Ann Denney, Director of Sales and Marketing
Glenwood Hot Springs/Spa of the Rockies
970-945-3324
adenney(at)hotspringspool(dot)com
or
Vicky Nash
Resort Trends, Inc. – media communications for the travel & tourism industry
970-948-4923
pr(at)hotspringspool(dot)com
###