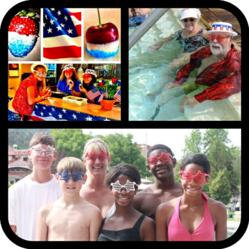 One hundred and twenty-five years later, Devereux's dream of a world-famous mineral hot springs resort is still going strong
Glenwood Springs, CO (PRWEB) June 14, 2013
Steeped in history, Glenwood Hot Springs is renowned as the world's largest mineral hot springs pool and has attracted millions of visitors to swim, soak and spa since it opened on July 4, 1888. This Independence Day, the landmark resort will commemorate both the nation's birthday and its own 125th year.
"Walter Devereux could have picked any day to open his venture in 1888; he picked July 4 – an auspicious day in history that symbolizes the beginning of something new, grand and lasting," said Jeremy Gilley, director of sales and revenue for Glenwood Hot Springs and Spa of the Rockies. "One hundred and twenty-five years later, Devereux's dream of a world-famous mineral hot springs resort is still going strong."
From the moment he purchased the raw land that contained the prolific hot springs, Devereux, a wealthy mining engineer, set about transforming his vision of a resort of international acclaim into a reality. He began the construction of a massive pool that was to be the centerpiece of the resort. In the process, he had to alter the course of the Colorado River to isolate the largest hot spring, known as the Yampah spring, a labor-intensive undertaking. Next, he hired Theodore von Rosenberg, an architect from Vienna, Austria, to build a bathhouse that would offer elegance and refinement to the highbrow clientele he envisioned. At a cost of $100,000, it was the most expensive structure built on the Western Slope to date. Finally, on July 4, 1888, Devereux officially opened the resort to visitors, and they traveled from near and far to enjoy the European-style ambiance of the springs and spa.
Present-day visitors to Glenwood Hot Springs can enjoy a more modern version of the same amenities and then some. Glenwood Hot Springs Pool is now divided into two swimming pools: the smaller therapy pool is cooled to 104 degrees Fahrenheit, while the big pool is a year-round pleasant 90-93 degrees Fahrenheit. A diving board, two water slides and a kiddie pool provide even more diversions. The awarding-winning Spa of the Rockies invites guests to choose from a healing menu of spa services, including massages, body treatments, facials and nail services. Other amenities include the newly remodeled, 107-room Glenwood Hot Springs Lodge, where every stay includes unlimited pool admission and complimentary full breakfast served poolside at the Grill. The property is also home to the members-only Glenwood Hot Springs Athletic Club, one of the region's premier facilities. Lodge guests receive discounted admission to the Club. The Glenwood Hot Springs Sport Shop sells everything visitors need for a day at the pool, including sunscreen, swimwear, towels and souvenirs.
On July 4, Glenwood Hot Springs will celebrate with giveaways for all guests that include patriotic sunglasses and logoed beach balls while supplies last. A rousing happy birthday singalong is also planned. As a memento, visitors are encouraged to take their own commemorative photos at the photo cutout booth, located near the deep end of the pool and featuring a sepia-toned original photograph of three hot springs swimmers dressed in 1880s swim attire. In the Sport Shop, there is a new book for sale, "Glenwood Hot Springs Celebrating 125 Years," which was recently released to coincide with the quasquicentennial and details the resort's history from the arrival of the first explorers to the present.
About Glenwood Hot Springs
Glenwood Hot Springs is a 125-year-old Colorado landmark resort located along Interstate 70 at Glenwood Springs, approximately 165 miles west of Denver and 90 miles east of Grand Junction. Famous for its enormous hot springs pools, other amenities include the Spa of the Rockies, the Glenwood Hot Springs Lodge, an athletic club, a restaurant open for breakfast and lunch, a retail store specializing in swimwear and a miniature golf course, open seasonally. For more information, including press releases, a press kit, photos and a live web camera, please visit http://www.hotspringspool.com/misc/press-room or call 800-537-SWIM (7946) or 970-947-2955.
Media Contact:
Jeremy Gilley, Director of Sales and Revenue
Glenwood Hot Springs/Spa of the Rockies
970-945-3324
jgilley (at) hotspringspool (dot) com
or
Vicky Nash
Resort Trends, Inc. – media communications for the travel & tourism industry
970-948-4923
pr (at) hotspringspool (dot) com