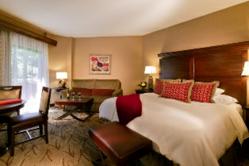 The rooms were designed to echo the serene environment of the Spa of the Rockies, and at the same time provide our guests with all the extras that make a stay at Glenwood Hot Springs Lodge a truly one-of-a-kind experience
Glenwood Springs, CO (PRWEB) January 10, 2012
The best location in Glenwood Springs just got better. Glenwood Hot Springs, home of the world-famous Glenwood Hot Springs Pool and the award-winning Spa of the Rockies, is ready to welcome guests with 107 newly remodeled rooms. Now when guests check into the Glenwood Hot Springs Lodge, they'll be getting the spa treatment from the moment they walk through the door. Every room at Glenwood Hot Springs Lodge is not only a visual feast for the eyes, but offers real comforts including spa linens, thoughtful lighting options, bedside iPod docking stations, mini-fridges and much more.
"The rooms were designed to echo the serene environment of the Spa of the Rockies, and at the same time provide our guests with all the extras that make a stay at Glenwood Hot Springs Lodge a truly one-of-a-kind experience," said Jeremy Gilley, Director of Sales and Revenue for Glenwood Hot Springs and Spa of the Rockies.
The comprehensive, two-phase, $2 million renovation project commenced on April 1, 2011, with the final phase completed on December 24, 2011. Every room received a transformational floor-to-ceiling makeover. Now, when guests walk through the door to their room, they are greeted with a soothing color palette of sage greens and warm neutral hues combined with invigorating splashes of cinnamon. While Glenwood Hot Springs has always been known for its premium mattresses and cushy pillows, even these have been given the spa treatment with white bed linens topped with a waffle-weave comforter cover and a plush throw. A mahogany table and chairs provide ample room for work or recreational endeavors. Sheer drapes on the large picture windows and balcony doors allow for views and the warmth of filtered sunlight when desired, while blackout drapes offer privacy.
Not as noticeable, but every bit as vital to a relaxing vacation getaway, are the many technology upgrades that enhance every guest room at the Glenwood Hot Springs Lodge. A 42-inch LED flat screen television takes center stage, and is HDMI- and Cat5-compatible for high quality audio and video output. Conveniently placed bedside docking stations for iPods and smartphones help keep these devices charged and always handy. Other in-room technology is just as savvy, if less obvious. Built into each mahogany headboard are two LED reading lights, one on each side of the bed. The focused beam provides just the right amount of light for reading while allowing others in the room to drift off to sleep. The custom cabinetry in the room is handsome, and cleverly conceals a mini-fridge, microwave and a state-of-the-art safe for storing valuables. Other amenities in each room include a coffeemaker, complimentary wireless internet, an iron and ironing board. Secure ski, snowboard and bike storage is available on the premises as well.
Naturally, spa treatment extends to the bathroom, a modern alcove for rejuvenation. A freestanding, residential-style vanity with granite countertops is topped with the same Zents bath and shower essentials used at the Spa of the Rockies. The shower enclosure, decorated with luminous glass accents of olive, gold and chocolate, channels a vacation state of mind. No need to tote along a hairdryer, one is provided.
Along with every stay at Glenwood Hot Springs Lodge, guests receive unlimited admission to the Glenwood Hot Springs Pool, which is open until 10:00 PM nightly, as well as complimentary breakfast at the Grill, the resort's poolside restaurant. The full breakfast is served from 7:00 to 11:00 AM, and includes cooked-to-order omelets, scrambled eggs, pancakes, hash browns, toast and daily specials. Lighter fare includes bagels, fresh fruit, cereal, yogurt and Danish. Coffee, tea, milk and a selection of fruit juices are also available.
Guests may enjoy the spa treatment every day and night at the Glenwood Hot Springs Lodge. Lodging packages and reservations are available online at http://www.hotspringspool.com, or by phone at 800-537-SWIM (7946) or 970-945-6571.
About Glenwood Hot Springs
Glenwood Hot Springs is a landmark Colorado resort located along I-70 at Glenwood Springs, approximately 165 miles west of Denver and 90 miles east of Grand Junction. Famous for its enormous hot springs pool, other amenities include the Spa of the Rockies, the Glenwood Hot Springs Lodge, an athletic club, a restaurant open for breakfast and lunch, a retail store specializing in swimwear, and a miniature golf course open seasonally. For more information, please visit http://www.hotspringspool.com or call 800-537-SWIM (7946) or 970-947-2955. Current press releases, a press kit, photos, and a live web camera are available at http://www.hotspringspool.com/x.php?p=PressRoom.
Media Contact:
Jeremy Gilley, Director of Sales and Revenue
Glenwood Hot Springs/Spa of the Rockies
970-945-3324
jgilley(at)hotspringspool(dot)com
or
Vicky Nash
Resort Trends, Inc. – media communications for the travel & tourism industry
970-948-4923
pr(at)hotspringspool(dot)com
###