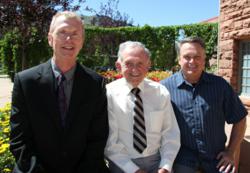 Executive management will now be able to focus more attention on the future direction of the company and higher level issues, such as financial management, community outreach, strategic planning, and continued improvements to our product offerings
Glenwood Springs, Colo. (PRWEB) September 11, 2012
Executives at Glenwood Hot Springs have new titles and new roles at the world's largest natural hot springs pool. The property, which will celebrate its 125th anniversary in 2013, includes the awarding-winning Spa of the Rockies and the 107-room, newly remodeled Glenwood Hot Springs Lodge. The main attraction, the Glenwood Hot Springs Pool, remains a local favorite and a top destination for Colorado visitors. The recent changes in the company's organizational structure reflect a business approach that aims to simultaneously honor the history of the hot springs while at the same time embrace a leadership model that aligns with future business strategies.
"Reflecting on the past 125 years, I feel the obligation to act as a steward of the hot springs resource in the same way my predecessors have done. Over the years, the engaged and passionate leadership at Glenwood Hot Springs has built a foundation that now defines my new role. But it must be noted that success is a team effort, and I credit the many qualified owners, directors, managers and employees who help us achieve our mission every day, and that is to make people feel better when they visit Glenwood Hot Springs," said Kjell Mitchell, Glenwood Hot Springs' newly appointed Chief Executive Officer and President.
Instrumental in building that solid foundation is Henry "Hank" Bosco, who for more than 50 years has been a formidable leader and a role model at Glenwood Hot Springs, holding positions such as President and General Manager. Approaching his 90th birthday, the businessman and community philanthropist remains actively involved at Glenwood Hot Springs, now serving as Chairman of the Board. Bosco's achievements have earned him recognition at both the state and local level. In 2009, he was inducted into the Colorado Business Hall of Fame. Always civic-minded, Bosco served as a Glenwood Springs City Councilman for eight years and was a founding member of the Valley View Hospital Association, which today employs hundreds of people. Bosco also helped establish YouthZone, an organization that provides support and counseling for at risk teens and their families. In August of 2009, he was named to the Italian-American Hall of Fame, and in 2006 he was honored as Citizen of the Year by the Glenwood Springs Chamber Resort Association, which later established the Bosco Tourism Business of the Year award in his honor.
Taking over for Bosco as President of the company is Mitchell, who was also named Chief Executive Officer. Mitchell, who previously served as Chief Operating Officer and General Manager, has been with Glenwood Hot Springs for 36 years, serving in a variety of capacities. Working as a bellman and front office supervisor in the 1970s, Mitchell got his start in the hospitality industry early and worked his way into positions of leadership. In 1989, he was appointed General Manager. Under his leadership, the organization has grown three significant business operations, including the award-winning Spa of the Rockies, the Glenwood Hot Springs Athletic Club with more than 1,000 members and the Glenwood Hot Springs Lodge, which has undergone a massive renovation to its lobby and guest rooms. In addition to his duties at Glenwood Hot Springs, Mitchell served on the Colorado Hotel and Lodging Association Board of Directors for 16 years and helped create a supportive pro-tourism climate in Colorado. In 2010, Mitchell was named Hotelier of the Year by the Colorado Hotel and Lodging Association.
Also shifting roles is John Bosco, who was recently appointed Vice President and Chief Financial Officer. John grew up working at Glenwood Hot Springs, learning the business from the ground up through entry-level positions that included working in pool and grounds maintenance and as a bellman at the Glenwood Hot Springs Lodge. After attaining a degree in business administration with an emphasis in accounting, John began his career in finance with Occidental Oil Shale and later General Electric. His experience as controller for Mountain Village in Telluride, Colo., paved the way for joining Glenwood Hot Springs as controller in 1988. Exceeding guest expectations is always the goal at Glenwood Hot Springs, and John believes the new management roles will play a key role in determining future strategies.
"Improvements to our organizational structure have evolved to the point where the executive management team will now be able to focus more attention on the future direction of the company and higher level issues, such as financial management, community outreach, strategic planning, and continued improvements to our product offerings and diversity," said John Bosco, newly named Glenwood Hot Springs' Vice President and Chief Financial Officer.
About Glenwood Hot Springs
Glenwood Hot Springs is a landmark Colorado resort located along I-70 at Glenwood Springs, approximately 165 miles west of Denver and 90 miles east of Grand Junction. Famous for its enormous hot springs pool, other amenities include the Spa of the Rockies, the Glenwood Hot Springs Lodge, an athletic club, a restaurant open for breakfast and lunch, a retail store specializing in swimwear and a miniature golf course open seasonally. For more information, please visit http://www.hotspringspool.com or call 800-537-SWIM (7946) or 970-947-2955. Press releases, a press kit, photos, and a live web camera are also available.
Media Contact:
Jeremy Gilley, Director of Sales and Revenue
Glenwood Hot Springs/Spa of the Rockies
970-945-3324
jgilley (at) hotspringspool (dot) com
or
Vicky Nash
Resort Trends, Inc. – media communications for the travel & tourism industry
970-948-4923
pr (at) hotspringspool (dot) com