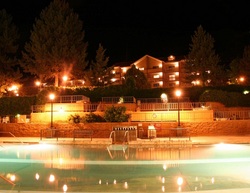 It's 153 miles from door to door
Glenwood Springs, CO (Vocus) October 12, 2010
Glenwood Hot Springs' most loyal guests have been making the trek to soak in the hot mineral springs for decades. Some guests like Norm Hutton and his wife Shirley have been regulars for over half of a century. What brings a guest back for 50 plus years? The activities, lodging, value and of course the opportunity to get into plenty of hot water.
Located just miles from Denver along Interstate-70, Glenwood Hot Springs is a convenient mountain getaway, "It's 153 miles from door to door," chuckles Hutton who recently celebrated his 76th birthday at the resort, and has done so every year since he turned 50. Hutton also shares his love of Glenwood Hot Springs with his extended family, "Every summer we book 7 or 8 rooms at the (Glenwood Hot Springs) Lodge for about 25 of us: our kids, grandkids and great grandchildren. We always have a wonderful time," Hutton explains.
On their own, Robert and Jackie Acker have been coming to the Hot Springs Pool for almost 60 years. In 1969, the couple wed and spent their honeymoon at the resort. They've been coming back to Glenwood Hot Springs ever since. Jackie remembers the lush rose gardens that once graced the property. After an admiring comment to Dottie Bosco, (the wife of Hank Bosco, who today at 87 continues as president of Glenwood Hot Springs) Jackie found a bouquet of freshly cut roses waiting for her in her room. These days when the couple goes to the Grill for a meal, they make a point of sitting at a special booth. Hanging on the wall above the table is a photo from the mid 1950s that was taken of Robert sitting at the edge of the pool as a young boy.
The Salonyas used to visit during the summer to accommodate their childrens' school and work schedules, but now retired with grown children, they prefer to come during off-peak season. "The prices come down, the crowds are gone, and the weather is still great," explains John Salonya. John's wife Alice first splashed in Glenwood Hot Springs Pool when she was five years old. Then the couple started visiting together after they got married 37 years ago. For Alice and her husband, these days there is less splashing and more soaking. "We love the warm water and the mineral therapy, especially at night," said John. During their stay, the couple makes the Glenwood Hot Springs Lodge home base for other activities including dining, golf, rafting, Glenwood Caverns Adventure Park and massages at the Spa of the Rockies. "Relaxing is what it's all about," says John succinctly.
Vic Bovine of North Boulder couldn't agree more, "Glenwood Hot Springs Lodge is a first class place with a centralized location in a town that's got world class amenities like fishing, rafting and golfing." Vic and his family have been visiting Glenwood Hot Springs consistently for 22 years. One of the things that keeps the Bovine family coming back year after year is great service and value. "The people at the (Glenwood Hot Springs) Lodge are courteous and professional. The rooms are immaculate and everyone is very accommodating. Some people think $180 is expensive for a room, but it includes breakfast and admission to the pool. Where else can you stay today for basically $100 per night for a family of four with top quality service and amenities?" said Bovine.
Like the Huttons, the Baiers have also been coming since the mid 1950s. "We were here last month and it felt like a little bit of heaven," said John Baier who also celebrated a birthday at Glenwood Hot Springs recently. Baier feels like the Glenwood Hot Springs Lodge is his home away from home. He ticks off his favorite spots for dinner: the Glenwood Canyon Brewing Company, Tequilas, and Rivers. Vic Bovine also uses the Glenwood Hot Springs Lodge as an outpost for other activities that include biking in Glenwood Canyon, fishing on the Roaring Fork River, and having a drink on patio at the nearby Hotel Colorado after a day at the pool.
Baier particularly likes the fact that his visits to Glenwood Hot Springs are always consistent, "One of the things I like best is that our trips to Glenwood Springs are smooth and uneventful. There are no unpleasant surprises and we're always treated very well." Vic Bovine calls Glenwood Hot Springs one of Colorado's hidden treasures and echo's Baier's sentiment, "When you work hard all year, you want to pick a place you can count on. We keep coming back because we've never been disappointed."
Glenwood Hot Springs is one of Western Colorado's most venerable attractions and has hosted tens of thousands of visitors since it opened to the public in 1888, with these four families among its most loyal fans. One thing that does change, however, are the monthly and seasonal specials available to families for lodging and activities. To learn more about this special vacation destination and create family traditions that can last generations, like it has for the Huttons, Ackers, Salonyas, Baiers and Bovines, visit http://www.hotspringspool.com/.
About Glenwood Hot Springs
Among one of the top vacation destinations in Colorado, visitors have been flocking to the Glenwood Hot Springs for over 120 years. The landmark resort includes the Glenwood Hot Springs Pool, the world's largest natural outdoor hot springs pool; the 107 room Glenwood Hot Springs Lodge; the premier Glenwood Hot Springs Athletic Club; the Grill, a poolside restaurant; the Sport Shop, a retail store specializing in swimwear; as well as the recently opened Spa of the Rockies offering massage and other treatments to support natural health and wellness.
Glenwood Hot Springs is located in Glenwood Springs, Colorado, between Aspen and Vail, 165 miles west of Denver and 90 miles east of Grand Junction on Interstate 70 off exit 116 at 401 North River Road. 800-537-SWIM (7946) or 970-947-2955, http://www.hotspringspool.com. Current press releases, a press kit, photos, and a live web camera are available at http://www.hotspringspool.com/x.php?p=PressRoom.
Media Contact Information:
Ann Denney, Director of Sales and Marketing
Glenwood Hot Springs/Spa of the Rockies
970-945-3324
adenney (at) hotspringspool (dot) com
or
Vicky Nash
Resort Trends, Inc. – media communications for the travel & tourism industry
970-948-4923
pr (at) hotspringspool (dot) com
###