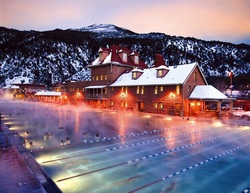 Glenwood Springs, CO (Vocus) October 20, 2010
It's only a matter of time before the ski slopes are covered with snow and ready for the first skiers and riders of the season. Anticipating another epic Rocky Mountain snow season, Glenwood Hot Springs is launching its perennially popular Ski Swim Stay package beginning on December 4. Included in the package is free skiing and riding for children ages 3 to 12 with each paying adult at Sunlight Mountain Resort, swimming in the naturally heated mineral water of Glenwood Hot Springs Pool, and staying overnight at the comfortable and convenient 104 room Glenwood Hot Springs Lodge. As always, a filling delicious continental breakfast served poolside at the Grill is also included.
"Our Ski Swim Stay packages offer our visitors the best of winter in Glenwood Springs. This is the only destination in Colorado where guests can ski at such a family friendly resort, swim in an enormous hot springs pool and stay in quality accommodations for a very affordable price. It's an unbeatable value," said Ann Denney, Director of Sales and Marketing for Glenwood Hot Springs.
Early season skiers and riders can save even more on Ski Swim Stay packages booked from December 4 through December 16, with prices starting as low as $100 per person. Rates for December 17 -25 start at $125, December 26 – January 2, 2011 start at $135 and the kids ski free offer is not available during this week. From January 3 through March 16 prices start at $103, and from March 17 through April 3 prices start at $116. For the ultimate in relaxation, ask about including a spa treatment at Spa of the Rockies when making a reservation. All rates are based on double occupancy; tax is not included and weekend rates are higher. To book a Ski Swim Stay package, please call 1-800-537-7946 or book online at http://www.hotspringspool.com/x.php?p=Packages.
Sunlight Mountain Resort is located just a few miles from the Glenwood Hot Springs Lodge. Guests can drive themselves to the resort or take the Sunlight Shuttle which conveniently provides door to slope service every day of the season, stopping at the Lodge to pick up skiers and riders in the morning and returning them at the end of day. Sunlight Mountain Resort offers 67 runs and a variety of terrain to challenge all ability levels. Private or group skiing and snowboarding lessons are offered daily. Conveniences like child care, equipment rental, a slope side bar and grill, outdoor deck and plenty of friendly staff to assist with everything from parking, directions, and assisting little ones at the lift make skiing at Sunlight Mountain Resort an annual wintertime tradition for many.
After a day on the slopes, Glenwood Hot Springs, open until 10:00 PM offers the ultimate après ski experience. Soak tired bodies and sooth sore muscles in the Therapy Pool. The water is actually cooled to 104 degrees Fahrenheit; submerged benches line the pool perimeter and provide restful places to perch and unwind. There are also coin operated bubble chairs available to further boost relaxation. The football field sized big pool is perfect for cooling down after a stint in the therapy pool. Bathwater warm, the temperature hovers around 93 degrees Fahrenheit. This is the place to splash and play, jump off the diving board or swim laps. For even more relaxation options, the Spa of the Rockies offers massages especially for skiers and riders, as well as a full menu of spa services.
At the end of the day, retreat to a room at the Glenwood Hot Springs Lodge. A variety of room types are available to suit family or group needs. All rooms have contemporary décor and modern amenities like high speed wireless Internet service, flat screen televisions, coffee makers and secure ski and snowboard storage. Bedding is plush and cozy to help ensure a restful night's sleep. In the morning, head over to the Grill for a delicious continental breakfast.
Ski Swim Stay packages are available for the entire winter season beginning on December 4, 2010 and ending on April 4, 2011. Make a reservation at Glenwood Hot Springs early to enjoy another great year of skiing, riding and swimming in Glenwood Springs, Colorado. For more information about Glenwood Hot Springs, please visit http://www.hotspringspool.com.
About Glenwood Hot Springs
Among one of the top vacation destinations in Colorado, visitors have been flocking to the Glenwood Hot Springs for over 120 years. The landmark resort includes the Glenwood Hot Springs Pool, the world's largest natural outdoor hot springs pool; the 107 room Glenwood Hot Springs Lodge; the premier Glenwood Hot Springs Athletic Club; the Grill, a poolside restaurant; the Sport Shop, a retail store specializing in swimwear; as well as the recently opened Spa of the Rockies offering massage and other treatments to support natural health and wellness.
Glenwood Hot Springs is located in Glenwood Springs, Colorado, between Aspen and Vail, 165 miles west of Denver and 90 miles east of Grand Junction on Interstate 70 off exit 116 at 401 North River Road. 800-537-SWIM (7946) or 970-947-2955, http://www.hotspringspool.com. Current press releases, a press kit, photos, and a live web camera are available at http://www.hotspringspool.com/x.php?p=PressRoom.
Media Contact Information:
Ann Denney, Director of Sales and Marketing
Glenwood Hot Springs/Spa of the Rockies
970-945-3324
adenney (at) hotspringspool (dot) com
or
Vicky Nash
Resort Trends, Inc. – media communications for the travel & tourism industry
970-948-4923
pr (at) hotspringspool (dot) com
###