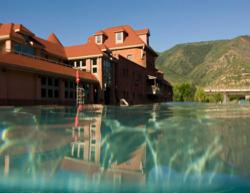 Why not be productive and relax too?
Glenwood Springs, Colorado (Vocus/PRWEB) January 20, 2011
As corporations and businesses seek close-to-home, more affordable options to hold their off site meetings, Glenwood Hot Springs is offering significant incentives to help keep costs down. Free meeting venues, free breakfast and free unlimited access to the world-famous Glenwood Hot Springs Pool for groups booking 10 or more rooms at the Glenwood Hot Springs Lodge help companies keep the bottom line in the black. Glenwood Hot Springs is ideally suited for groups of up to 30 people and is an easy drive from anywhere in the state via Interstate 70. Glenwood Hot Springs offers meeting planners comfortable accommodations, two fully equipped meeting rooms, access to the state's legendary hot springs pool as well as the upscale Spa of the Rockies.
Groups can meet in either the Ute or Iron Mountain rooms at the Glenwood Hot Springs Lodge. With high speed internet access, catering options, concierge business services, and a variety of room set-up options, both spaces facilitate a focused and efficient working environment. Private outdoor venues overlooking the pool are another option for casual gatherings. Associations, businesses and groups of all sorts can meet affordably, an important consideration, for only $100 per day for the meeting space, but when groups book ten rooms or more they receive the meeting space for free. To reserve group meeting space and book room reservations, please visit http://www.hotspringspool.com/, call 970-945-3339 or 800-537-7946 x641 for more information.
According to Ann Denney, Glenwood Hot Springs Director of Sales and Marketing, "We are able to offer small groups an affordable, efficient workspace, and combine it with one of Colorado's most unique attractions. Why not be productive and relax too?" Indeed, the Glenwood Hot Springs has been attracting visitors for well over a century. There's nothing quite like taking a dip in the hot mineral springs water to melt away stress. With unlimited pool admission and access from as early as 9:00 AM until as late as 10:00 PM, meeting-goers can start the day with a morning swim or soak or star gaze well into the evening.
For those wishing for the ultimate in relaxation, Spa of the Rockies, located in the historic sandstone bathhouse building, offers a delectable variety of ways to decompress. Massages, body treatments, facials, hydrotherapy, manicures and pedicures are a great way to pamper and relax individually or with co-workers. The refurbished space that is now home to the modern Spa of the Rockies focuses on natural health and wellness, using only organic products. A spa boutique sells many of the products used in treatments so that spa-goers can take the experience with them when they leave. For appointment times that suit schedules, Denney recommends group attendees make their spa reservations in advance, or upon arrival the lodge staff can assist with booking spa reservations. For a complete list of the many services available, see http://www.spaoftherockies.com
Thermal hot springs, a central location and a variety of meeting and recreational opportunities make Glenwood Hot Springs a natural choice for small group meetings.
About Glenwood Hot Springs
Among one of the top vacation destinations in Colorado, visitors have been flocking to the Glenwood Hot Springs for over 120 years. The landmark resort includes the Glenwood Hot Springs Pool, the world's largest natural outdoor hot springs pool; the 107 room Glenwood Hot Springs Lodge; the premier Glenwood Hot Springs Athletic Club; the Grill, a poolside restaurant; the Sport Shop, a retail store specializing in swimwear; as well as the recently opened Spa of the Rockies offering massage and other treatments to support natural health and wellness.
Glenwood Hot Springs is located in Glenwood Springs, Colorado, between Aspen and Vail, 165 miles west of Denver and 90 miles east of Grand Junction on Interstate 70 off exit 116 at 401 North River Road. 800-537-SWIM (7946) or 970-947-2955, http://www.hotspringspool.com. Current press releases, a press kit, photos, and a live web camera are available at http://www.hotspringspool.com/x.php?p=PressRoom.
Media Contact Information:
Ann Denney, Director of Sales and Marketing
Glenwood Hot Springs/Spa of the Rockies
970-945-3324
adenney (at) hotspringspool (dot) com
or
Vicky Nash
Resort Trends, Inc. – media communications for the travel & tourism industry
970-948-4923
pr (at) hotspringspool (dot) com
# # #