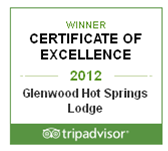 We are thrilled and honored that so many of our guests have taken the time to share their positive experiences on TripAdvisor
Glenwood Springs, Colo. (PRWEB) July 10, 2012
Glenwood Hot Springs has been welcoming visitors to experience the novelty and delight of soaking and swimming in the world's largest hot springs pool since it opened 124 years ago. Along the way, the resort property has figured out how to make guests happy, whether they're from out of town or are longtime locals. The result is a bevy of new accolades that includes a TripAdvisor Certificate of Excellence and a readers' choice award for the Glenwood Hot Springs Lodge, as well as readers' choice awards for the Glenwood Hot Springs Pool and the Spa of the Rockies.
Even before the extensive renovation that included the refurbishment of all 107 guest rooms, the Glenwood Hot Springs Lodge was receiving rave reviews from its guests, so much so that TripAdvisor awarded the property its coveted Certificate of Excellence. The award honors excellence in hospitality and is given to establishments that consistently achieve outstanding traveler reviews. According to TripAdvisor, the world's largest travel site, only about 10 percent of accommodations receive this prestigious designation. To qualify, businesses must maintain an overall rating of four or higher, out of a possible five, as reviewed by travelers on TripAdvisor. An additional award criterion includes the volume of reviews received within the last twelve months.
"Exceptional guest service and satisfaction is our top priority at Glenwood Hot Springs Lodge and property-wide," said Jeremy Gilley, Director of Sales and Revenue for Glenwood Hot Springs. "We are thrilled and honored that so many of our guests have taken the time to share their positive experiences on TripAdvisor."
While out-of-town visitors post their reviews to the TripAdvisor site, locals designate their top picks in the annual Glenwood Springs Post Independent Locals' Choice Awards. The newspaper's western Colorado readers submit entries for first through third place in a variety of categories; the votes are then tallied and published in a keepsake special edition. This year, the Glenwood Hot Springs Pool won first place in two categories: Best Local Attraction and Best Place to See and Be Seen. The Spa of the Rockies won first place for Best Spa and the Glenwood Hot Springs Lodge took third place in the Best Hotel or Motel category.
"Winning the Locals' Choice Awards is especially meaningful for Glenwood Hot Springs," said Gilley. "Being recognized as outstanding by our hometown community is one of the highest achievements we can earn."
Glenwood Hot Springs has been a longtime local favorite. This is the seventh consecutive year the Glenwood Hot Springs Pool has been a top finisher in the Locals' Choice category of Best Attraction and the third year it has won first place for Best Place to See and Be Seen. The Spa of the Rockies opened in 2008 and since then has won awards every year, finishing first for Best Spa twice.
About Glenwood Hot Springs
Glenwood Hot Springs is a landmark Colorado resort located along I-70 at Glenwood Springs, approximately 165 miles west of Denver and 90 miles east of Grand Junction. Famous for its enormous hot springs pool, other amenities include the Spa of the Rockies, the Glenwood Hot Springs Lodge, an athletic club, a restaurant open for breakfast and lunch, a retail store specializing in swimwear and a miniature golf course open seasonally. For more information, please visit http://www.hotspringspool.com or call 800-537-SWIM (7946) or 970-947-2955. Press releases, a press kit, photos, and a live web camera are also available.
Media Contact:
Jeremy Gilley, Director of Sales and Revenue
Glenwood Hot Springs/Spa of the Rockies
970-945-3324
jgilley (at) hotspringspool (dot) com
or
Vicky Nash
Resort Trends, Inc. – media communications for the travel & tourism industry
970-948-4923
pr (at) hotspringspool (dot) com