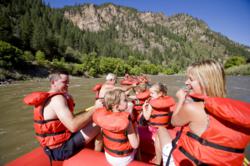 With some of the best water recreation opportunities in the state, I'd venture to say Glenwood Springs is Colorado's coolest town
Glenwood Springs, CO (PRWEB) April 11, 2013
As Colorado's white gold melts from the state's highest peaks and rain showers deliver more moisture, the surplus water funnels into the region's waterways, which is great news for Glenwood Springs, a town with not one, but two rivers. Named a finalist in Budget Travel magazine's 2013 Coolest Small Town competition, Glenwood Springs is located at the junction of the Colorado and the Roaring Fork Rivers. It's no wonder the hottest way to cool off here is to dive into the myriad of water-based adventures that await visitors, including a new season of rafting, kayaking, fishing, hot springs and cool pools.
"With some of the best water recreation opportunities in the state, I'd venture to say Glenwood Springs is Colorado's coolest town," said Lisa Langer, vice president of tourism marketing for the Glenwood Springs Chamber Resort Association, of the Budget Travel recognition. In fact, Glenwood Springs was the only Colorado town to be nominated in the nationwide competition.
Glenwood Springs is a river runner's dream destination. In Glenwood Canyon the Colorado River is forced through a narrow girdle of rock, making for some of Colorado's most thrilling splashes with knockout views. This section of river also happens to be the only portion of the Colorado that boasts Class III rapids all season long through high and low water flows. The Glenwood Springs 2013 rafting season officially opens on May 1.
Numerous rafting companies serve the paddling community. Glenwood Springs' commercial rafting outfitters have decades of experience delivering whitewater excitement to people of all ages and abilities. Glenwood Springs' rafting trips often include navigating rapids with names like Upper Superstition and Tombstone, and a trip through the Shoshone rapids is always a highlight. Companies offer several excursion options including half-day and full-day outings, and rafting trips in combination with other Glenwood Springs attractions like Glenwood Hot Springs and Glenwood Caverns Adventure Park.
While rafting dominates Glenwood's river scene, it is by no means the only way to dip into an aqua adventure. Thanks to the Glenwood Springs Whitewater Activity Area, kayakers and standup paddleboard (SUP) enthusiasts can practice tricks or surf Glenwood's very own wave. The Glenwood Springs Whitewater Activity Area is located in West Glenwood Springs. Built in 2008, the million dollar facility features a hole designed for playboating kayakers on river left and a smaller standing wave on river right that's ideal for SUP fans.
For those who prefer to plumb the depths of Glenwood's waterways, the fly fishing on the Roaring Fork River is outstanding. Sections are classified as Gold Medal Waters, a Colorado Wildlife Commission designation that identifies areas with superior fishing conditions. Cast away here for trout 14 inches or larger. Experienced, local fly-fishing outfitters and guide services can answer questions about where to go and what's biting, lead float trips and provide equipment.
Of course one of the coolest places to visit while in town is Glenwood Hot Springs, home of the world's largest mineral hot springs pool. The iconic attraction celebrates its 125th anniversary in 2013 with special events planned throughout the remainder of the year. Other fun places to soak and swim include the Aquatic Center at the Glenwood Springs Community Center. A zero depth entry makes getting in and out easy for little ones and the elderly, while a colorful collection of water features that includes a slide and fountain lets kids splash away the day. A diving board, lap lanes and a therapeutic whirlpool provide even more options. The Hotel Glenwood Springs, located at the base of the Glenwood Caverns Adventure Park tram, is another good place to take a dip. The hotel's Splash Pool Family Fun Center features a waterslide, kiddie waterslide, wading pool, whirlpool and activities like water basketball. For even more water recreation, Glenwood Springs hosts over a dozen hotel and motels with either indoor or outdoor swimming pools.
Soak in the fun in Glenwood Springs this season. Find out more about all of Glenwood Springs' aqua activities and make lodging reservations at http://www.visitglenwood.com or call 888-4-GLENWOOD (888-445-3696).
About Glenwood Springs
Glenwood Springs is located between Aspen and Vail, 165 miles west of Denver and 90 miles east of Grand Junction on I-70 off Exit 116. Glenwood Springs is home to many attractions and amenities including Hanging Lake, Glenwood Caverns Adventure Park, Glenwood Hot Springs, Yampah Vapor Caves and Sunlight Mountain Resort. For more information about Glenwood Springs, Colorado, call 970-945-6589 or go to http://www.visitglenwood.com/. For lodging reservations, call 888-4-GLENWOOD (888-445-3696). A complete press kit, press releases and downloadable photos are available at http://www.visitglenwood.com/media.
Media Contacts:
Lisa Langer, Vice President of Tourism Marketing
Glenwood Springs Chamber Resort Association
970-230-9035
lisa(at)glenwoodchamber(dot)com
or
Vicky Nash, Public Relations Representative
Resort Trends, Inc. – media communications for the travel & tourism industry
970-948-4923
Vicky(at)resorttrends(dot)com