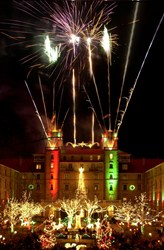 Instagram gives our guests a dynamic venue for sharing their favorite images of Glenwood Springs
Glenwood Springs, Colo. (PRWEB) July 18, 2013
Postcards are traditional vacation mementos but for many travelers Instagram – the mobile phone app that allows users to creatively photo edit their pictures – makes sharing visual memories more original and fun than the conventional souvenir. In July, Glenwood Springs added Instagram @VisitGlenwoodSprings to its social media menu and offers this guide to the 10 top photos to take and share while visiting Glenwood Springs.
"Instagram gives our guests a dynamic venue for sharing their favorite images of Glenwood Springs," said Lisa Langer, vice president of tourism marketing for Glenwood Springs. As for which photos to take, Langer added: "At the Visitors Center, our guests are always asking us where they can get the best shots; you can't miss with these picture perfect Glenwood Springs locations."
These 10 Glenwood Springs locations offer iconic views, but visitors are encouraged to let their spontaneity loose by snapping images that show friends and family having authentic experiences, then tag @VisitGlenwoodSprings on Instagram; share images via #VisitGlenwoodSprings. The city has also set up a geo tag (Glenwood Springs, Colorado) for users who'd like to add Glenwood Springs to their Instagram photo map. Remember, the key to Instagram is to capture candid memories.
1. Amtrak Station – The arrival point for countless visitors to Glenwood Springs both past and present, Amtrak's California Zephyr makes stops daily. The red sandstone building along Seventh Street is one of Glenwood's most historic and houses the town's railroad museum. Take photos from the Hotel Denver, located opposite the station.
2. Glenwood Hot Springs Pool – This year marks the mineral hot springs resort's 125th anniversary. The viewing balcony on the Grand Avenue pedestrian bridge provides the ideal vantage point to capture the entire length of the enormous pool, including the waterslides, diving board, Spa of the Rockies and therapy pool.
3. Hotel Colorado – This historic hotel has hosted President Teddy Roosevelt, the "Unsinkable" Molly Brown and gangsters Al Capone and Diamond Jack Alterie. Beautiful any time of year, it is perhaps most stunning when illuminated by tens of thousands of lights for the holidays. Take photos from the Glenwood Hot Springs miniature golf course, located across the street, for an all-encompassing view and from within the hotel's courtyard to capture close-up details.
4. Glenwood Caverns Adventure Park – The site of the highest-elevation roller coaster in the country offers three must-take photo opportunities: 1. Have a seat in the "Big Chair," an enormous wooden chair fit for a giant that dwarfs mere mortals. 2. From the viewing deck, take a shot of the Roaring Fork Valley capped by Mount Sopris to the south. 3. Exclamation Point, a stop on the Historic Fairy Caves Tour, provides a bird's-eye view of Glenwood Canyon and the Colorado River.
5. Sunlight Mountain Resort – During ski season, head to the local resort for breathtaking views of Mount Sopris and the Elk Range. For the best shot, take the Primo lift to the summit and veer right to The Parks, where a picnic table makes an idyllic spot for an al fresco lunch with unmatched panoramic views.
6. Doc Holliday's Memorial – Find the gun-slinging dentist-outlaw's marker in Linwood Cemetery, the final resting place of Glenwood's pioneer residents.
7. Colorado Bighorn Sheep – Rent a bike and follow the Glenwood Canyon Recreation Path into Glenwood Canyon, where the sure-footed herd likes to scramble up the cliffs near the bike and pedestrian overpass. Though they are accustomed to curious humans, use a telephoto lens to keep a safe distance.
8. Rafting – Glenwood Springs is home to two rivers, making rafting a prime warm-weather activity. Book a raft trip, bring a waterproof camera and fill the roll of film with colorful shots of boats, natural hot springs and canyon cliffs. On shore, Horseshoe Bend along the Glenwood Canyon Recreation Path provides a good place to see flotillas of rafters rounding the bend.
9. Neon signs – Capture the retro charm of two neon signs that have been illuminating the Glenwood night sky for decades. Both located in the 700 block of Grand Avenue, the rooftop Riviera Supper Club sign is best photographed from the pedestrian bridge; the famous neon pistol at Doc Holliday's Tavern is best viewed from across the street.
10. Hanging Lake – The beloved waterfall and pristine lake have grown more popular than ever with their designation as a National Natural Landmark. Parking is limited; if possible, choose off times to visit. The best views for photos are from the boardwalk surrounding the lake. Please do not leave the trail.
About Glenwood Springs
Glenwood Springs is located between Aspen and Vail, 165 miles west of Denver and 90 miles east of Grand Junction on Interstate 70 off Exit 116. Glenwood Springs is home to many attractions and amenities, including Hanging Lake, Glenwood Caverns Adventure Park, Glenwood Hot Springs, Yampah Vapor Caves and Sunlight Mountain Resort. For more information about Glenwood Springs, Colorado, call 970-945-6589 or go to http://www.visitglenwood.com/. For lodging reservations, call 888-4-GLENWOOD (888-445-3696). A complete press kit, press releases and downloadable photos are available at http://www.visitglenwood.com/media.
Media Contacts:
Lisa Langer, Vice President of Tourism Marketing
Glenwood Springs Chamber Resort Association
970-230-9035
lisa(at)glenwoodchamber(dot)com
or
Vicky Nash, Public Relations Representative
Resort Trends, Inc. – media communications for the travel & tourism industry
970-948-4923
Vicky(at)resorttrends(dot)com