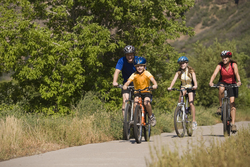 Glenwood Springs, CO (Vocus) July 19, 2010
The town of Glenwood Springs, Colorado is flanked by two rivers: the Roaring Fork River that runs north/south and the Colorado River that runs east/west. Paved trails along each river offer cyclists of all abilities access to the outdoors, unmatched alpine scenery, and a paved surface with minor elevation changes for traffic-free relaxing excursions. While it's possible to tour from the east entrance of Glenwood Canyon, through Glenwood Springs to Aspen for a ride roughly 60 miles one way, most cyclists choose to break up trips into smaller out-and-back day rides, making Glenwood Springs their lodging headquarters. An evening soak in the mineral waters of the Glenwood Hot Springs and dining afterward have become a popular ritual for visiting cycling enthusiasts. Ride the Rockies and Bicycle Tour Colorado regularly rotate Glenwood Springs into their cycling route largely because of the town's friendly attitude toward cyclists and the abundance of post-ride activities and restaurant options.
One of the most popular cycling routes is the Rio Grande Trail. Completed in 2008, it meanders along the Roaring Fork River and links Glenwood Springs with Aspen, Colorado. This rails-to-trails project gains roughly 2,100 feet over 44 miles, a gentle incline that makes for a pleasant ride. Many cyclists do portions of the trail, from Glenwood Springs to Carbondale, for example. There's plenty to see on this 24-mile (round-trip) ride. Look for historic old ranch buildings, bald eagles soaring above the river, herds of elk passing the hours in the wide open meadows, and majestic Mount Sopris in the distance. On the return trip, Beau Jo's Pizza is an ideal trailside stop for a refreshment and a slice.
For bikers who want to ride the entire distance between Glenwood Springs and Aspen, the Roaring Fork Transit Authority's (RFTA) Bike Bus is the way to go. The weekend-only bus is outfitted to carry up to 14 bikes. From stops in Glenwood Springs, visitors can ride up the valley and disembark at Ruby Park in Aspen where it's easy to connect to the Rio Grande trailhead for miles of breathtaking downhill cruising. See http://www.rfta.com/ for rates and schedules.
"We're a community of cyclists and we're fortunate to live in a place that supports and promotes cycling as evidenced by our extensive trail system, affiliation with cycling tours, numerous bike shops and of course the popularity of the Bike Bus. The fact that we even have a Bike Bus says a lot about the core values of Glenwood Springs," said Lindsey Lewis, Vice President of Tourism Marketing for Glenwood Springs Chamber Resort Association.
Another trail that gives riders an up-close look at Glenwood's spectacular scenery is the Glenwood Canyon Recreation Trail, which travels for 16 miles through Glenwood Canyon along the Colorado River. On this ride, look for herds of big horn sheep, rafters navigating rapids, and Amtrak's famed California Zephyr chugging along the opposite side of the river. This is a spectacular ride through one of Colorado's most scenic and accessible canyons. Four rest areas provide picnic-perfect places to stop and enjoy a pre-packed lunch. At the Grizzly Creek Rest Area, lock up the bikes--bike outfitters will provide locks--and take a walk up the trail or dip a toe in the icy mountain stream.
The cycling outfitters in Glenwood Springs make riding and exploring the area a breeze, providing everything needed for a memorable biking experience. Canyon Bikes even offers a canyon shuttle that drops bikers at Dotsero, the eastern-most point of the canyon, allowing riders to explore the full length of Glenwood Canyon, yet only pedal 16 miles one-way in a mostly downhill direction. For a complete list of outfitters and services see http://www.visitglenwood.com/biking.
The cycling season in Glenwood Spring spans three seasons: it gears up in spring, hits its stride in the summer months and cruises on into the fall for the peak of the color season. For more information about Glenwood's extensive trail network and for other rides, including many off-road options for mountain bikers, please visit http://web.glenwoodchamber.com/trails
About Glenwood Springs
Glenwood Springs is located between Aspen and Vail, 165 miles west of Denver or 90 miles east of Grand Junction on Interstate 70 off exit 116. For more information about Glenwood Springs, Colorado, call 970-945-6589 or go to http://www.visitglenwood.com/. For lodging reservations, call 888 4 GLENWOOD (888-445-3696). A complete press kit and press releases are available at http://www.visitglenwood.com/press-kit and http://www.visitglenwood.com/press-releases. Access to downloadable photos is available at http://www.visitglenwood.com/photos. Glenwood Springs is located between Aspen and Vail, 165 miles west of Denver or 90 miles east of Grand Junction on Interstate 70 off exit 116.
Media Contacts:
Lindsey Lewis, Vice President of Tourism Marketing
Glenwood Springs Chamber Resort Association
970-945-6589
lindsey (at) glenwoodchamber (dot) com
or
Vicky Nash, Public Relations Representative
Resort Trends, Inc. – Tourism & Resort Communications
970-948-4923
Vicky (at) resorttrends (dot) com
# # #