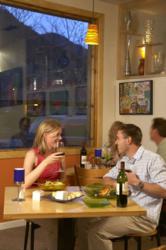 We are experiencing a sort of culinary reawakening in Glenwood Springs that our visitors and locals are quite literally eating up
Glenwood Springs, Colorado (Vocus/PRWEB) March 01, 2011
Glenwood Springs is a culinary hot spot these days with three new recently opened restaurants, the renovation and expansion of a favorite dining spot, and even a national award for one of Glenwood's most iconic gathering places. Rich in both flavor and history, dining in Glenwood Springs, the best is proudly served cold and in a glass. Located on the ground floor of the historic Hotel Denver on 7th Street, this family- friendly brewpub has consistently been a top finisher in beer brewing competitions throughout the country. Its most recent accolade was claiming the gold medal at the 2010 Great American Beer Festival for its Carbonator Doppelbock, a seasonal specialty beer. Stop by Glenwood Canyon Brewing Company to find out what's on tap and enjoy a full menu of hearty food including their famous onion rings, salads, burgers, and beef, chicken and pasta entrees.
Also along 7th Street is The Riviera, an establishment known for its eclectic assortment of fresh, visually appealing offerings. The neon Riviera Supper Club sign that has illuminated the Glenwood Springs skyline for three decades initially catches the eye of visitors as they cross the Grand Avenue bridge into town, but it's the cuisine that keeps them coming back. A sample of entrees include items like Colorado rack of lamb, osso bucco, scallops served over crab cakes with cilantro pesto sauce, seafood linguine with clams, shrimp and mussels in a white wine garlic sauce, veal chop with shitake mushrooms and a cognac cream sauce, and a 22 ounce porterhouse steak with fried onions.
Glenwood Springs' rich Italian heritage means there is pasta aplenty on the daily menu. The newest restaurant to add its unique version of Italian flair to the pasta pot is the recently opened Bear's Loft, just south of Sayre "Strawberry" Park on Grand Avenue. Try the signature lasagna, spaghetti, pasta dishes, pizza as well as American favorites: steaks, chicken and shrimp. Meanwhile Peppino's Pizza, the Carbondale, Colorado pie and slice pizza joint now has a Glenwood Springs location at 1605 Grand Avenue that serves all the favorites including regular and Chicago-style pizza, calzones, strombolis and more. For hearty servings and value priced meals, try the always popular Italian Underground. Entrée prices at this basement level restaurant include a basket of freshly baked bread, salad, and dessert, making it a popular choice for families. Be sure to check out the historic photos of Glenwood Springs adorning the original brick walls.
For a dose of classic Glenwood Springs history and hearty pub grub, Doc Holliday's Tavern is the place to go. Located in the 700 block of Grand Avenue under the neon six-shooter sign, this bar and restaurant serves burgers, sandwiches, salads and more. Make a point to view the black and white photos adorning the walls, many relating to the life and times of the famous gunslinger who died in Glenwood Springs in 1887.
Pairing history and fine food, Glenwood Springs serves up memorable meals that not only satisfy appetites, but keep visitors coming back for more. For information about the dining experience in Glenwood Springs, please visit http://www.visitglenwood.com/eat.
About Glenwood Springs
Glenwood Springs is located between Aspen and Vail, 165 miles west of Denver or 90 miles east of Grand Junction on Interstate 70 off exit 116. For more information about Glenwood Springs, Colorado, call 970-945-6589 or go to http://www.visitglenwood.com/. For lodging reservations, call 888 4 GLENWOOD (888-445-3696). A complete press kit and press releases are available at http://www.visitglenwood.com/press-kit and http://www.visitglenwood.com/press-releases. Access to downloadable photos is available at http://www.visitglenwood.com/photos.
Media Contacts:
Lindsey Lewis, Vice President of Tourism Marketing Glenwood Springs Chamber Resort Association
970-945-6589
lindsey (at) glenwoodchamber (dot) com
or
Vicky Nash, Public Relations Representative Resort Trends, Inc. – media communications for the travel & tourism industry
970-948-4923
Vicky (at) resorttrends (dot) com] is an experience that satisfies.
###