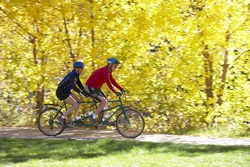 Glenwood Springs, CO (Vocus) September 22, 2010
For kids fall means back to school, but for couples and empty nesters autumn couldn't come sooner. In contrast to the rising mercury and the commotion of summer, autumn is a relaxing time to savor the loveliest weather of the year. To complement the glory of the fall season, stay in one of Glenwood Springs' charming bed and breakfasts. Whether in a mountain or an urban setting, personal attention from the hosts, delicious meals and cozy surroundings will only enhance a fall getaway in Glenwood Springs.
"The bed and breakfasts in Glenwood Springs offer guests premium accommodations owned by individuals who take tremendous pride in what they do. It's no surprise that our bed and breakfasts fill up fast. This is hospitality at its best. Delicious breakfasts, attention to small details and terrific personal service add up to a great fall vacation," said Lindsey Lewis, Vice President of Tourism Marketing for the Glenwood Springs Chamber Resort Association.
Four Mile Creek Bed and Breakfast, not far from Glenwood's own ski area Sunlight Mountain Resort, was originally homesteaded in 1885 and is the same age as the town of Glenwood Springs which has been celebrating its 125th birthday in 2010. The landmark historic red barn built in 1919 bears the cattle ranching brand of its former occupants, Four Mile Ranch. The bed and breakfast's popular Barn Suite is located in what was once the structure's milk room. Now, a queen sized bed, full bath with a claw foot tub, equipped kitchen and a gas fireplace make the Barn Suite an idyllic couple's retreat. Cabins and rooms in the main house are also available. Take the short drive to Sunlight or Four Mile Park to view the aspen trees in all their golden splendor, stargaze at night and stroll the artfully tended grounds. Glenwood Springs is only 3.5 miles down the road making it an easy jaunt to the town's amenities that include the famous Glenwood Hot Springs Pool, as well as dining and theater options.
Located near the base of Sunlight Mountain Resort is the Sunlight Mountain Inn Bed and Breakfast, a rustic, ski-inspired retreat. The secluded inn offers convenient access to hiking and biking trails amid scenic alpine aspen groves. A variety of lodging and activity packages are available as well, including spa treatments, golf, Glenwood Hot Springs Pool, and Yampah Spa & Vapor Cave packages. Awake each morning to the smell of freshly brewed coffee and a deliciously prepared hot breakfast.
Victorian homes dating back to Glenwood Springs' heyday in the early 1900s now house modern, restored quarters that invite guests to relax in style. Canyon Dreams Bed and Breakfast, located in downtown Glenwood Springs, mixes Victorian sensibilities with eclectic touches in its décor, yet offers guests roomy showers, flat screen televisions, mini refrigerators, in-room microwaves and high speed internet access. Canyon Dreams Bed and Breakfast hosts, Marsha and Joanne, are happy to help guests plan their outings during their stay. They can put together custom packages that include such diversions as horseback riding, catered picnics, admission to the Glenwood Hot Springs, or arrange tee-times at local golf courses.
Lavender and Thyme, another Victorian bed and breakfast in downtown Glenwood Springs near the Amtrak station, is a perfect place to set up as a home base for fall excursions – all within walking distance. On Saturday, September 25, from noon until 7:00 PM, the Downtown Tuesday Market celebrates the season with Oktoberfest, commemorating all things Teutonic: oompah music, clogging, dirndls and lederhosen, and of course bratwurst and Glenwood Canyon Brewing Company specialty beers. September in Glenwood Springs also means it's time for the 48th Annual Fall Art Festival which runs from September 22 – 26. This huge show held at the Ramada Inn draws a variety of artists from professional to amateur, in a broad range of categories that include oil, watercolor, pastel, pen and ink, multi-media, pottery and more. After a round of polka or strolling through rooms filled with artwork, relax back at the Lavender and Thyme. A spacious wrap around deck with an old-fashioned swing is just the place to unwind.
For those who want to explore the fall landscape by bike, book a room at the Best Kept Secret Bed and Breakfast. Complimentary bicycles and helmets are part of what makes a stay here special. From its convenient downtown location, it's easy to pedal to trailheads at Glenwood Canyon or the Rio Grande Trail. A ride along either of these trails will reveal an abundance of visual treats that might include majestic Mt. Sopris to the south, bald eagles casing the Roaring Fork River for trout, or Rocky Mountain Big Horn Sheep scaling improbably steep cliffs. Afterwards, relax in a bubbly hot tub on the bed and breakfast premises with views of Red Mountain.
Make the most of Colorado's brief, but beautiful fall season in Glenwood Springs. To book a room or for more information about bed and breakfasts visit http://web.glenwoodchamber.com/GLENWOOD-LODGING/GLENWOOD-BB-VACATION-RENTALS and for a list of all the great things to do and see this fall in Glenwood Springs, please see http://www.visitglenwood.com/annual-events.
About Glenwood Springs
Glenwood Springs is located between Aspen and Vail, 165 miles west of Denver or 90 miles east of Grand Junction on Interstate 70 off exit 116. For more information about Glenwood Springs, Colorado, call 970-945-6589 or go to http://www.visitglenwood.com/. For lodging reservations, call 888 4 GLENWOOD (888-445-3696). A complete press kit and press releases are available at http://www.visitglenwood.com/press-kit and http://www.visitglenwood.com/press-releases. Access to downloadable photos is available at http://www.visitglenwood.com/photos. Glenwood Springs is located between Aspen and Vail, 165 miles west of Denver or 90 miles east of Grand Junction on Interstate 70 off exit 116.
Media Contacts:
Lindsey Lewis, Vice President of Tourism Marketing
Glenwood Springs Chamber Resort Association
970-945-6589
lindsey (at) glenwoodchamber (dot) com
or
Vicky Nash, Public Relations Representative
Resort Trends, Inc. – media communications for the travel & tourism industry
970-948-4923
Vicky (at) resorttrends (dot) com
###