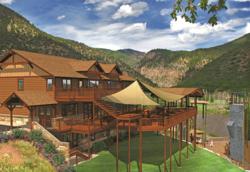 Once the rooms are booked, organizing activities is a cinch
Glenwood Springs, Colorado (Vocus/PRWEB) January 21, 2011
Glenwood Springs has always been a go-to destination for families: affordable, accessible and jam packed with activities and attractions that suit relations of every age. Legendary attractions like the Glenwood Hot Springs Pool and Glenwood Caverns Adventure Park are a must do, while activities like rafting, horseback riding, ziplining and hilarious Vaudeville shows enhance the experience of a multigenerational vacation in Glenwood Springs, Colorado.
"There are so many options for family reunions in Glenwood Springs – we really do have it all – accommodations, attractions, activities – and we make it simple to plan. We have something for everyone, of every age and interest," said Lindsey Lewis, Vice President of Tourism Marketing for the Glenwood Springs Chamber Resort Association.
Glenwood Springs' newest properties, the Residence Inn and Courtyard by Marriott, make it easy for planners by offering customized web pages to aid families in organizing the upcoming event. Groups can personalize pages with photos, insert agendas to keep everyone apprised of the schedule, and even include links to relevant websites like Ancestry.com. This complimentary and value-added service from the Marriott staff sets a new standard for families planning a reunion.
Families and other large groups of people such as school reunion and military groups often need a place to gather. The newest addition to Glenwood Springs' inventory of meeting rooms is the Hotel Denver's spacious third floor room called The Loft. Enormous windows with even bigger views of the town and Colorado River create an open, inviting atmosphere that suit a variety of meeting needs. With Glenwood Canyon Brewing Company located at ground level, catering is easily arranged.
Other properties around Glenwood Springs have a long history of hosting and facilitating family reunions, and what may be perceived as extras at some destinations are customary in Glenwood Springs. Several Denver area families have been returning to the world famous Glenwood Hot Springs for over half a century, not only because of the allure of the natural hot springs themselves, but also excellent service, value and the proximity to so many great amenities. An overnight stay at the Glenwood Hot Springs Lodge includes unlimited admission to the world famous hot springs and a robust continental breakfast at the poolside restaurant.
Less than two miles from town, reunion-goers can gather on the banks of the Colorado River at Glenwood Canyon Resort, which is also the home of Glenwood Canyon Zipline Adventures and Rock Gardens Rafting. Here guests can choose from tent and RV sites to cozy cabins or luxury suites, then head off to the adventure of their choice without leaving the property. Overlooking the Colorado River, the newly constructed Canyon Club Event Center and No Name Bar & Grill, opening in May, are ideal for family reunion gatherings. It offers ideal indoor/outdoor meeting spaces, diverse catering options and accommodations that will meet each family member's requirements and budget.
Another scenic setting in Glenwood Canyon ideally suited for a family reunion is High Canyon Adventures guest ranch, a family-owned working livestock ranch which has operated continuously since 1919. The ranch encompasses over 5,500 acres, surrounded by Colorado wilderness, offering miles of trails and access to the Colorado River. Guests can overnight in a teepee, cabins or a 3-bedroom vacation home. All Glenwood Springs attractions are just minutes away, and there is plenty to do on the ranch, including fishing, jeeping, ATV tours and horseback rides.
Try a new experience to reconnect with relatives. Glenwood Caverns Adventure Park is a perfect place to start. Take in the expansive views of the Roaring Fork Valley beginning with a ride on the Iron Mountain Tram to the park entrance. Thrill seekers will find two new rides set to open in May, 2011: the adrenaline-pumping bungee jump will feature a 70-foot drop from a tower overlooking the valley, while the zip ride will carry two riders at a time 625 feet down the mountain in a comfortable seat. Other popular attractions include the alpine coaster, giant swing, bungee trampolines, laser tag, 4-D movie theater, and of course-- guided tours of the magnificent Glenwood Caverns and Historic Fairy Caves. Glenwood Caverns Adventure Park is also a great location for high school reunions and military gatherings.
Another valuable resource for family reunion planners is Glenwood Adventure Company in downtown Glenwood Springs. They specialize in customizing activities to suit specific individual needs, while still keeping family members together as a group. For example, very young children and grandparents can comfortably float downriver on a raft, while older kids get thoroughly soaked riding inflatable kayaks or inner tubes. Teens and adults can raft the rigorous Shoshone rapids on the Colorado River, then stop and pick up younger or older family members at a convenient point further downstream; together the group can enjoy the remainder of the float into Glenwood Springs. As a one stop shop, Glenwood Adventure Company can arrange all sorts of outings and bundle them together for added savings. In addition to whitewater rafting, options include fishing, horseback riding, cycling, ATV trips, off-road jeep tours and more. They also offer free convenient shuttle service to drop off and pick up points throughout Glenwood Springs.
"Since reunion groups tend to be on the larger side, we encourage families to make lodging arrangements as early as possible. Once the rooms are booked, organizing activities is a cinch," said Lewis. Planning and hosting a family reunion is an affirmation of love and dedication that can have a profound impact on generations to come. For more information about family reunions and other group events in Glenwood Springs, go to http://www.visitglenwood.com.
About Glenwood Springs
Glenwood Springs is located between Aspen and Vail, 165 miles west of Denver or 90 miles east of Grand Junction on Interstate 70 off exit 116. For more information about Glenwood Springs, Colorado, call 970-945-6589 or go to http://www.visitglenwood.com/. For lodging reservations, call 888 4 GLENWOOD (888-445-3696). A complete press kit and press releases are available at http://www.visitglenwood.com/press-kit and http://www.visitglenwood.com/press-releases. Access to downloadable photos is available at http://www.visitglenwood.com/photos.
Media Contacts:
Lindsey Lewis, Vice President of Tourism Marketing
Glenwood Springs Chamber Resort Association
970-945-6589
lindsey (at) glenwoodchamber (dot) com
or
Vicky Nash, Public Relations Representative
Resort Trends, Inc. – media communications for the travel & tourism industry
970-948-4923
Vicky (at) resorttrends (dot) com
###