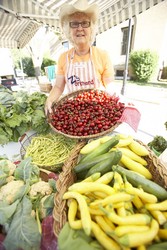 Glenwood Springs, CO (Vocus) July 1, 2010
From June through early October, Glenwood Springs' farmers markets are ongoing weekly events that are hard to miss. The Glenwood Downtown Market occurs every Tuesday beginning at 4:00 PM at Centennial Park at Ninth and Grand Avenue, while the Saturday Market is held every Saturday morning in front of City Market. Streets are closed to traffic. Tents and tables materialize laden with fresh picked produce, homemade edibles and crafts. Music fills the air. It's no wonder that on any given market day, an average of 300 people stop by to get their fill of food, fun, fresh air and friendship.
"Glenwood Springs' farmers markets are informal weekly festivals that celebrate the essence of small town life. In the case of the Glenwood Downtown Market, what started out as a small gathering of growers and devoted organizers has become a weekly event that attracts close to 50 vendors and hundreds of locals and visitors," said Lindsey Lewis, Vice President of Tourism Marketing for the Glenwood Springs Chamber Resort Association.
Both farmers markets feature top quality, locally grown produce that showcase the best of the region including Olathe sweet corn, Palisade peaches, raspberries, apples, green chilies, apricots, tomatoes, green beans, organic meats and fresh flowers. On Tuesdays, Glenwood's Downtown Market also sells a variety of gourmet foods like freshly baked bread and pastries, homemade granola, Colorado wines and vinegars, gourmet mustards, hand crafted pastas, smoked salmon, local honey and more. And there are usually plenty of opportunities to sample the goods: don't miss the chance to taste a fresh picked tomato or a juicy late summer peach.
Adding to the festive atmosphere and helping to celebrate the 125th birthday of Glenwood Springs, this year's Glenwood Downtown Market will feature a selection of heirloom fruits and vegetables, vintage cookbooks and cooking gadgets. Local chefs will stir things up with free cooking demonstrations that show how easy it is to make delicious dishes from simple, fresh ingredients.
While produce growers cue up along Ninth Street, craft vendors fill the space in Centennial Park. After having a bite to eat, stroll through the tent-lined park to discover more uncommon treasures. Visitors can shop for jewelry, ceramics, clothing, quilted items, soaps, lotions, art, purses, henna tattoos, homespun yarns and homemade doggie treats. In between shopping and eating, be sure to take a seat and listen as bands and artists take center stage each week. At essentially a free weekly concert, guests are given the opportunity to kick back and enjoy the sounds of local talent like the Defiance String Band, the Rat Pack, the Box Car Daisies and more.
This spring, the Glenwood Downtown Market was named as a Local Hero award winner by Edible Aspen Magazine as a best nonprofit organization promoting local farmers. See http://www.ediblecommunities.com/aspen/online-magazine/spring-2010/local-heroes.htm. Having deeply planted roots in the community, the farmers markets in Glenwood Springs, Colorado continue to grow and thrive. Locals and visitors know a good thing when they experience it, and every year more and more people stop by to sample a taste of the good life – Glenwood Springs style.
About Glenwood Springs
Glenwood Springs is located between Aspen and Vail, 165 miles west of Denver or 90 miles east of Grand Junction on Interstate 70 off exit 116. For more information about Glenwood Springs, Colorado, call 970-945-6589 or go to http://www.visitglenwood.com/ . For lodging reservations, call 888 4 GLENWOOD (888-445-3696). A complete press kit and press releases are available at http://www.visitglenwood.com/press-kit and http://www.visitglenwood.com/press-releases . Access to downloadable photos is available at http://www.visitglenwood.com/photos . Glenwood Springs is located between Aspen and Vail, 165 miles west of Denver or 90 miles east of Grand Junction on Interstate 70 off exit 116.
Media Contacts:
Lindsey Lewis, Vice President of Tourism Marketing
Glenwood Springs Chamber Resort Association
970-945-6589
or
Vicky Nash, Public Relations Representative
Resort Trends, Inc. – Tourism & Resort Communications
970-948-4923
###