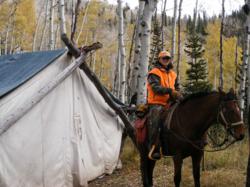 It doesn't surprise me that more women are hunting; women love a challenge and the outdoors as much as anyone else.
Glenwood Springs, Colo. (PRWEB) October 05, 2012
Come fall, the aspen trees shimmer gold, the air turns as crisp as an apple, and hunters flock to game-friendly Glenwood Springs, Colorado. Located at the center of Colorado's 23 million square miles of public lands that include national and state forests, state trust lands and state wildlife areas, Glenwood Springs is a sportsman's paradise, and one that's attracting more women and girls to the sport of hunting.
"If you're a girl and you want to hunt, go for it. It's fun; don't be intimidated," said Glenwood Springs hunter Lexi Montoya, 15, who got her first elk last season with her Remington 700 Bolt Action rifle.
"It doesn't surprise me that more women are hunting; women love a challenge and the outdoors as much as anyone else," said Lisa Langer, vice president of tourism marketing for the Glenwood Springs Chamber Resort Association. "Glenwood Springs is home to huge populations of deer and elk, our climate is milder than other parts of the state and our town is friendly to game hunters — whether you're male or female."
Local ladies have had success all around Glenwood Springs. Nearby Game Management Unit 42, for example, where local resident Wendi Olson, 34, took her first-ever buck with her Browning 270, is excellent for deer and elk hunting.
Unit 24, the expansive Flat Tops area north of Glenwood Springs in the White River National Forest, is another good bet to nab one of the region's 11,000 elk that roam the high country. Still other huntresses have experienced success in Unit 444 southeast of town, where the views are as magnificent as the wild animals that live there.
"For me, hunting has always been a family affair," said Olson, who learned to hunt from her father. "Not only are we providing for our family, we're together in the beautiful Colorado Rockies, no cell phones, enjoying our surroundings and each other's company." For Montoya, who got her hunter's safety certification at the age of 12, the wonder of nature is as big a draw as the big game. "We get up super early in the morning. It's always cold and snowy. There's a meadow we go to where we'll find a log to lean against and watch the sunrise. Sometimes we'll even take a nap in the sun before we hunt. That's one of my favorite parts," she said.
Sisters Grace, 17, and Sofia Gamba, 15, have similar experiences. They tagged along on hunting expeditions with their dad and uncle long before they carried bows or rifles. "Fall in Glenwood Springs is knock-out gorgeous and I like the warmer temperatures, especially when I'm sitting in a blind, but I have better luck hunting when there's a little snow on the ground," said Sofia, who shoots a traditional recurve bow in archery season and during rifle season carries a Remington 30.06. Her many successful hunts have resulted in bringing home several deer, including a six-point buck.
For her sister Grace, having a successful hunt is important, but like many Glenwood Springs hunters, she has more than big game in her sights. "My first time out, my dad bought me an over-the-counter bull tag. I had spent the summer practicing shooting in 4-H, but I think he was really surprised when I cleanly knocked down a six-point bull elk," said Grace, who hunts with a CZ 550 American 270. But even the days when she returns home empty-handed are good days spent hunting. "We split up when we hunt, so hunting is one of the few times I get to be alone in nature. I've seen some amazing things: bears, wild turkeys and views of Mount Sopris at dawn." Both Gamba girls are looking forward to hunting in the upcoming third rifle season.
Gender aside, Glenwood Springs is hunting headquarters for Garfield County and the surrounding area. Whether headed out for a day or a week, hunters can shop for groceries at multiple locations in town, gather gear and buy ammunition, purchase over-the-counter licenses, and ask questions and get maps from the Division of Park and Wildlife and White River National Forest, which both staff offices in Glenwood Springs. There are several experienced outfitters that will lead trips, provide meals and take visitors to areas that might otherwise be off-limits to the general public. Several taxidermy and meat processing businesses offer post-hunt options.
According to the Colorado Division of Wildlife, Colorado is the elk hunting capital of the world. Colorado has an estimated 460,000 deer and 287,000 elk, making it a top hunting destination. With millions of acres of public land, the state draws thousands of hunters every fall, contributing more than $300 million directly into the Colorado economy. Close to 25 percent of hunters are successful each year. Find out more about hunting opportunities near Glenwood Springs at http://www.visitglenwood.com/hunting.
About Glenwood Springs
Glenwood Springs is located between Aspen and Vail, 165 miles west of Denver or 90 miles east of Grand Junction, on I-70 off Exit 116. For more information about Glenwood Springs, Colorado, call 970-945-6589 or go to http://www.visitglenwood.com/. For lodging reservations, call 888-4-GLENWOOD (888-445-3696). A complete press kit and press releases are available at http://www.visitglenwood.com/press-kit and http://www.visitglenwood.com/press-releases. Access to downloadable photos is available at http://www.visitglenwood.com/photos.
Media Contacts:
Lisa Langer, Vice President of Tourism Marketing
Glenwood Springs Chamber Resort Association
970-230-9035
lisa (at) glenwoodchamber (dot) com
or
Vicky Nash, Public Relations Representative
Resort Trends, Inc. – media communications for the travel & tourism industry
970-948-4923
vicky (at) resorttrends (dot) com