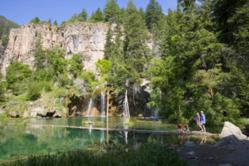 Exploring Glenwood Springs on foot or by bike is like finding a portal to another universe. You're suddenly transported to a place you didn't even know existed
Glenwood Springs, CO (PRWEB) July 24, 2012
For fans of Douglas Adams' Hitchhiker's book series, the number 42 may be the answer to the ultimate question of life, the universe and everything, but for avid hikers and bikers looking to explore terrain in and around Glenwood Springs, the answer is 142.5. Totaling well over a hundred miles, and with even more coming soon, there's a miniature galaxy of trails circling Glenwood Springs and waiting to be explored. The time for launch is now, although as Adams' readers know, time is an illusion and lunchtime doubly so.
"Exploring Glenwood Springs on foot or by bike is like finding a portal to another universe. You're suddenly transported to a place you didn't even know existed –to the serenity of an aspen grove, under the spray of a waterfall or standing on the soil of hallowed ground," said Lisa Langer, vice president of tourism marketing for the Glenwood Springs Chamber Resort Association.
The mileage calculations below are for round-trip excursions except as noted and are tallied to the nearest half-mile. Satisfying outings depend on riders' and hikers' ability to read and follow maps, to ask passersby for directions if lost and to bring sufficient hydration, snacks, repair tools, gear and sunscreen. These notwithstanding, follow the numbers to Glenwood Springs' best hiking and biking trails.
44 – Rio Grande Trail – Unless the urge strikes, riders needn't bother riding uphill all the way to Aspen. They can take the RFTA Bike Express, a customized bus that can accommodate up to 14 bikes on the interior. The bus leaves stops in Glenwood Springs every weekend morning through September 2 and drops passengers off in the heart of Aspen, where they can connect with the Rio Grande Trail for 44 miles of scenic and mostly downhill coasting along the Roaring Fork River.
32 – Glenwood Canyon Recreation Trail – Visitors can bring a bike, rent one or take a walk through one of Colorado's most spectacular natural wonders. The trail follows the Colorado River and is interspersed with rest areas at No Name, Grizzly Creek, Hanging Lake and Bair Ranch, making it easy to do smaller portions of the trail. Thanks to an engineering sleight of hand, the interstate highway through Glenwood Canyon becomes an unobtrusive part of the landscape.
23 – Transfer Trail to Windy Point – Hard work pays off when riders reach the pinnacle of Windy Point on the Flat Tops, high above No Name Canyon. Sheer cliffs drop straight down, but there are plenty of places to sit back and take in the expansive views of uninhabited landscape. After the steep ascent, riders can enjoy the miles of downhill.
20 – Boy Scout/Lookout Mountain Trail – No oaths required, but mountain bikers swear this is the best ride in town. Riders can choose to do the entire loop by taking Red Canyon Road south of town to Spring Valley and connecting to Lookout Mountain Road, or they can drive to the parking area on Lookout Mountain Road and take off on Boy Scout Trail from there. Maps are crucial on this ride, as the trail splits in several places. Riders are rewarded when the jeep road morphs into singletrack that dips and dives for five fast-paced miles, dumping riders in the heart of Glenwood Springs' restaurant district.
7 – Grizzly Creek Trail – Named in 1881 by the man who killed the largest grizzly bear in Colorado, Grizzly Creek Trail is still full of wildlife, though these days it's mostly songbirds, butterflies, mule deer and squirrels. With plenty of places to dip toes in the icy mountain stream, this shady hike is ideal on summer's hottest days.
6 – Jeanne Golay Trail – This trail honors the Olympic cyclist who competed in the 1992 Barcelona and 1996 Atlanta Olympic Games and now resides in Glenwood Springs. A favorite training route for high-caliber athletes, the trail is also popular with less competitive types, especially those looking for a steady uphill climb on a compacted dirt road with a raucous descent on singletrack. Overlooks along the way provide views of Mount Sopris and the Roaring Fork Valley to the south.
4 – Storm King Memorial Trail – July 6, 1994, will forever be a day of indescribable tragedy for the community of Glenwood Springs. This hiking trail is dedicated to the 14 firefighters who lost their lives while fighting the South Canyon fire and defending the homes and property of people they didn't know. Interpretive signs along the way explain what happened the day the fire flared out of control, and memorial crosses mark the sites where each firefighter perished.
3 – Atkinson Trail – This multi-use trail opened in 2011 as part of the Glenwood Springs' rivertrails master plan. The trail hugs the west bank of the Roaring Fork River from the 27th Street Bridge near Rivers Restaurant and follows it to the Glenwood Park area. Trail amenities that include benches, picnic tables, overlooks and beach access make it a popular destination for families.
2.5 – Hanging Lake Trail – A geological wonder and one of the most popular hiking trails in Colorado, Hanging Lake Trail is a popular destination for locals and visitors alike. While the end goal of this hike is to reach the pristine lake clinging to the edge of a cliff, don't overlook the smaller vistas that abound along the way. Keep an eye out for mossy groves, lush fern gardens, wooden bridges, dry-stacked rock walls and soaring canyon walls. Because of its geological uniqueness, Hanging Lake was listed as a National Natural Landmark in 2011.
1 – Doc Holliday Trail – Glenwood Springs' most famous outlaw rests somewhere in Linwood Cemetery, though no one knows the exact location. Hikers can enjoy the short trail that begins at the corner of 12th Street and Bennett Avenue to John "Doc" Holliday's memorial, then peruse some of the markers of Glenwood Springs' pioneer residents.
Adding even more mileage to the trail systems around Glenwood Springs is the Lower Valley Trails Group, known as LoVa. The non-profit group is collaborating with Garfield County to build a path that will ultimately stretch the entire length of the Colorado River from Glenwood Springs to DeBeque, Colorado – a span of 47 miles. Stop by the new Glenwood Springs Visitor Center at 802 Grand Avenue for detailed trail maps and information.
Add it all up and the answer is obvious: For hikers and bikers in Glenwood Springs, Colorado, there are close to 150 miles of trails, but the thrills, sights, adventures and discoveries waiting to be explored are infinite.
About Glenwood Springs
Glenwood Springs is located between Aspen and Vail, 165 miles west of Denver or 90 miles east of Grand Junction on I-70 off Exit 116. For more information about Glenwood Springs, Colorado, call 970-945-6589 or go to http://www.visitglenwood.com/. For lodging reservations, call 888-4-GLENWOOD (888-445-3696). A complete press kit and press releases are available at http://www.visitglenwood.com/press-kit and http://www.visitglenwood.com/press-releases. Access to downloadable photos is available at http://www.visitglenwood.com/photos.
Media Contacts:
Lisa Langer, Vice President of Tourism Marketing
Glenwood Springs Chamber Resort Association
970-230-9035
lisa(at)glenwoodchamber(dot)com
or
Vicky Nash, Public Relations Representative
Resort Trends, Inc. – media communications for the travel & tourism industry
970-948-4923
vicky(at)resorttrends(dot)com