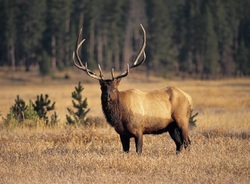 Of course our hunters are looking to harvest animals, but they also choose Glenwood Springs for the total experience
Glenwood Springs, Colorado (Vocus) November 1, 2010
Hunting season is a big deal in Glenwood Springs, Colorado for both game hunters and bargain hunters. Located in the heart of Colorado's 23 million square miles of public lands that include national and state forests, state trust lands and state wildlife areas, Glenwood Springs is a base camp for sportsmen and their spouses. As hunting headquarters for Garfield County and the surrounding area, hunters can gather supplies, buy over the counter licenses, and prepare for a few days or a week in the woods hunting the state's famed "wapiti" (the Ute word for elk), and mule deer. Meanwhile their spouses can find comfortable, affordable lodging, shopping and dining at value season prices, or indulge in the town's equally famous attractions like the Glenwood Hot Springs, Glenwood Caverns Adventure Park and Yampah Spa and Vapor Caves. Either way, everyone goes home happy with plenty of stories, experiences and--with any luck, enough wild game to last until next season.
"Of course our hunters are looking to harvest animals, but they also choose Glenwood Springs for the total experience," said Lindsey Lewis, Vice President of Tourism Marketing for the Glenwood Springs Chamber Resort Association. "Hunting is hard work and they appreciate the fact they can soak in the Glenwood Hot Springs Pool or enjoy a hearty meal in a restaurant when they're done. Glenwood Springs offers hunters and their spouses a complete package."
Statewide, hunting and fishing industries combined bring in more than $1.5 billion annually. A large part of the revenues are generated by the sale of game licenses. According to the DOW, Garfield County sees more than $30 million annually in direct expenditures and close to $53 million through indirect expenditures, from hunters and anglers. "I think it's safe to say that the hunting is very good around Glenwood Springs," said Lewis.
Game Management Unit 24, for example, is excellent elk hunting for those wishing to get away from the main roads and trails. Close to Glenwood Springs, it is 90 percent public land, primarily in the White River National Forest and the Flat Tops Wilderness Area. The farther a hunter hikes from the main trails and camps, the less pressure on herds he or she will find. For even greater opportunity, scout the area in the Trappers Lake drainage or consider hiring one of the local outfitters who make it their job to know the general whereabouts of herds and be familiar with the terrain.
Government agencies and local businesses also help sportsmen prepare for successful excursions into the backcountry. The Division of Wildlife and Bureau of Land Management are valuable sources of information, where hunters can purchase maps, over the counter deer and elk licenses, and inquire about weather and back road conditions. Two grocery stores, several sporting goods stores, and nearby taxidermy and meat processing businesses help hunters stock up on supplies and offer post-hunt options.
While hunters are prowling the woods, their spouses can also stalk prey of sorts. In Glenwood Springs, "hunters widows", a term used to describe women unhappily left alone while their husbands are off hunting, are happy women indeed. September through early December is considered value season – meaning there are bargains galore waiting to be discovered. Check with Glenwood Springs Central Reservations for lodging specials available prior to the start of the ski season and choose from accommodations that range from boutique lodges to historic hotels, bed and breakfasts and more.
Value season extends to Glenwood Springs' top attractions as well. The Glenwood Hot Springs offers discounted rates at this time of year with all day prices for adults $13.25, five dollars off the peak season rates. Ladies can also indulge in massages, facials and body treatments at Spa of the Rockies, Yampah Spa and Vapor Caves, La Provence Spa, Splendor Mountain Spa and several others which offer monthly and seasonal specials.
Glenwood Caverns Adventure Park is another famed attraction that lowers prices in the fall and winter months. For $29, visitors can enjoy a full day at the park. Take a tram ride up scenic Iron Mountain with panoramic views of Glenwood Springs below, see the geological wonders of the caverns themselves, then ride the Alpine Coaster, play laser tag, and watch a 4D movie before heading back to town via the tram.
Before the hunters arrive back in town, ladies can take the opportunity to do some last minute scouting of their own. Three main shopping areas in Glenwood Springs are ideal for hunting down bargains: Historic Downtown, the Glenwood Meadows & Market Street Shops and the Glenwood Springs Mall. Downtown Glenwood Springs offers a range of boutique shops, mountaineering stores, trendy shoe shops, coffee shops and cafés! The Glenwood Meadows features larger retailers like Target, Pier 1 Imports and Bed Bath & Beyond, but the Market Street Shops are a locals' secret with hip fashion boutiques, lingerie shops and great restaurants. The Glenwood Springs Mall features department stores like Beall's and JC Penney, popular shops for teenagers like Zumiez & PacSun, as well as a brand new movie theater for more entertainment!
Though hunting season is traditionally all about the boys, there's no reason the ladies should be left out of the fun. In Glenwood Springs during hunting season it's possible for everyone to go home with a trophy of sorts. For more information about hunting and recreating in Glenwood Springs, Colorado, please see http://www.visitglenwood.com.
About Glenwood Springs
Glenwood Springs is located between Aspen and Vail, 165 miles west of Denver or 90 miles east of Grand Junction on Interstate 70 off exit 116. For more information about Glenwood Springs, Colorado, call 970-945-6589 or go to http://www.visitglenwood.com/. For lodging reservations, call 888 4 GLENWOOD (888-445-3696). A complete press kit and press releases are available at http://www.visitglenwood.com/press-kit and http://www.visitglenwood.com/press-releases. Access to downloadable photos is available at http://www.visitglenwood.com/photos. Glenwood Springs is located between Aspen and Vail, 165 miles west of Denver or 90 miles east of Grand Junction on Interstate 70 off exit 116.
Media Contacts:
Lindsey Lewis, Vice President of Tourism Marketing
Glenwood Springs Chamber Resort Association
970-945-6589
lindsey(at)glenwoodchamber(dot)com
or
Vicky Nash, Public Relations Representative
Resort Trends, Inc. – media communications for the travel & tourism industry
970-948-4923
Vicky(at)resorttrends(dot)com
# # #