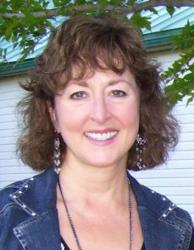 As tourism marketing director, one of my goals is to make Glenwood Springs, Colorado, synonymous with America's Most Fun Town
Glenwood Springs, Colo. (PRWEB) January 17, 2012
Lisa Langer is ready to get down to the business of marketing Glenwood Springs, and she isn't wasting any time. The former Executive Director of the Spearfish, South Dakota, Chamber of Commerce is on a reconnaissance mission to learn all she can about the river and mountain town, situated between the ski resorts of Aspen and Vail. Her hit-the-ground-running enthusiasm, coupled with extensive experience in tourism marketing and strong leadership skills, made her the obvious choice for Vice President of Tourism Marketing for the Glenwood Springs Chamber Resort Association. In her inaugural year, Langer has big plans for America's Most Fun Town.
Langer understands the significance of winning a national designation like the Most Fun Town in America, a title Glenwood Springs captured in July 2011. Her now former state of South Dakota won a Most Patriotic Town in America award in the same round of competition, sponsored by Rand McNally and USA Today. "Winning a title like this is huge. It launches your product onto the national stage. As tourism marketing director, one of my goals is to make Glenwood Springs, Colorado, synonymous with America's Most Fun Town," said Langer.
But Langer is just getting started; Glenwood Springs also has a new mascot, Glen Wood, a lanky, good-natured fellow who loves nothing more than experiencing all the varied adventures and activities available in his namesake town, like skiing at Sunlight Mountain Resort, rafting the Colorado and Roaring Fork rivers, soaking in the Glenwood Hot Springs Pool, exploring at Glenwood Caverns Adventure Park and catching the wave on a stand-up paddleboard or in a kayak at the Glenwood Springs Whitewater Park, to name but a few. Langer anticipates Glen Wood will be making the rounds locally at festivals such as Strawberry Days in Glenwood Springs, at events in the surrounding region, and at trade shows and tourism events at the state level. The introduction of Glen Wood is a key strategy to identify and grow new prospects and markets for Glenwood Springs with a fresh new image while maintaining the polished, well-established "soak it all in" brand.
As a community leader with over 13 years of experience in the chamber and tourism industries, Langer knows that branding is only part of the equation in growing market share; building relationships with key industry partners on a variety of fronts is equally critical. In 2012, Langer foresees Glenwood Springs as a base camp for activities that capitalize on Glenwood Springs' products as well as internationally recognized brands, activities and attractions in the region. An excellent example of this is the partnership with Ski.com and the recent launch of the Ski 7 campaign, a new winter marketing campaign that allows visitors to ski Aspen, Vail and Sunlight, while keeping costs down by staying in Glenwood Springs.
Similarly, Langer hopes to partner with SummerMountainTravel.com and Amtrak to offer lodging in Glenwood Springs combined with activities and events such as fly fishing on the Frying Pan River, sightseeing at Maroon Bells, tickets to the Aspen Food & Wine Classic, world cup skiing events and the ESPN X Games. According to Langer, "In part, because of the marketing budgets and advertising campaigns our partners and potential partners already have in place, it makes sense to cultivate these strategic relationships to maximize Glenwood's visibility in the tourism marketplace." Langer intends to keep Glenwood Springs in the forefront at the state level as well, where she plans to work closely with the Colorado State Tourism Board.
Langer will also manage and maintain successful marketing campaigns already in place, like Glenwood's number one winter package, Ski-Swim-Stay. Over 20 years old, the campaign has become identified with Glenwood Springs, bringing visitors to stay in the town's lodging properties, ski at Sunlight Mountain Resort where kids 12 and younger ski free with a paying adult, and soak in the world-famous Glenwood Hot Springs Pool.
In addition to generating ideas for innovative marketing campaigns and collaborating with tourism partners to develop new packages and promotions, Langer's other responsibilities as Vice President of Tourism Marketing include working with vendors to create ads and sales collateral, placing media buys, providing web-based marketing strategies and solutions, overseeing the marketing budget, attending trades shows, reporting to the Glenwood Springs Tourism Board, and day-to-day marketing operations.
About Glenwood Springs
Glenwood Springs is located between Aspen and Vail, 165 miles west of Denver or 90 miles east of Grand Junction on I-70 off Exit 116. For more information about Glenwood Springs, Colorado, call 970-945-6589 or go to http://www.visitglenwood.com/. For lodging reservations, call 888-4-GLENWOOD (888-445-3696). A complete press kit and press releases are available at http://www.visitglenwood.com/press-kit and http://www.visitglenwood.com/press-releases. Access to downloadable photos is available at http://www.visitglenwood.com/photos.
Media Contacts:
Lisa Langer, Vice President of Tourism Marketing
Glenwood Springs Chamber Resort Association
970-945-6589
lisa (at) glenwoodchamber (dot) com
or
Vicky Nash, Public Relations Representative
Resort Trends, Inc. – media communications for the travel & tourism industry
970-948-4923
vicky (at) resorttrends (dot) com
###