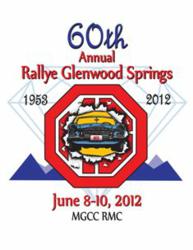 Along with Strawberry Days, the MG Car Club's Rallye is one of Glenwood Springs' most historic events.
Glenwood Springs, CO (PRWEB) May 08, 2012
Made in Abingdon, England, by Morris Garages beginning in the 1920s, MG automobiles have become famous for their sporty open tops, compact design and maneuverability, features that make them ideally suited as competition vehicles on Colorado's curvy mountain roadways. Combining their love of driving top-down on the state's open roads, friends and MG car enthusiasts Hazel Hopkins Marble and Dr. Robert Livingston, both former residents of Glenwood Springs, formed the MG Car Club – Rocky Mountain Centre (MGCC-RMC) in 1952. On June 8 -10, the club will celebrate the 60th Annual Rallye Glenwood Springs with events that include a driving tour, a time-speed-distance (TSD) rallye and a car show.
"The Glenwood Springs Chamber helped plan and host the first Rallye and we are delighted to welcome the MG Car Club back every year, especially for their 60th anniversary," said Lisa Langer, Vice President of Tourism Marketing for the Glenwood Springs Chamber Resort Association. "Along with Strawberry Days, the MG Car Club's Rallye is one of Glenwood Springs' most historic events."
The event is so significant that Colorado Governor, John W. Hickenlooper will sign a proclamation in May, officially recognizing June 8 -10 as MG Car Club - Rocky Mountain Centre, 60th Annual Rallye Glenwood Springs weekend in the State of Colorado. In addition to its 60th year, the MGCC-RMC has even more to celebrate; the 2012 Rallye Glenwood Springs also coincides with the 50th anniversary of the MGB, the world's most popular sports car model during its 19-year production run, which began in 1962. Furthermore, as British car buffs and de facto anglophiles, the group will acknowledge Queen Elizabeth II's Diamond Jubilee, her 60th year as the United Kingdom's monarch. In keeping with their British affiliation, North American MG clubs tend to adhere to traditional European spellings, hence the words rallye, centre and marque.
Event chairman and club historian, Alan Magnuson is a 28-year veteran of the Rallye Glenwood Springs and has many fond memories; "We experienced a cattle drive west of New Castle in 2001 that blocked the road during one of our events. The entire county road was filled to the horizon with a sea of cattle being herded from one pasture to another. The cattle, horses and cowboys too, all looked down at us sitting in our little MGB as they walked around our car. This is the true Wild West!" Along with cattle herd hazards, drivers have encountered unpredictable weather conditions including blinding hail storms on high mountain passes, and, in 2002, due to the Coal Seam fire the Rallye was forced to terminate early. In addition to talking shop, it is memories and stories like these that are exchanged at the annual Rallye Glenwood Springs. "We come to enjoy the competition, the scenery, the automobile and the camaraderie," said Magnuson.
Named an honorary member of the MGCC-RMC, Glenwood Hot Springs President, Henry "Hank" Bosco could be counted on to help club members arrange their accommodations for the annual event. At the time, the Bosco family owned the Hotel Denver. "Back in those days, other than Strawberry Days there wasn't a lot going on in town as far as special events. The Rallye was good for the hotel business and it was good for the town," Bosco recalled. It still is. The event continues to have a positive impact on Glenwood Springs, 60 years later, only now with a full calendar of events and a nearly endless variety of things to do, Glenwood Springs is recognized as America's Most Fun Town. This year Rallye participants plan to take part in a downtown art walk dubbed 2nd Fridays Tour d' Art Glenwood Springs, as well as enjoy other amenities including the Glenwood Hot Springs Pool and Glenwood Caverns Adventure Park.
While MGs remain the focus, the club welcomes auto marques of all varieties to join the Rallye. Magnuson anticipates over 100 cars will participate in this year's event with Porsches, Mini Coopers, BMWs, Volkswagens and American muscle cars in the high-octane mix. Events rev up on Friday, June 8, with a scenic road tour winding through canyons and over mountain passes between Denver and Glenwood Springs. Saturday's main event is the Rallye Glenwood Springs, a time-speed-distance challenge for novice and experienced drivers and navigators. On Sunday, Two Rivers Park is the setting for the MGCC Car Show and Funkhana, an obstacle course that tests driving skills. For more details about the event or for registration forms, please visit the MG Car Club - Rocky Mountain Centre website.
The MGCC Rallye is one of many festivals that take place in Glenwood Springs, Colorado, named America's Most Fun Town by Rand McNally and USA Today. Coming up June 15 – 17, is the 115th Annual Strawberry Days, the state's oldest civic celebration. For a complete list of events and activities in Glenwood Springs, go to http://www.visitglenwood.com.
About Glenwood Springs
Glenwood Springs is located between Aspen and Vail, 165 miles west of Denver or 90 miles east of Grand Junction, on I-70 off Exit 116. For more information about Glenwood Springs, Colorado, call 970-945-6589 or go to http://www.visitglenwood.com/. For lodging reservations, call 888-4-GLENWOOD (888-445-3696). A complete press kit and press releases are available at http://www.visitglenwood.com/press-kit and http://www.visitglenwood.com/press-releases. Access to downloadable photos is available at http://www.visitglenwood.com/photos.
Media Contacts:
Lisa Langer, Vice President of Tourism Marketing
Glenwood Springs Chamber Resort Association
970-230-9035
lisa (at) glenwoodchamber (dot) com
or
Vicky Nash, Public Relations Representative
Resort Trends, Inc. – media communications for the travel & tourism industry
970-948-4923
Vicky (at) resorttrends (dot) com