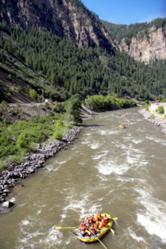 We are absolutely thrilled to win the title of Most Fun Town by Rand McNally and USA Today. Glenwood Springs is a town that has always known how to show visitors a great time, and now people all across the country will be able to see what we have to offer
Glenwood Springs, Colo. (PRWEB) July 25, 2011
Rand McNally and USA Today named Glenwood Springs, Colorado, the Most Fun Town in America. The river and mountain town, located 150 miles west of Denver, is home to some of the state's top attractions, including the world famous Glenwood Hot Springs Pool, Glenwood Caverns Adventure Park and Colorado River rafting. Glenwood Springs was selected Most Fun Town from over 600 entries.
"We are absolutely thrilled to win the title of Most Fun Town by Rand McNally and USA Today. Glenwood Springs is a town that has always known how to show visitors a great time, and now people all across the country will be able to see what we have to offer and experience it for themselves," said Lindsey Lewis, Vice President of Tourism Marketing for the Glenwood Springs Chamber Resort Association. In addition to media coverage by Rand McNally, USA Today and http://www.bestoftheroad.com, Glenwood Springs will also receive Best of the Road "Winning Town" road signs to commemorate the designation.
The winners of the inaugural Best of the Road Rally were announced at the Destination Marketing Association International (DMAI) annual convention in New Orleans. Narrowed down from more than 600 submissions, 30 top towns in five categories -- Most Beautiful, Most Patriotic, Friendliest, Most Fun, and Best for Food -- were selected for review. Five teams of amateur travelers equipped with brand-new Saab vehicles and Rand McNally RVND navigation devices completed a three-week cross-country road trip, for a combined 25,000 miles traveled, personally visiting the six top towns in their assigned category.
Reviewing Glenwood Springs was the mother-daughter team, TravelingJules and TravelingJoan. The duo had this to say of their adventure, "From wild thrills to relaxing recreation, Glenwood Springs is mountains of fun." The ladies spent 4th of July weekend compressing what visitors typically do here over a week into two action-packed days. Highlights included attending the hilarious Glenwood Vaudeville Revue, rafting the Colorado River, exploring caverns and enjoying thrill rides at Glenwood Caverns Adventure Park, including the Alpine Coaster, Soaring Eagle Zip Ride and Giant Canyon Swing. They flew high above Glenwood Springs on a guided trip with Adventure Paragliding, explored Colorado's back country by ATV with Glenwood Adventure Company, soaked in the Glenwood Hot Springs Pool while watching the fireworks, and pampered themselves with a soothing pedicure at the Spa of the Rockies.
The mother-daughter team also enjoyed some distinctive dining experiences while in town. Glenwood Springs offers visitors many dining options, several of them new venues including Vic's Route 6 Grillhouse located in West Glenwood Springs. TravelingJoan especially liked the ribs, which she called "an enormous portion that were some of the best I've tasted." She recommends sharing this dish. She also gave high marks to the soup and salad bar, as well as the quick and friendly service.
To showcase their journey and share their experiences, TravelingJules and TravelingJoan posted photos, videos and blog posts on bestoftheroad.com, Facebook and Twitter. Watch their Glenwood Springs adventure here. During a presentation of their "traveler's journals" on July 14 in Los Angeles, the team consulted with the judges panel to determine which town would be crowned the winner in the Most Fun category. Other category finalists include Myrtle Beach, South Carolina; Santa Claus, Indiana; Park City, Utah; Vacaville, California; and Yellow Springs, Ohio.
About Glenwood Springs
Glenwood Springs is located between Aspen and Vail, 165 miles west of Denver or 90 miles east of Grand Junction on I-70 off Exit 116. For more information about Glenwood Springs, Colorado, call 970-945-6589 or go to visitglenwood.com/. For lodging reservations, call 888-4-GLENWOOD (888-445-3696). A complete press kit is available at http://www.visitglenwood.com/press-kit .
Media Contacts:
Lindsey Lewis, Vice President of Tourism Marketing
Glenwood Springs Chamber Resort Association
970-945-6589
lindsey(at)glenwoodchamber(dot)com
or
Vicky Nash, Public Relations Representative
Resort Trends, Inc. – media communications for the travel & tourism industry
970-948-4923
Vicky(at)resorttrends(dot)com
# # #