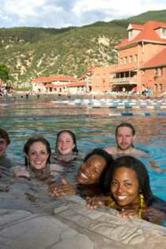 We've got a very creative core of local businesses with an aptitude to make exciting things happen. So whether it's in the area of adventure sports, attractions, dining or entertainment, it always spells Fun!
Glenwood Springs, Colo. (PRWEB) April 17, 2012
Get ready to have even more fun in Glenwood Springs, voted America's Most Fun Town in the Rand McNally and USA Today Best of the Road contest. The Colorado river and mountain town known for its hot springs, spas and Strawberry Days festival is gearing up for summer with exciting new attractions and seasonal diversions.
"The world is catching on to what we've known all along: Glenwood Springs is a happening town," said Lisa Langer, Vice President of Tourism Marketing for the Glenwood Springs Chamber Resort Association. "We've got a very creative core of local businesses with an aptitude to make exciting things happen. So whether it's in the area of adventure sports, attractions, dining or entertainment, it always spells Fun!"
The following are the highlights topping the list of what's coursing through the energy pipeline in Glenwood Springs this season:

Glenwood Caverns Adventure Park is adding three new rides in time for summer 2012. Thrill seekers will find the new Cliffhanger Roller Coaster irresistible with its cliff-side curves and heart-stopping drop-offs; the Wild West Express Coaster is kid-friendly and features bumps, curves and hills on a train-themed adventure ride; and the Mine Wheel carries guests around and around on a Ferris-wheel-style ride. These rides join a multitude of existing thrill attractions including the Giant Canyon Swing, Colorado's longest Alpine Coaster, the Soaring Eagle Zip Ride and the Bungee Jump. Economical day passes, group discounts and packages are available, and even with the addition of three new rides, 2012 rates will be the same as last year!
Alongside eateries in Los Angeles, New York and Chicago, Esquire magazine named Glenwood Springs' Pullman restaurant to its list of Best New Restaurants in 2011. Author John Mariani calls the Pullman "a casual restaurant that sums up everything good about American omnivorism right now. The Pullman isn't complicated. Good people serving good food. What a concept." Chef-owner Mark Fischer is known for his fresh and exhilarating menus, which have garnered praise in notable food magazines like Bon Appétit, Food & Wine, Gourmet and Denver's 5280.
Glenwood's very own quirky comedy show, the Glenwood Vaudeville Revue, is getting ready for an all-new season of sidesplitting laughs with summer shows every Friday, Saturday and Sunday, beginning on May 25. The two-hour family fun show features professional talent performing a variety of hilarious skits, jokes, high-energy dance numbers, unique novelty songs and original ideas that keep audiences coming back year after year. Shows take place at the Blue Acacia Theatre in the Masonic Lodge located at 9th and Colorado in Glenwood Springs, where visitors can look forward to an evening of hilarity combined with optional a-la-carte dining choices catered by the town's top eateries. Director John Goss says, "If you've come to the Glenwood Vaudeville Revue for fancy-schmancy, artsy theater, you've come to the wrong place." Doors open at 6:30 on Friday and Saturday, and at 5:30 on Sunday.
Glenwood Canyon Bike Path is now open. Much of the popular path remained closed last season due to extensive damage caused by spring 2011 flooding. With the damage repaired, visitors can once again enjoy the entire length of the path and make stops at the four rest areas including Hanging Lake, which was recently designated a National Natural Landmark by Secretary of the Interior Ken Salazar.
MG Club Rallye celebrates its 60th anniversary in Glenwood Springs. The nation's oldest continuously held road race, featuring the British-made sports cars, takes place June 8 – 10. The three-day celebration includes four competitive events. The first begins on Friday in the Denver suburb of Arvada with a scenic, 160-mile road tour to Glenwood Springs. A time, speed and distance event starts and ends in Glenwood Springs on Saturday. On Sunday, events include a car show on the grass at Two Rivers Park and finally the funkhana, a driving skills contest that takes place in the parking lot. Driving enthusiasts of all car makes are welcome to join some or all of the weekend events.
Under new management with a new golf pro in place, Lakota Canyon Ranch Golf Course is in great shape after a mild winter. This 18-hole championship course was designed by James Engh and has received numerous accolades, including Top Three Public Courses You Can Play in Colorado by Golf Week; Top 20 Public or Private Courses in Colorado by Golf Digest; and was ranked second by Avid Golfer for Western Slope Courses in Colorado. New golf pro Ryan Parr is a Colorado native from Boulder; with over 17 years in the golf business, he is a PGA professional working on his Class A card. The course features include elevated tee boxes occasionally dropping 100 feet to the fairway and stunning views of rugged canyons, which sit just below the Flat Tops Wilderness Area.
Glenwood Hot Springs, home of the world-famous Glenwood Hot Springs Pool and the Spa of the Rockies, recently completed a $2 million renovation project that has all 107 guest rooms at the Glenwood Hot Springs Lodge looking and functioning better than ever. Each room now features spa-like ambiance complete with soothing colors, pristine white bedding, down comforters, and a luxurious bathroom. Staying connected for work or leisure is easy with new technology upgrades that include a 42-inch flat screen LED television that is HDMI- and Cat 5-compatible, wireless internet, and convenient bedside docking stations for iPods and smartphones. Other new amenities include a built-in mini fridge, a microwave, and a state-of-the-art, in-room safe. Every stay at the Glenwood Hot Springs Lodge includes a full breakfast and unlimited admission to the Glenwood Hot Springs Pool.
This partial list provides a glimpse of what's happening in Glenwood Springs. For the most up-to-date listings and for further information about upcoming events, activities and attractions, please visit http://www.visitglenwood.com/ and find out why Glenwood Springs was voted America's Most Fun Town.
About Glenwood Springs
Glenwood Springs is located between Aspen and Vail, 165 miles west of Denver or 90 miles east of Grand Junction on I-70 off Exit 116. For more information about Glenwood Springs, Colorado, call 970-945-6589 or go to http://www.visitglenwood.com/. For lodging reservations, call 888-4-GLENWOOD (888-445-3696). A complete press kit and press releases are available at http://www.visitglenwood.com/press-kit and http://www.visitglenwood.com/press-releases. Access to downloadable photos is available at http://www.visitglenwood.com/photos.
Media Contacts:
Lisa Langer, Vice President of Tourism Marketing
Glenwood Springs Chamber Resort Association
970-230-9035
lisa (at) glenwoodchamber (dot) com
or
Vicky Nash, Public Relations Representative
Resort Trends, Inc. – media communications for the travel & tourism industry
970-948-4923
Vicky (at) resorttrends (dot) com