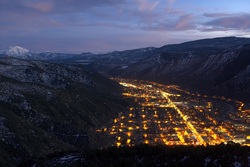 October nights in Glenwood Springs are crisp but they're still mild enough to spend extended time outdoors. This year the Ghost Walks fall over a full moon, which adds a bit of drama to an already exciting event
Glenwood Springs, CO (Vocus) October 6, 2010
Fun frights and magical moments await visitors to Glenwood Springs after dark in October. The full moon on the 22nd adds an appropriately eerie glow to all things natural and supernatural this month. The Frontier Historical Society's popular Ghost Walks to Linwood Cemetery, the final resting place of Glenwood's pioneer settlers and famous former residents Doc Holliday and Kid Curry, begin mid-month and culminate on Halloween night. October visitors can also use the power of the full moon along with their own personal flashlights to illuminate the path to Hanging Lake, one of Colorado's most exalted hiking trails. For something a little less vigorous, but just as thrilling, watch the moon play peek-a-boo through the steam while soaking in the Glenwood Hot Springs Pool after dark.
"October nights in Glenwood Springs are crisp but they're still mild enough to spend extended time outdoors. This year the Ghost Walks fall over a full moon, which adds a bit of drama to an already exciting event," said Lindsey Lewis, Vice President of Tourism Marketing for the Glenwood Springs Chamber Resort Association.
While daylight sees most of the action at the Glenwood Hot Springs Pool, nighttime, especially illuminated by the moon, is truly magical. Both children and adults are enchanted by the tendrils of steam that hover like silvery ghosts just above the surface of the pool on crisp autumn evenings. The phenomenon is caused when the warm mineral water comes into contact with the cool night air and creates steam. Glenwood Hot Springs Pool is open every night until 10:00 PM, and evening admission drops to $9.25 after 9:00 PM.
Lunar lore suggests that October's harvest moon is so named because it rose early and was bright enough to permit farmers to work late into the evening, allowing them to bring in the final harvest of the year. These days the harvest moon provides enough light to explore the landscape around Glenwood Springs on foot. Hikers are known to trek to Hanging Lake in Glenwood Canyon by moonlight, although headlamps and flashlights are highly recommended. The newly improved trail is well marked, but hikers should allow for extra time to account for limited visibility. The trail climbs 900 feet over just 1.2 miles. At the top, enjoy the uncharacteristic quiet and the moonlight reflecting like a pearl off the lake's surface.
The 11th Annual Ghost Walks, hosted by the Frontier Historical Society, are held the last three weekends during October, and this year the full moon falls over the middle weekend. Whether by moonlight or lantern light, visit the ghosts that haunt Glenwood's pioneer cemetery on and around Halloween. They are familiar Western icons like gunslingers Kid Curry and John Doc Holliday. Other apparitions have less storied pasts but provide a peek of what life was once like for residents of Glenwood Springs. Listen carefully and keep an eye out for the phantoms of the town's founding fathers, merchants, miners and ladies-of-the-evening as they recount the blessings and burdens of life in the 1800's.
Tours leave promptly from the trailhead to Linwood Cemetery, located at 12th and Bennett in downtown Glenwood Springs, from October 15 – 31, at 7:00, 7:45, 8:30 and 9:15 PM on Fridays and Saturdays, and at 7:00, 7:45 and 8:30 PM on Sundays. Because the Ghost Walks have been extremely popular, advance ticket purchase is highly recommended. Tickets are $15 per person and are on sale now. Call 970-945-4448 to purchase and for additional details see http://www.glenwoodhistory.com/events.htm. Bring a flashlight or lantern and dress warmly. The trail to the cemetery is unpaved, making sturdy shoes a must. Kerosene lanterns are also available for purchase at the trailhead for $10. To book a room reservation in Glenwood Springs, visit http://www.visitglenwood.com or phone central reservations at 888-445-3696.
About Glenwood Springs
Glenwood Springs is located between Aspen and Vail, 165 miles west of Denver or 90 miles east of Grand Junction on Interstate 70 off exit 116. For more information about Glenwood Springs, Colorado, call 970-945-6589 or go to http://www.visitglenwood.com/. For lodging reservations, call 888 4 GLENWOOD (888-445-3696). A complete press kit and press releases are available at http://www.visitglenwood.com/press-kit and http://www.visitglenwood.com/press-releases. Access to downloadable photos is available at http://www.visitglenwood.com/photos. Glenwood Springs is located between Aspen and Vail, 165 miles west of Denver or 90 miles east of Grand Junction on Interstate 70 off exit 116.
Media Contacts:
Lindsey Lewis, Vice President of Tourism Marketing
Glenwood Springs Chamber Resort Association
970-945-6589
lindsey (at) glenwoodchamber (dot) com
or
Vicky Nash, Public Relations Representative
Resort Trends, Inc. – media communications for the travel & tourism industry
970-948-4923
Vicky (at) resorttrends (dot) com
###