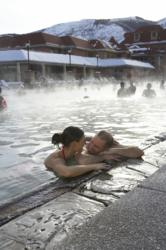 Our location in the mountains, hot springs amenities, fine dining and historic downtown set the stage for classic romance, but there are plenty more ways to spice things up, so why not go a little crazy when it comes to love
Glenwood Springs, CO (PRWEB) January 31, 2013
Whether couples are newly devoted to one another or have been together for decades, Glenwood Springs is a place where the amorous can stoke the flames of love with pulse-quickening outings that inspire laughter, togetherness and, best of all, passion. Recommended therapies range from snowshoeing to a remote warming hut at Sunlight Mountain Resort to sharing some bubbly (chairs, that is) at Glenwood Hot Springs, and even getting dirty and a little bit wild at Glenwood Caverns Adventure Park.
"Glenwood Springs is a romantic town. Our location in the mountains, hot springs amenities, fine dining and historic downtown set the stage for classic romance, but there are plenty more ways to spice things up, so why not go a little crazy when it comes to love," said Lisa Langer, vice president of tourism marketing for the Glenwood Springs Chamber Resort Association.
Therapy #1: Nothing improves communication and fosters problem solving like getting into a tight spot and together figuring out how to get out. For this therapy, head to Glenwood Caverns Adventure Park for a Wild Tour, a two-hour guided trip that takes guests into the heart of Iron Mountain. Getting dirty is part of the fun. Couples can see pristine cave formations as they get close in tight quarters shimmying and crawling together through this extreme subterranean experience. Schedule a Wild Tour in advance at 10:30 a.m. or 2:30 p.m., Saturdays only, 800-530-1635.
Therapy #2: Those looking to reach new relationship highs are advised to head to Sunlight Mountain Resort, where two-seater lifts make it easy to get cozy and hundreds of acres for skiing and snowboarding will get feel-good endorphins flowing. Couples who want to get lost in a world of their own can try snowshoeing or Nordic skiing on Sunlight's Babbish Gulch trails. The multi-use trail starts off wide and passes a large cabin where it veers off to the left and becomes a single track. Follow the trail to a tiny warming hut where lovebirds can cozy up inside or stage a romantic lunch on an outdoor picnic table. Sunlight Mountain Resort, 970-945-7491.
Therapy #3: To further crank up the romantic heat, add hot springs therapy to the itinerary. Glenwood Hot Springs Pool is open year-round until 10 p.m. For couples, the most romantic time to visit the world-famous attraction is during the evening hours in winter. Mist shrouds the pool in a dreamy cloud cover until a gust of wind whisks it away revealing a night sky filled with stars for wishing upon. Be sure to take a turn in the bubble chairs located in the aptly named Therapy Pool.
Therapy #4: Share the ultimate steamy experience with your soul mate at the Yampah Spa and Vapor Caves. Here couples can enjoy the natural wonder of underground steam baths together. Originally used for healing and rejuvenation by the Ute Indians, the caves are still considered a sacred place by the tribe. Each chamber is dimly lit and lined with marble benches for relaxing. Breathing in the mineral-dense vapors is touted to purify body and spirit. When it's time to take things down a notch and cool off, cold-water spigots are within close proximity. Upstairs in the spa, they can enjoy unusual treatments like oxygen aroma therapy or a chocolate bliss wrap. The Yampah Spa and Vapor Caves is open daily from 9 a.m. to 9 p.m., 970-945-0667.
Therapy #5: Massage is a time-honored remedy for relaxation. Experience the bliss of touch therapy together with couples massages at these Glenwood Springs spas: La Provence Spa located in the historic Hotel Colorado; Splendor Mountain Spa, which also specializes in Watsu treatments; the Yampah Spa and Vapor caves, which offers many options for couples including private soaking tubs; and the award-winning Spa of the Rockies at Glenwood Hot Springs, which has specially designed couples treatment rooms that add to the overall ambiance.
Therapy #6: Of course, celebrating love with all the romantic accoutrements never goes out of style. Glenwood Springs is home to two historic hotels, the Hotel Colorado and the Hotel Denver, as well as numerous bed-and-breakfast establishments that each offer a special setting for a memorable couples' getaway. Whether it's sweet treats or a full-on fabulous meal, these eateries are sure to please: the Pullman, Rivers and Fin's Grille. For a complete list of lodging and dining choices, visit http://www.visitglenwood.com.
To find out more about these and other Glenwood Springs activities, please visit the Glenwood Springs Chamber Resort Association online at the website listed below.
About Glenwood Springs
Glenwood Springs is located between Aspen and Vail, 165 miles west of Denver and 90 miles east of Grand Junction, on I-70 off Exit 116. For more information about Glenwood Springs, Colorado, call 970-945-6589 or go to http://www.visitglenwood.com/. For lodging reservations, call 888-4-GLENWOOD (888-445-3696). A complete press kit, press releases and downloadable photos are available at http://www.visitglenwood.com/glenwood-springs-media.
Media Contacts:
Lisa Langer, Vice President of Tourism Marketing
Glenwood Springs Chamber Resort Association
970-230-9035
lisa (at) glenwoodchamber (dot) com
or
Vicky Nash, Public Relations Representative
Resort Trends, Inc. – media communications for the travel & tourism industry
970-948-4923
Vicky (at) resorttrends (dot) com