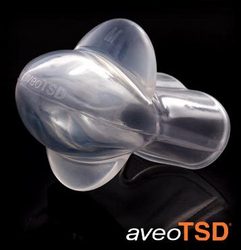 The aveoTSD is really improving the quality of my life!
Newport Beach, CA (PRWEB) May 20, 2010
Glidewell Dental Lab, an industry-leading provider of dental lab services, has secured exclusive U.S. distribution rights to the anti-snoring device aveoTSD. Glidewell Dental Lab now offers this product, which holds the promise to dramatically improve the health of millions of Americans, to dentists and medical physicians across the U.S.
Snoring is caused by the narrowing of the upper airway during sleep. When the airway is blocked – due to large tonsils and uvula, a soft palate, or over-relaxed muscles or tongue falling back into the oropharynx – air travels faster through the narrowed airway, causing the relaxed tissues of the throat to vibrate. This vibration is the sound of snoring.
Snoring affects an estimated 40 percent of the population, with that percentage increasing for people over the age of 50. More than half of the snoring population is not even aware that they suffer from this potentially life-threatening condition. Snoring is commonly triggered by a number of factors: being overweight, nasal congestion, smoking, alcohol or heavy sedatives. Patients who suffer from snoring may report stopped breathing during sleep, chronic fatigue, morning headaches or poor memory, nocturnal reflux/GERD and nocturia. Left untreated, snoring can lead to serious health risks including high blood pressure, stroke, cardiovascular disease and heart failure.
The good news is that snoring is treatable through the use of many anti-snoring devices. Mandibular Advancement Splints are custom-made to fit the upper and lower teeth. They work by positioning the lower jaw forward, moving the base of the tongue forward and opening the airway. While effective, these devices are not indicated for patients with TMJ/bite problems and those who are edentulous.
The aveoTSD is the simplest form of treatment for snoring. Developed through more than five years of clinical research by Dr. Chris Robertson, a specialist of Dental Sleep Medicine, the aveoTSD requires no impressions and no adjustments. It is not tooth borne, so it is indicated for virtually anyone looking for a restful night's sleep. Because of its simplistic nature, aveoTSD is both easy to use and effective. TSD stands for Tongue Stabilizing Device, and that's exactly how it works.
The aveoTSD attaches to the tongue through gentle suction, holding the tongue forward during sleep. This ensures the airway stays open and allows ease of breathing through the night. Dentists and medical physicians can find step-by-step instructions for fitting the aveoTSD device at at getaveo.com .
Made of medical-grade silicone, the aveoTSD is available in three sizes: small, medium and large. Ninety-five percent of patients will fit the medium size. Titration rings are also available in 5 mm and 9 mm sizes, to increase tongue protrusion for increased airway volume.
Feedback from early U.S. adopters of aveoTSD is positive:
"I've never been able to wear a nightguard because of my existing issues with TMJ. No matter how many hours of sleep I get at night, I always feel drowsy and often rely on energy drinks to get me through the day.
"My doctor recommended and prescribed aveoTSD. I took it home and gave it a try, even following the recommendations to wear it before I went to sleep to get used to the feeling. Sleeping with a device in my mouth was a new experience for me, but it was surprisingly comfortable.
"As a result, I woke up this morning and for the first time felt no need to drink an energy drink before heading into morning traffic. And when the hour of my afternoon low approached, I had no urgent need for an energy drink to keep from yawning. I'm looking forward to wearing the aveoTSD the night before a round of golf -- we'll see if the scores drop, too!
Thank you for helping me get the sleep I never really knew I was missing."
~Phil G.
And:
"I recently began using the aveoTSD after talking to my doctor about my troubles sleeping. Since I started using it, I am actually sleeping through the night! My husband tells me that I am snoring less and my breathing sounds easier. A benefit I hadn't anticipated is that this appliance seems to be keeping me from clenching my teeth. Plus, my jaw and neck feel better. The aveoTSD is really improving the quality of my life."
~Kelly B.
The aveoTSD requires a dentist or medical physician prescription and can be issued on the same day a patient agrees to treatment for snoring. Glidewell Dental Lab is proud to offer this life-changing product.
For more information on aveoTSD, including pricing and care instructions, visit getaveo.com or call 800-334-1979.
Glidewell Dental Lab is a privately owned corporation that has more than 40 years of history as a provider of high-quality dental restorations to dental practitioners nationwide. It has its own 53-person R&D team and is the most resourceful dental lab in the world. Its newly developed CAD/CAM processing capabilities are recognized as among the most advanced in the lab industry. To view our large selection of clinical videos, CE courses and our products and services, visit Glidewell Dental Lab.
# # #