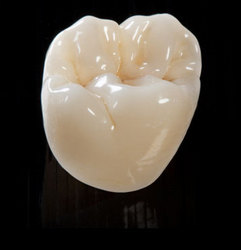 BruxZir Solid Zirconia crowns and bridges from Glidewell Dental Lab are more brawn than beauty
Laguna Niguel, CA (PRWEB) February 23, 2010
Glidewell Dental Lab, a provider of dental laboratory services, has successfully launched its newest lab service, BruxZir® Solid Zirconia crowns and bridges. This groundbreaking dental product is a full-contour dental zirconia restoration with no porcelain overlay, making it virtually chip-proof.
The strength of BruxZir Solid Zirconia crowns and bridges makes it ideal for bruxers and grinders who have destroyed other dental restorations. Dentists may prescribe BruxZir from Glidewell Dental Lab instead of metal occlusal PFMs and full-cast metal dental restorations. While it is more brawn than beauty, dentists and their patients will be impressed with the esthetics of BruxZir Solid Zirconia when compared with traditional PFMs.
Why choose a monolithic dental restoration like BruxZir Solid Zirconia from your lab? When porcelain is fused to a metal or zirconia substructure, there is always the possibility that the two layers could separate. The best-case scenario is a small chip off the porcelain. The worst-case scenario is that the porcelain completely fractures, exposing the metal or zirconia substructure and requiring replacement. BruxZir is made of one homogenous FDA-registered dental material, zirconia, virtually eliminating the possibility of chipping.
Designed and milled in our lab using CAD/CAM technology, BruxZir Solid Zirconia crowns are sintered for more than 10 hours at 1,530 degrees Celsius, then glazed to a smooth surface. This tough dental restoration has rapidly gained popularity for posterior restorations, when superior strength is required but the patient is reluctant to have unsightly metal in their mouth.
Another great advantage of BruxZir crowns and bridges is that it can be used when dentists must under-reduce for any number of reasons. In these cases, there have been very few options. Previously, the choices would have been limited to a cast-gold crown or a PFM with a metal occlusal. Now, thanks to BruxZir Solid Zirconia, there is a tooth-colored, more esthetic dental option from our lab for cases with limited interocclusal space.
To complement dentists' work with BruxZir Solid Zirconia restorations, Glidewell Dental Lab's Dr. Michael DiTolla, in partnership with Axis Dental (800-355-5063 or http://www.axisdental.com), developed the BruxZir® Adjustment & Polishing Set. Due to BruxZir's monolithic nature, it is imperative to use dental burs designed for this unique dental zirconia crown and bridge material. The diamonds and polishers in this set are ideal for adjusting and polishing zirconia, and the diamonds work extremely well in cases in which it is necessary to cut off a dental zirconia crown.
Dentists who are seeking a more esthetic alternative to full-cast gold or metal occlusal PFM's can prescribe their first BruxZir Solid Zirconia crown or bridge restoration by calling our lab at 800-854-7256 to schedule an in-office case pickup. To learn more about the full benefits of BruxZir, visit http://www.BruxZir.com.
Glidewell Dental Lab is a privately owned corporation that has more than 40 years of history as a provider of high-quality dental restorations to dental practitioners nationwide. It has its own 53-person R&D team and is the most resourceful dental lab in the world. Its newly developed CAD/CAM processing capabilities are recognized as among the most advanced in the lab industry. To view our large selection of clinical videos, CE courses and our products and services, visit Glidewell Dental Lab.
###