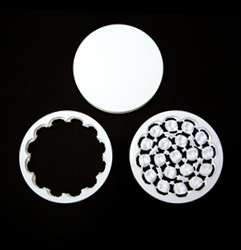 Glidewell Laboratories is pleased to launch this recycling program, which will allow other industries to benefit from zirconia's unique material properties.
Newport Beach, CA (PRWEB) April 22, 2011
Glidewell Laboratories, industry-leading provider of dental lab products and services, announced today its newest green initiative: the recycling of post-milled BruxZir Solid Zirconia Milling Blanks.
The Glidewell Laboratories Research & Development team, using innovative processes, refines quality high-purity yttria-stablized zirconia powder to a significantly reduced grain size, increasing its strength and optical properties. This improved material is then utilized in conjunction with proprietary processes to create monolithic zirconia BruxZir Milling Blanks for the fabrication of virtually chip-proof BruxZir Solid Zirconia crowns, bridges and implant restorations.
While zirconia has many applications in an array of fields, including energy, telecommunications, steel, mining, oil field supply and aerospace, the lab's reformulation of the material, including advances in nanotechnology, has been recognized as groundbreaking. The strength, high fracture toughness, resistance to thermal shock and translucency of BruxZir Solid Zirconia dental restorations have contributed to its rampant success in the dental profession.
When BruxZir restorations are milled from BruxZir Milling Blanks, not all of the refined zirconia material is utilized. A 98 mm diameter (12 mm thick) blank (300 grams) yields up to 19 single-unit crowns (1.6 grams each). That means only 30 grams worth of BruxZir material is used, or just 10 percent. The lab cannot reuse this material once it has been sintered because the crystallite properties expand exponentially, effectively diminishing its translucent properties.
For the past year, the lab's senior director of Research & Development Robin Carden has been researching ways to recycle the remaining 90 percent of unused post-milled BruxZir Milling Blank material. "We have been searching for ways to recycle our post-milled BruxZir material since March 2010," explained Carden. "Because zirconia is wear-resistant and able to withstand high temperatures, this material is ideal for applications such as molten metal nozzles, oil field valves and high temperature insulation.
"By recycling this material, Glidewell Laboratories is reducing its carbon footprint and allowing this material to be repurposed and reused for other applications that involve high temperature, thermal shock, corrosion, and high wear and impact," Carden added.
Glidewell Laboratories is pleased to launch this recycling program, which will allow other industries to benefit from zirconia's unique material properties. Additionally, the lab will invite its more than 100 Authorized BruxZir Laboratory partners to participate. For more information about BruxZir Solid Zirconia, please visit http://www.bruxzir.com.
Glidewell Laboratories, based in Newport Beach, Calif., is a privately owned corporation that has more than 40 years of history as a provider of high-quality services and products to dentists and dental laboratories nationwide. It has its own 73-person Research and Development team and is the most resourceful dental laboratory in the world. Its newly developed CAD/CAM processing capabilities are recognized as among the most advanced in the industry. To view our large selection of products and services, visit http://www.glidewelldental.com.
# # #