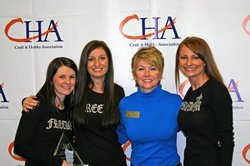 We're hard working Mommas who design products, run all the operational aspects of our business and still put our families first
Phoenix, AZ (Vocus) February 6, 2009
Glitz Design is proud to announce that the company is the recipient of the 2009 Craft & Hobby Association (CHA) Exhibiting With Excellence Award presented at the CHA Winter Convention & Trade Show held in Anaheim, California, January 27, 2009. The CHA Exhibiting With Excellence Award recognizes the very best exhibitors at the CHA Winter Show and honors companies for exemplary presentation, display and customer service. Glitz Design received the Exhibiting With Excellence Award for the Scrapbooking and Paper Craft section of the show floor beating out more than 270 other exhibitors in the section with their presentation, charisma, charm and stellar customer service.
"We're hard working Mommas who design products, run all the operational aspects of our business and still put our families first," explained Erin DeSpain. "We know how hard it is to find time to scrapbook so we design all our products with time starved Mommies in mind! We hope to make scrapbooking quick and easy for everyone! Our products include gorgeous, versatile, double sided paper with coordinating journaling stickers, borders and rub ons to help make creating projects quick, easy and fun! We are glad to see that our passion and commitment to excellence comes through in what we do."
The Glitz Girls: Laura, Ginger & Erin
Laura Funk, Ginger John and Erin DeSpain are a lot of things: scrapbookers, friends, daughters, but most of the time…it seems like EVERYONE calls them Mom! These three are all mothers and among the three of them they have 12 little munchkins. So you could say that Glitz Design has a pretty substantial "staff in training!"
ABOUT GLITZ
Find out more about the Glitz Girls and Glitz Design products now available for sale to wholesalers by visiting http://www.glitzitnow.com or contacting Ginger John, Erin DeSpain or Laura Funk directly at ginger (at) glitzitnow (dot) com, erin (at) glitzitnow (dot) com, or laura (at) glitzitnow (dot) com, respectively! You can also access photos, video clips, giveaways and demos of Glitz Design products at glitzitnow.blogspot.com.
EDITORIAL NOTE: High resolution photos and interviews available upon request.
Contact:
Erin DeSpain
Glitz Design
Glitzitnow.com
480-570-5281
erin (at) glitzitnow (dot) com
# # #