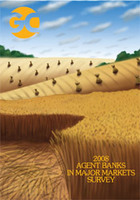 Winning the client's confidence is not something one can gain overnight
London, UK (PRWEB) September 17, 2008 - Thirty-
seven local custody and clearing banks have secured top ratings in the 2008 Global Custodian survey of Agent Banks in Major Markets.
The survey, which is now in its 20th year, is based on over 4,500 responses from banking, broker-dealing and buy-side clients of 122 banks in 26 markets.
Citigroup Japan boasts the highest score in the survey among the prestigious leading clients group--the most sophisticated buyers of securities services--and has lifted its average scores in all service areas to levels that are well ahead of the global benchmarks in all service areas and the local benchmarks in all but a handful, which is impressive for a foreign provider in what remains a high-scoring market.
The Top Providers 2008: Leading Clients
Provider (Market) - Score
1 Citi (Japan) - 5.94
2 KBC Securities Services (Belgium) - 5.87
3 BHF-BANK (Germany) - 5.85
4 Eurobank EFG (Greece) - 5.69
5 NAB Custodian Services/National Nominees (Australia) - 5.65
6 NAB Custodian Services/National Nominees (New Zealand) - 5.65
7 The Bank of Tokyo-Mitsubishi UFJ Ltd (Japan) - 5.62
8 BNP Paribas SS (Greece) - 5.61
9 Sumitomo Mitsui Banking Corporation (Japan) - 5.61
10 Mizuho Corporate Bank Ltd (Japan) - 5.61
The bank that improved its score the most among Leading Clients was KBC Securities Services. The company's service model--offering combined trade and post-trade services out of one integrated system--and serving its clients through one dedicated business line were key to the improvement, according to Luc Aspeslagh, managing director of KBC Securities Services. "This reorganization is now being rewarded by our clients, which we would like to thank for their support and good scores for which we are really grateful," he says.
Frankfurt-based BHF-BANK, a specialist German custodian bank that re-entered the market in 2004, was narrowly beaten by Citi Japan into second place in the cross-border, non-affiliated category, which measures performance among third party international clients. Even though the independent private bank's relatively small size in a market widely expected to consolidate was a concern for some clients, the overall scores from its clients were impressive, especially from the buy side.
"We are very happy that the dedication of our employees and the high degree of flexibility they show when it comes to meeting our clients' wishes have once again been greatly appreciated," says Wolfgang Danicke, head of asset management and financial services at BHF-BANK. "We believe that our comprehensive and tailor-made offering of state-of-the-art custody services, efficient systems and, most importantly, the vast experience of our seasoned, professional and highly motivated staff are the key factors of our success."
The Top Providers 2008: International Clients
Provider (Market) - Score
1 Citi (Japan) - 5.94
2 BHF-BANK (Germany) - 5.92
3 BNP Paribas Securities Services (United Kingdom) - 5.80
4 Mizuho Corporate Bank (Japan) - 5.79
5 NAB Custodian Services (Australia) - 5.76
6 Eurobank EFG (Greece) - 5.73
7 CACEIS (France) - 5.69
8 CACEIS (Germany) - 5.65
9 HSBC (Hong Kong) - 5.65
10 BNP Paribas Securities Services (Greece) - 5.61
The bank that improved its score the most among independent third-party clients was Banco Santander de Negócios Portugal. "Banco Santander de Negócios Portugal aims to keep working towards improving the range and top quality of its services [and] simultaneously will continue to be involved in working towards more developments and reforms on the Portuguese market, always aiming at providing the investment community and their custodians with the highest possible standards in market practice," says Rita Roque, head of custody and securities services at Banco Santander de Negócios Portugal. "The marks achieved by Banco Santander de Negócios Portugal resulted of its willingness to offer high quality services, based on pro-activeness, flexibility and a strong commitment, while constantly focused on clients' needs."
In the Domestic category, which is based on responses from clients serviced in the domestic markets only, the winner was Geniki Bank in Athens, part of the Société Générale Securities Services network. Geniki is also benefiting from the renewed interest of its parent in sub-custody, upgrading its platform and winning significant mandates.
"Winning the client's confidence is not something one can gain overnight," says Anna Fakiola, head of sales and relationship manager for Geniki Bank SG SS. "It takes a lot of nerve, determination and above all strong value for quality and excellence. We listen to the client and act. Always as a team. A team that shares the same dream, a team that drives for results."
The Top Providers 2008: Domestic Clients
Provider (Market) - Score
1 Geniki Bank SG SS (Greece) - 6.83
2 National Bank of Greece (Greece) - 6.71
3 CACEIS (France) - 6.63
4 Sumitomo Mitsui Banking Corporation (Japan) - 6.42
5 UniCredit Greece (Greece) - 6.38
6 Eurobank EFG (Greece) - 6.33
7 Citi (Singapore) - 6.32
8 KBC Securities Services (Belgium) - 6.29
9 Erste Bank (Austria) - 6.18
10 BNP Paribas Securities Services (Germany) - 6.10
Making its domestic debut following its Westpac acquisition, HSBC Australia improved its score the most among domestic clients.
"Despite the consolidation that has taken place, the sub-custody and clearing industry remains extremely competitive, even in the major markets," says Dominic Hobson, editor in chief of Global Custodian magazine. "Contrary to popular perception, the average number of service providers in the major markets is not very different from the number we recorded in the same survey 10 years ago. What has changed is that a growing number of providers are now part of a multi-market network."
In recognition of the shift towards multi-market purchasing of sub-custody and clearing services, Global Custodian introduced multi-market ratings in 2006. These ratings, which are available in Asia/Australia, Nordic Area, Western Europe, North America and on a global scale, measure the performance of banks in servicing clients in multiple locations.
Multi-Market Rated Providers in 2008*
Asia/Australasia Leading Top rated (HSBC) - Leading Commended (Citi) - CB/NA Top Rated (HSBC, Citi)
Nordic Area Leading Top rated (Nordea Bank, SEB, Handelsbanken) - CB/NA Top Rated (SEB, Nordea Bank) - CB/NA Commended (Handelsbanken)
North America Leading Commended (Citi) - CB/NA Commended (Citi)
Western Europe Leading Top rated (BNP Paribas SS) - Leading Commended (Deutsche Bank, KAS Bank, Citi) - CB/NA Top Rated (BNP Paribas SS) - CB/NA Commended (Deutsche Bank, Citi, KAS Bank)
Global Leading Commended (Citi) - CB/NA Commended (Citi)
*Multi-market ratings are by definition cross-border and so not available in the domestic category.
Multi-market purchasing patterns are only one measure of the complexity of the industry. Buyers of services include global custodian banks, global investment banks, broker-dealers, universal banks, private banks and, increasingly, buy-side clients such as fund managers, institutional investors and private wealth managers. "Service providers have to adapt continuously not only to the demands of a wide variety of both cross-border and domestic clients, but to the different needs of buy- and sell-side clients as well," explains Dominic Hobson. "Naturally, there is some specialization within the industry in terms of business models and client types, and our survey aims to do justice to that complexity."
Sub-custodian banks and clearing agents also have to interoperate with the central counterparty clearing houses (CCPs), which enable firms to trade anonymously without credit risk on exchanges and electronic platforms, and the central securities depositories (CSDs), which move securities between accounts in central bank money by electronic book entry settlement. Trading liquidity is shifting from national exchanges to multi-market electronic platforms. Because they net trades, CCPs are also reducing the number of securities transactions that proceed to settlement.
"The fact that custody and clearing clients now trade securities on multiple platforms, many of which are supported by CCPs, has presented the traditional sub-custody and clearing model with a significant challenge," says Dominic Hobson. "Clearing, settlement and custody services established to support activity on a single exchange in a single market are having to be adapted to offshore electronic platforms supported by CCPs that trade securities drawn from multiple markets. The challenge is particularly pressing in Europe, where the passage of the Markets in Financial Instruments Directive (MiFID) has spawned a multitude of so-called multi-lateral trading facilities (MTFs), but it is apparent elsewhere as well."
In some markets, and especially those that lack the advantage of a CCP, local custodians and clearing agents face the prospect of local liquidity migrating to an offshore MTF, exposing their business to competition from other providers. With CSDs, especially in Europe, now maneuvering to provide cross-border services, the custodian banks are also facing a more demanding competitive threat from a longstanding rival. "Although they cannot generally compete in the provision of banking services, CSDs have emerged as competitors to the custodian banks over the last few years, not just in settlement but also in asset-servicing functions such as proxy voting, income collection and corporate actions," says Dominic Hobson. "Yet custodians are obliged to use the settlement services provided by the CSDs, and their ability to provide a price-competitive and efficient service is heavily dependent on the quality of the services provided by the CSDs."
Faced with this array of competitive challenges, custodians have adopted a variety of strategies. Some have exited the business. Others have sold their operations to a multi-market provider. Others have sought to develop multi-market services of their own, using a mixture of CSDs and local agent banks. A smaller group are looking to offer execution in addition to clearing and custody, and to integrate credit, financing and collateral management services as well.
"Sub-custody and clearing is at a crucial stage in its evolution towards the next level of service," concludes Hobson. "Banks are being squeezed from above by network managers at the global custodian and global investment banks, and from below by CCPs that are cutting transaction volumes and by CSDs that not only set the price of settlement but are increasingly competing with the banks in asset-servicing functions. The banks that get the model right at this stage, and implement it quickly, can expect to reap rich rewards in the next few years."
Overall, the number of responses to the survey rose by nearly 9.9 percent this year to 6,530, of which 4,599 could be authenticated, a rise of 1.6 percent. The full results are available here and in the Fall issue of Global Custodian, which is published today at the Sibos conference in Vienna, the year's most important event for the securities services industry.
"We believe that the Global Custodian agent bank review is the leading survey of client perceptions of the quality of the services offered by sub-custodian and clearing banks, so any bank that secures a rating in our survey can be justly proud of the achievement," says Allison Cayse, surveys editor of Global Custodian magazine. "A rating in the Global Custodian survey is now an important component in any RFP, which is why providers, their clients and we ourselves take our responsibilities towards the survey process and the results so seriously."
The summary results of the survey are available here.
The full results of the agent bank survey, and a full explanatory methodology, can be accessed by paying subscribers at http://www.GlobalCustodian.com
With over 4,500 responses from a broad range of clients to a 63-point questionnaire, the Global Custodian agent bank survey has become a major repository of information about the securities custody industry. Full research reports are available from Muzaffar Karabaev, Director of Research at Global Custodian.
Contact:
Dominic Hobson, Editor in Chief, at dhobson @ globalcustodian.com or +44 (0) 207 148 4280
Allison Cayse, Surveys Editor, at acayse @ globalcustodian.com or +1 513 574 0220
Muzaffar Karabaev, Survey Reprints/Research Enquiries, mkarabaev @ globalcustodian.com or +44 (0) 207 148 4289
Notes:
1. The Global Custodian Agent Banks in Major Markets Survey has been published annually since 1989.
2. Responses increased about 1.6% over last year for a total of 4,599 responses received, excluding duplicate and erroneous replies.
3. The survey covers agent banks in Australia, Austria, Belgium, Canada, Denmark, Finland, France, Germany, Greece, Hong Kong, Ireland, Italy, Japan, Luxembourg, the Netherlands, New Zealand, Norway, Portugal, Singapore, South Africa, Spain, Sweden, Switzerland, the United Kingdom, and the United States. It also measures the performance of the three International Central Securities Depositories (ICSDs), Clearstream, Euroclear and SIS Sega InterSettle.
4. Providers were rated on a total of 63 questions divided into 11 service areas: value and commitment, client service and relationship management, reporting, corporate actions, proxy voting, cash management and foreign exchange, income collection, tax reclaims, securities borrowing and lending, settlement and technology and connectivity. Respondents graded their administrators on quality of service using a scale of 1 to 7, where 7 is excellent; 6, very good; 5, good; 4, satisfactory; 3, weak; 2, very weak; and 1, unacceptable. Scores were then weighted for the size and sophistication of the respondent and for performance on questions named as important in each service area by all respondents.
5. Global Custodian is the leading specialist magazine covering operational, administrative and distribution aspects of the securities, derivatives, fund management and institutional investment industries. The magazine is supported in each of its chosen areas of expertise by industry-leading surveys of the global custody, sub-custody, hedge fund administration, mutual fund administration, prime brokerage and securities financing businesses.
###